3dBadGirls Review
3dBadGirls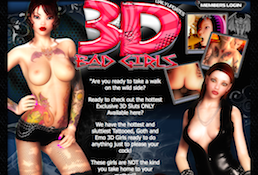 Price: $1.00 3 days
On 3dBadGirls you can enjoy a collection of the hottest fantasy-girls of the web, created to fit your daydreams.
00000
3dBadGirls Review
Site Overview
The 3DBadGirls brings you a collection of porn videos and photos (including comics) featuring some really stunning 3D animated girls. Most of the content comes from Japan, and you also probably know that those guys know how hot girls should look like. This is a semi-exclusive, yet exciting compilation and if you like to get away from reality and you used to find rest in imaginary worlds, you will love these videos. It looks like the 3DBadGirls has been around for more than 6 years. However, don't get your hopes too high, because this portal is a Sextronix site, which means you might not be able to depict the update schedule. Well, we couldn't, that's true. It seems they add some new content now and then, but the update dates are either inaccurate, or they took some of the old content when they add the new ones, since the counts are sometimes dropping.
Nevertheless, with more than 110 scenes and 830+ picture sets, the collection is considerable. Those who like porn just as it is will appreciate the bonuses they get. As a site from the Sextronix, the 3DBadGirls grants you access to a pile of extras. This is not a network you are going to access, but rather a selected list of websites you can browse. There is one, the HentaiDreams which is the closest to the 3DBadGirls's content – it features a lot of sexy hentai porn movies from various Japanese and Western artists. Apart from the not-real content, you can find 9 additional porn sites which feature real girls in real explicit action. On these sites you can enjoy some fine softcore porn, with girls flashing in heated-up parties.
There are some hard masturbation videos on the ToysInChicks, which features dildo insertion (in anal-way too). If you are looking for some actual hardcore, the InterracialSexZone, the SecretHarem, or the EuroSexNation will also satisfy all your horny needs. Apart from the bonus content you can enjoy some Flash-video feeds with more porn, and there are live cam shows too. Probably the hottest part of the extras is the DVD library, where you can browse through more than 5000 titles. Not exclusive, of course, but really hot.
Design & Features
The home page of the 3DBadGirls is nicely designed, however it doesn't really offer much of a tour. You can browse this one-page tour as much as you like, watch that short clip that plays automatically, and inspect the pictures a bit lower. Also, there is a link, which opens a new window with the list of the included sites. When you are done with looking around the portal, you should head to the signup page, and see what the site has to offer in the members' area. Inside, a simple but really usable page welcomes you. This site offers you a large selection of neat porn, and offers you a fine page to navigate through it. We have seen this template many times, and we think it's a good one, because it offers a lot of options to sort, search and browse the content.
Right on the top of the page you can find the main menu. This is the place where you can access the content of the site, along with the DVD Theatre. On the left of the page they placed several fields with fine quick links to the content, they are providing a fine way to navigate through this compilation. You can list the top rated, most viewed, most recent videos, with a few other options at hand too. It may not look handsome, but it's certainly good to navigate through. There are quite enough videos to keep 3D animation-porn fans busy. These are mostly SD flicks, but a fine number of Full-HD scenes are also available. You can save or stream these, it's totally up to you. You might also want to check the photo sets, because there are eight times more than pictures. There are some lower resolution flicks, but fortunately, the majority of the available pictures are really neat and sharp. You will love them, that's for sure, and they are obtainable in zip format.
Girls & Videos
Since the site operates with made-up girls, they are usually well beyond the borders of reality. Big juicy asses (or cute firm ones, whatever you prefer), and mostly big bouncing boobs are attached to some interesting looking bodies. In case you are looking for hardcore porn, you should try your luck with these animated videos. Some of them are coming from Japan, and were meant to be published in-land, so they have some censorship on them. However, it seems that most of the content comes from uncensored studios, and you can see some fine pussies and big cocks in them.
These videos are all sexy, and though they are somewhat exciting, their unrealistic nature is way too strange to feel really erotic. Nevertheless, some of these videos are really fine to watch, and they are certainly coming in high resolution. The sex taking place is fine too, and there are some really nasty drills in place, these hot imaginary cuties really got it coming. The site has a fine collection for you to enjoy, and if you like this kind of stuff, you will surely like these videos, because BDSM, anal sex, group sex and a lot more hot niches are covered in them.
Conclusion
The 3DBadGirls has a large selection of animated porn, that's true. Since these are 3D videos they may look somewhat more realistic than the normal hentai porn videos. If you like hentai, anime and/or computer games, you will like these scenes pretty much. However, the best content the site offers are those amazing pictures of tattooed, emo and Goth girls. When you got enough of the animated girls, and you would enjoy some real-life porn, the bonus content will certainly serve your needs, and you can have some fun with them.
Contents
| | |
| --- | --- |
| Videos | More than 110 Videos |
| Pics | More than 830 Picture Galleris |
| Download | Available |
| Categories | 3D, hardcore, BDSM, anal, group sex |