AllOfGfs Review
AllOfGfs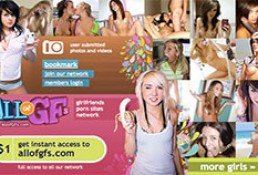 Price: $1.00 2 days
On AllOfGfs there are many fresh girls that love to show their bodies and have sex. Here there are exclusive videos and amazing and various contents.
00000
AllOfGfs Review
Site Overview
All of GFs is all about girlfriend sex, which means that you will get access to a large number of amateur videos and pictures of real-life cuties showing their beauties. Amateur porn is an all-time favorite of the porn watchers, since sometimes a man just get tired of the fake, overplayed excitement of the big-shot porn models and then he turns to the honest amateurs. Some of the girls found in the videos could be porn stars they look very good in videos, and most of them are very gorgeous and they know how to handle their bodies and the cock of their man.
The site is the hub of the All of GFs Network, which consists of 14 girlfriend sites. If you decide to register on this site, you can access all content of the network. In fact, there are only 13 sites with living persons, the fourteenth is a hentai site, presenting scenes with hot drawn Futanaries (Futanari = girl who has male and female genitals). You can find here all kind of actions performed by these horny couples. There are sites featuring only one kind of girl, like the AsianSexGfs, BlackGfSex, PornLatina and IndianPorn, where you can enjoy good sex scenes and nice quality pictures. Most of the sites are featuring Caucasian girlfriends in videos presenting couples fucking or solo actions. The content is mostly user-submitted, so if you want real-deal amateur porn, you can find it here. You may get the feeling that you may have encountered some of the content on other sites, and you will be right, because its user-submitted porn, the guys and girls may have uploaded them somewhere else too. This way part of the content is not exclusive, but there are many flicks and pictures that can't be found on any other sites featuring amateur porn.
Design & Features
The tour page of All of GFs is very simple. There are no menus available, so the only thing you can do is scrolling down the site and take a look at the pictures. If you have a good eye, you will notice that most of the thumbnails are corrected, the guys behind the site are using the picture altering software (you know which one) a bit too much. It's true, that they need to catch the eye, but this might seem a bit too much.Anyway, the videos are made in various qualities and they are in various formats. There are poorer and better scenes, all depend on what kind of device the couples or the girls were using. Since the smart phones and the tablets are all come with better cameras, the quality of the flicks and the pictures is increasing rapidly. All amateur or girlfriends-sites prove to be very strong when it comes to pictures, since the girls like to make selfies and naked photos of themselves, and they often use good cameras thus the quality and the quantity of pictures is large, and this is true for All of GFs. You can watch everything (pics and flicks alike) in the browser, or save them for yourself.
Girls & Videos
On All of GFs you can find real chicks that are so different from your girlfriend. These sluts have perfect bodies and they love to show it on the camera. They dance, they masturbate and they fuck with men and they don't know that the movies are uploaded to All of GFs. All the girlfriends are fresh, they are wild and they look amazing. There is cock sucking, pussy licking, anal fuck, handjobs, threesomes, orgies and many more categories on All of GFs and quality of the content will not disappoint you for sure. Some of these girls are fresh chicks and love to get them pierced in some exciting places like pussies and tongues and you will find some exciting videos of pierced tongues giving amazing blowjobs in POV videos.
One of these clips you will see two gorgeous girls, a black chick and a white woman. They are best friends and they talk about sex, until a guy knocks on their door. He is a colleague from class and he wants help with the home work. The chicks are very wet and they have another plan. The ebony beauty starts rubbing her tits on the man's cock, until she is sure that the guy has a big hard-on. After that they both get naked and they start an impressive lesbian show. The guy is speechless and he starts jerking off, until the blonde white chick asks him to fuck her tight ass! The lucky dude will fuck for more than half an hour a black pussy and white cunt and he feels so good! The scene ends with the guy cumming on the girl's faces and with the chicks doing some cum swapping! In another clip, a dude whit a huge cock is playing card with his stepsister, a busty brunette that looks like a goddess. They are both bored and when the chick loses a game the man tells her to get naked. They keep playing and the chick loses again and this time she needs to suck the guy's cock! She obeys that order with pleasure and she deepthroats, like a pro! The sex scene continues with some pussy fuck and with a huge creampie in the stepsister cunt!
Conclusion
The network of All of GFs has a good collection of amateur porn, so if you are looking for some real sex, you can enjoy the scene on the sites of this site-family. The amount of videos is large, and it's increasing as couples break up or some nasty pictures are leaked from social sites and chats. Those who like amateur porn will find that the All of GFs is the real deal, and registering on the site will get them access to an outstanding, large collection of porn. The membership will let you enter the world of hot fresh cuties performing some sexually explicit things that never meant to go online.
Contents
| | |
| --- | --- |
|  Videos |  More than 3.000 Videos |
|  Pics |  More than 5.000 pictures |
|  Download |  Available |
|  Categories |  hardcore, lesbian, anal, threesome, orgies |
… or read more on AllOfGfs from other review sites!