AsianSexGFs Review
AsianSexGFs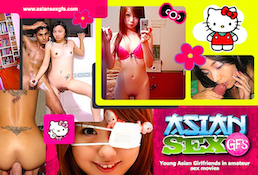 Price: $1.00 2 days
AsianSexGFs provides stunning amateur porn material featuring some of the hotties Asian chicks.
00000
AsianSexGFs Review
Site Overview
AsianSexGFs is a porn site for audacious people who are proud to be sexually active, and for some, sexually deviant, in a kinky sort of way. This porn site is an amateur porn hub featuring Asian women. If you are Asian and you want to upload your sex video, AsianSexGFs is the place. If you are a man or a woman who likes to see fresh faces, real ladies who just became adults, AsianSexGFs will awaken that horny spirit of yours. They are not professional pornstars but as sexual beings, these Asian beauties showcase a lot of moves that make them look like they are in the porn business. The films in AsianSexGFs are not professional productions. These are home made movies created by the model herself, her partner or a third person who is watching them having sex. The models here were not paid to make the movies, but it is a voluntary act on the part of the models to upload their home made films. Some films look really great and may pass the professional porn film flick. But some are short and not that great in terms of viewing quality. And because these are user submitted movies, a few of the films in AsianSexGFs do not have a story line.
The really good thing about AsianSexGFs is that if you sign up for membership, you will be able to access additional porn sites. Hard Media Ltd. is responsible for AsianSexGFs and 13 other GF sites. What are these other free access sites for members from Hard Media Ltd.? If you like emo gals and guys, they have the EmoSexGF site. If you like ladies who play with themselves and enjoy fucking with their big rubber cocks and dildos, they offer the GFSexToys niche. You may want Latina or Black chicks, then, you can also access these chicks in the network. There are 3 more websites coming up which is under the supervision of Hard Media Ltd., the network handling AsianSexGFs. The thing is that if you sign up at AsianSexGFs, you will be a member of not just one site but 15 more sex hubs. You will then be able to "meet" thousands of models and have access to a very large archive of videos from porn websites in various categories. It takes less than a minute to become a member of AsianSexGFs and all of Hard Media Ltd.'s network operated websites. Just submit your chosen username, a password, and your email. Next is selecting which membership status you want to possess. If you want a trial first, then, you can become a 2-day trial mode member. You may also opt a 30-day or 90-day membership.
Design & Features
When the home page pops up, what you will focus your attention to at the AsianSexGFs home page is Hello Kitty's picture. The whole layout was created to be cute. It has a pink background with little hearts on it. It looks like stationary or a diary page. In a sense, it is sort of an online diary where people can upload their sex videos. The layout made it possible for wannabe porn actors and actresses to submit their home made content. The homepage is easy to navigate. In fact, words and photos are clearly laid out. The visitor of the page or the member himself can browse through without any layout issues. For non-members, the page does not contain a menu yet for shortcuts. But the films – some are featured on the home page – are organized in a sequence. Pictures, thousands of them, are also available for viewing in AsianSexGFs. More on the design of the homepage, you will see a compilation of user submitted photos.
There is a pretty Asian hottie doing a selfie with a peace sign and half of her boobs showing. She is a very fresh model – no wrinkles but old enough to have some fucking fun. The next picture on the home page is a very sexy model with pink and white striped knee socks and taking a full body selfie of herself in front of the mirror. Another picture is an Indian guy with a Japanese hottie. It will look like as if she is massaging his dark penis while he is inserting his fingers in her womanhood. Another model is sucking a guy's dick. And one more picture is that of a gorgeous, black-haired, white skinned, Japanese honey who possesses a curvy body – hour glass, with some pubic hair. The picture looks very Playboy-like. Well, that is just the home page design. What more if you watch the home videos?
Girls & Videos
AsianSexGFs is composed of user submitted homemade porn videos. But the models in these videos have to provide a brief description of themselves and what their video is all about. There is one Chinese model here (unnamed) whose video was uploaded by her BF. He says that they have been fucking for a year now and that he will not let her go. One day, they went to a public beach and she took off her bra. You can see from the pictures that there are other people on the beach and she is daring enough to be half nude in front of many onlookers. It may seem that this model of AsianSexGFs is hot! How much hotter can she get while performing in bed? Another model named Gia is a Japanese sweetie who is looking for a day job in Brooklyn. When she came in for an interview, what transpired inside the office is an interview – the boss's cock was interviewing Gia's pussy. Did she get the job? The description says no, but the boss got a blowjob. These are just some of the videos in AsianSexGFs.
Conclusion
Some guys and gals want professional sex movies. Some do not mind watching home porn and real people having sex and recording it. If you have the knack for home shot videos or if you are interested in watching real people who are having fun on camera and they are sharing this fun with anyone who wants to watch, then, AsianSexGFs will give you that kick. Remember, this is an amateur site. You will not see professional porn actresses and actors here. Some videos may have stories, some simply do not have one. But one thing is for sure, all videos will involve one or all of the following: masturbation, vaginal penetration, anal sex, self-playing, toys inserted in pussy and ass, some weird sex stuff and more. Also, the models are 100% Asian adult women. So if you like to watch real life sex movies with Asian women as starts, AsianSexGFs is the site for you. With 13 other subsites connected with AsianSexGFs, your membership is very well worth it.
Contents
| | |
| --- | --- |
| Videos | More than 200 Videos |
| Pics | More than 300 Pictures |
| Download | Available |
| Categories | amateur |
… or read more on AsianSexGfs from other review sites!