Beacherotica Review
Beacherotica Review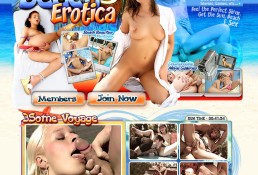 Price: $1.01 3 days
Beacherotica wants you to think about bleached women and splashing in the water. This website loves to show sexy women running around on the beach naked. See hidden cam videos, sex on the beach videos, public sex porn, and much more at Beacherotica. A membership includes access to 10 more porn sites.
00000
Beacherotica has fun porn in the sun
Fun in the sun is the point of Beacherotica. Full of hot photos and videos of naked women at the beach, there is a lot of public sex going on at Beacherotica. If you enjoy photos and videos of wet women having sex in the water or along the beach then you will find plenty of enjoyment at Beacherotica. There is new content that gets added regularly and a porn network of websites that you can visit with your membership. If you think you might be interested in this porn website then keep on reading this review.
Wet and sexy photos and more
Beacherotica is a niche porn website, so it should come as no surprise that Beacherotica has only 202 videos available on this site. That is okay as you get to view around 55,000 images. All these images are available up to 1600 x 1200 pixels, when downloading them to your computer. The limited amount of videos available directly on Beacherotica are at least presented in high-definition. Stream in HD with streaming speeds of up to 4.2 Mbit/s and screen resolutions of 1920 x 1080 pixels. If you plan on downloading your videos, play them back on all MP4 supported mobile devices, as well as Apple mobile devices, the PSP, and Android devices, for mobile pornography.
The website has offered a simple way to navigate through the thousands of photo sets and hundreds of videos. Easily scroll through the website and take a look at each video that you come across. Each of these videos will contain a description, including information about the model, and various screen shots that get taken directly from the video. When you find a video that you like you can either it stream it in HD or download it and play it on your favorite device. Beacherotica wants to make it easy for you to find the porn that you want to look at.
Hot tanned women in the sun
The women that get featured on Beacherotica are attractive. There are a lot of tanned bodies and women playing in the sun. This combination of splashing in the water, tanned bodies, and blonde women works well for Beacherotica. There are hundreds of different models and new content gets included on a regular basis that includes new models. With a variety of women, there is something for everyone.
Conclusion
As a stand alone website, Beacherotica does not contain an overwhelming amount of pornography. There is an adequate amount of videos and plenty of pictures; though, the real difference comes when you add in all the videos and photos from the 10 bonus websites.
When you get a membership to Beacherotica you will also get the chance to visit 10 other websites, each with their own primary focus. These websites include such wonderful porn sites as SuperSexyStars, EroticRussians, ImpossibleCocks, and DarkThrills. This mixture of pornography helps make this a great membership. With over 166,000 videos, 5000 DVD titles, and over 29 million pictures, this network creates a lot of pornography to check out. These websites are what really makes Beacherotica a website worthy of your time and money.
Signing up for a Beacherotica membership
If you want a membership to this porn website then you will need to select a membership option. The best value is the 90 day plan for $59.95; though, if you want to try the website out for 3 days then select the 3 day trial for $1.01. No matter which plan you choose, you will still have access to the same great content. All transaction are completely discreet and nothing on your credit card statement will mention that your transaction was for an adult website.
$1.01 / 3 days
$34.95 / 30 days
$59.95 / 90 days

Warning: the website is not active anymore, but you can find a very close one here