BelAmiOnline Review
BelAmiOnline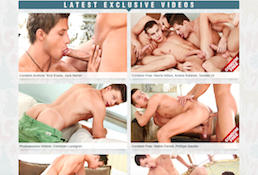 BelAmiOnline is absolutely one of the best gay porn sites. Enjoy exclusive contents with superb quality.
00000
BelAmiOnline Review
Website Overview
From the moment you arrive at the first page, it becomes obvious that perhaps Bel Ami Online is a little bit different from all the other gay porn websites – or even porn websites in general. Maybe it's the way they represent their videos or perhaps the listing of the categories but either way, it succeeds in establishing itself as a unique presence different from the crowd, which is an accomplishment in itself. BelAmiOnline was launched in 1998 by BelAmi. It's their only website, and it's quite obvious why. They simply don't need another website to distract them from this work of wonder – it's a pinnacle of their efforts, and they've decided to dedicate all their efforts on BelAmiOnline and nothing else. To date, BelAmiOnline has claimed over a hundred much sought after awards to its name, including The Gold Standard for Male Erotica. It's not easy to come by and requires completely exclusive top notch videos in multiple categories. From their records, BelAmiOnline's mantra "Nobody does it like Bel Ami!" sure does seem quite true.
Design & Features
The navigation of BelAmiOnline is shockingly plain once you get down to it. It's both a curse and a blessing depending on what type of person you may be. It could be a great refreshment from all those complex navigation systems on most fancy websites, and if that's the case you'll definitely love what they have. In contrast, there's no search function at all and it can seem pretty daunting to a new user trying to sort through their humongous catalogue. It's a pretty even deal, and perhaps you could try out some external or integrated search tool to help you out. While BelAmiOnline doesn't provide these tools, they do not prevent their usage either.
The website advertises itself as DRM free – meaning the videos you download from BelAmiOnline can be viewed on any device using any media player at any time without any restrictions (provided the player contains the necessary codecs, obviously). BelAmiOnline is also 'Mac Friendly', meaning for those of us owning Apple devices that run Macintosh operating system the website will be able to fit in with the rest of the UI seamlessly using its custom scripts. You can also use BelAmiOnline on your mobile devices, which could be handy when you're travelling and in the mood to look up a nice video. BelAmiOnline offers a unique feature in the form of 3D Videos – that's right, three-dimensional videos. It's quite something to see, and definitely worth giving it a try. If you like it, and there's good chance you might, then this is definitely the site for you as it's not something gay porn sites usually have.
Their live chat feature is called BelAmi Chat, and while it's not very different from those offered by its competition, it's definitely on par with any of them if not better. Its interface is smooth, there are few if any problems while connecting even on slower connections, and the overall feel of it is pleasing. Their service representatives are also very nice. As far as the download speeds go, BelAmiOnline is a pretty popular website facing a considerable load, so it stands to reason that their servers won't really serve you to their full capabilities in the uptime when under load. Under tight situations their servers cap at 1 MB per second download speed, which is not all that bad, especially considering none of their videos are too huge. It should prove to be more than enough for most purposes.
Guys & Videos
The contents of BelAmiOnline are hundred percent exclusive as advertised. While browsing through their galleries and videos you'll notice that they seem to have their own choices on what gay porn should be like, and they seem to enforce it throughout their network. Most of the models have just enough hair to be noticeable, but not obvious. In some cases, they may be completely hairless. Hairy guys on the other hand, seem quite rare on BelAmiOnline. As an added feature, they mark videos without condoms separately, which is a nifty feature if you're looking for content specifically without condoms.
The video quality is unfortunately not the full HD standard, but 540p with a decent bitrate isn't too bad, especially considering the quality of the contents. BelAmiOnline didn't get all those awards for no reason, obviously, and it's quite clear that whatever they lack in video quality they make up with their content quality and then some. There are over 1500 videos on BelAmiOnline right now, and the collection of 600 galleries is equally huge. There's definitely no shortage of volume to complain about here, and there won't be any in the future, considering BelAmiOnline promises daily updates. There's no way to verify how old or new any of the videos are as the content is not dated, so there's no solid proof of when and how frequently the website is actually updated. However, considering their humongous collection and the occasional fresh snippets that keep popping up here and there, it's quite obvious the website is far from inert.
If you wish, you could also browse through hundreds of backstage videos giving you an in depth view of what your favourite stars do while not filming their videos – before and after the real shooting. It's a glimpse of their life, allowing you to connect with them as normal people and further enjoy their videos as you'll no longer see them as porn stars but actual people just like you.
Conclusion
BelAmiOnline is one of a kind all in one porn site that's a delight to be in, but without a good search function, it leaves you to swim around freely. It allows you to discover fresh new content that you otherwise would never have found, but at the cost of being unable to find what you're looking for immediately. Overall, it's definitely worth a try.
Contents
| | |
| --- | --- |
| Videos | More than 1.500 Videos |
| Pics | More than 600 Pictures Galleries |
| Download | Available |
| Categories | hardcore, gay |