BoyfriendNudes Review
BoyfriendNudes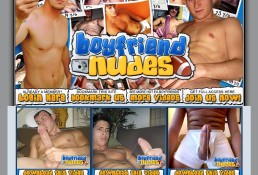 Price: $1.00 1 day
BoyfriendNudes is a gay adult website featuring masturbation videos and anal sex. This is a user-submitted website containing thousands of picture sets and hundreds of gay videos. Every body type and race is covered, from young guys to older men. BoyfriendNudes includes daily updates and access to 28 bonus websites. Visit BoyfriendNudes to check out their content.
00000
BoyfriendNudes review
BoyfriendNudes is an adult gay male website. They feature user-submitted content; though, there are some picture sets that look like they are professionally shot. Most of the content is masturbation videos and photos, but there is also some gay sex that includes both anal and blow jobs. There is a variety of male models on this site, so there is surely something to please everyone. Learn more about BoyfriendNudes.
BoyfriendNudes has a variety of male models
On the homepage, you will mostly see hunky guys with large penises; though, do not let this fool you – there are many body types featured at BoyfriendNudes. Supposedly, the content is user-submitted and once you start browsing through the website you can start to see the amateur content. The male models range from younger guys in their early twenties to older men in their fifties. Every body type, penis size, and race gets represented at BoyfriendNudes. While you will get a variety of male models at BoyfriendNudes, luckily most of the models are fit.
Types of videos at BoyfriendNudes
As you would expect, most of the content is masturbation videos. A guy sets up a camera and lays back in a chair or bed and starts masturbating. In addition to masturbation videos, there are dozens of sex videos. The sex scenes include anal sex or blow jobs and sometimes both. After masturbation and gay sex, BoyfriendNudes has videos containing guys shoving stuff up their asses. You can see male models playing with dildos, flashlights, bottles, bananas, and other oblong items.
Quality of videos at BoyfriendNudes
BoyfriendNudes has over 600 videos and most of them are high-quality and filmed with high-definition cameras. You can stream the gay videos through the browser or download them to your computer. When downloading, users can select 4 different sizes in MP4 format. Users can also download up to four different videos at the same time. Since these videos are user-submitted, there are sometimes videos that are lacking in quality; though, most of them are decent. Of course, videos are not the only content you will get at BoyfriendNudes. This site has over 1300 picture sets. As with the videos, the picture sets vary in quality and size. The picture galleries can contain anywhere from half a dozen to a couple dozen pictures. When browsing through the picture galleries you will notice that many are selfies taken with cameras or cell phones.
Daily updates at BoyfriendNudes
BoyfriendNudes is several years old, but they still continue to deliver daily updates. This is one of the best features of the website, as many websites claim to give regular updates and then give nothing for months. Part of the reason for the consistent updates is probably that the videos and pictures are user-submitted. Either way, having content to view each day makes this site more worthwhile. There is a calendar that you can click on to view all the updates from a specific day.
Visit 28 Bonus Websites on the GF Network
In addition to getting unlimited access to BoyfriendNudes, you get access to 28 bonus adult websites on The GF Network. This part is odd, as BoyfriendNudes is the only gay website on this network. The other 28 adult websites are straight websites featuring amateur female models and straight sex. The websites on this network include WatchMyGF, MyAlternativeGF, PublicGFVideos, and SlutsWithPhones.
Getting a membership to BoyfriendNudes
Getting a membership to BoyfriendNudes is easy. As soon as you get your membership, the entire website is yours to browse and download, including all 28 bonus websites. Here are the different membership plans offered through BoyfriendNudes and The GF Network:
$1.00 / 1 day, recurring at $39.95
$27.95 / recurring every 30 days
$59.97 / recurring every 90 days
Warning: the website is not active anymore, but you can find a very close one here