CashForSexTape Review
CashForSexTape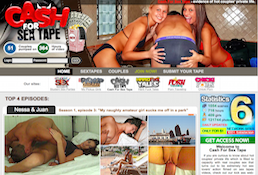 Price: $1.00 1 day
CashForSexTape will let you immerse in an amazing world of user-submitted and amateur porn.
00000
CashForSexTape Review
Site Overview
If you were offered a lot of money to tape yourself having sex with your partner, wouldn't you do it? Well, these couples have and they share with the rest of the world their everyday life and sexual adventures. CashForSexTape is a user-submitted content type of site where you can meet and watch lots of couples enjoying their hottest moments.
Design & Features
At first sight, CashForSexTape might seem a bit cluttered and full of text. But everything is so well organized and oriented towards a simple and recognizable goal that you can move through it easily. There's a main column that features stills of the latest videos, a brief intro about them written by the couple that submitted it and even a rating for that particular episode chosen by the users. If you're not subscribed yet, the "click here to watch all season" will take you to an introduction of the couple and the videos they've shared and you can watch short one-minute trailers of each one.
After these videos, you can find stills of the newest couples and the best-rated videos on the site. On the right side of your screen, there's a detailed explanation of how the site works, a button to share your own video, a ranking of the best couples and even a poll about some related topic. For navigation purposes, there's also a cloud of tags that you can use if you want to find a specific type of video or scene.
The design of the site is somewhat plain, with a white and gray background, an introductory banner and your average navigation bar. As I've said it features a lot of text but it works perfectly with the site and it doesn't interfere with the navigation. The mobile version of the site is total perfection. It just has buttons to join and log in, and two screens to choose from (scenes and girls) and a scroll-down list of still in each of them so you can decide what you want to see. If you click on a scene you can access the trailers in two different formats suited for different types of devices. This makes it intuitive and offers you a great working speed.
Girls & Videos
One of the most important features in user-submitted content is the variety of girls you can find in the videos. While most of these amateur women are European, you can find a wide range of ages, body types, and styles amongst them. The one thing they have in common is that they all enjoy taping themselves while having sex with their partner (and sometimes others) in both public and private places. There's not a single type of scene here, oral and anal sex are heavily featured, as well as masturbation and even tit flashing.
As with every site of its kind, the quality of the videos can be very varied as well and so you just have to browse through them to have an idea of what the standard is. However, the fact that you can watch trailer even before deciding to buy a membership is a plus. Another good feature is the "Couples" page where you can find personal information about every person on the videos, such as age or body measures, but also questions about their sex life, what they like and dislike and such. If you're a member you can even message them privately.
In regards to quantity, the site has almost 400 scenes with an average length of 55 minutes, which makes for a very impressive amount of content. Of course, all of the scenes are amateur but the quality of the filming is on average very good. The videos are in sharp HD quality and both in AVI and MP4 formats and there isn't a download limit. The mobile phone version adds the M4V format in case you have an older device.
If this wasn't enough, there's a huge photo gallery with more than 250 galleries that contain about 350 pictures each. They can be downloaded into zipping files also without limit. There are two types of memberships (30 and 90 days) and one trial membership for one day. With your payment, you get access to other five sites all including user-submitted content. They advertise the sites as having daily updates, and all of the content is exclusive.
Conclusion
The most impressive thing about this site is the size of its archive. There are lots of hours of video and a huge number of images to check-out. Another plus is the mobile version, which is really well thought to work on any kind of device, no matter how old. The idea of knowing personal details about the couples and the "everyday life" feel of the videos is another strong point of CashForSexTape. For those of you looking for amateur couples having real hardcore sex, this site has a lot to offer, literally.
Contents
| | |
| --- | --- |
| Videos | 400 Videos |
| Pics | More than 250 Picture Sets |
| Download | Available |
| Categories | amateur, anal, hardcore, blowjob |