CinemaJoy Review
CinemaJoy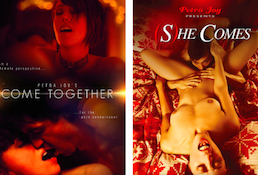 CinemaJoy will give a new porn vision. Enjoy sensational movies full of eroticism and hardcore actions.
00000
CinemaJoy Review
Site Overview
The most interesting porn movies I have seen in a while are those on CinemaJoy. When a female director makes porn movies, it is certainly something to see and enjoy. This female point of view is more erotic, artistic and authentic in my opinion, and never boring. Don't think there is no hardcore, it is actually the opposite. Get yourself a comfy chair or bed and enjoy the fabulous and surprisingly interesting and sensual action in movies provided by Petra Joy and other directors chosen especially for their artistic and hardcore value.
Design & Features
The nice designed page of CinemaJoy can only stir your imagination is one way, toward carnal pleasures. You will come to appreciate the pure and sweet sensuality and the kinky lovemaking you will encounter in the videos, but the first impact is made with this site speaking an artistic language of pleasure. It all begins with dark background colors and shades of gray that make the navigation pleasing and relaxing to the eye and anticipating to the mind.
The video that starts once you enter the world of erotica is a few minutes long, but in those few minutes, you will get the general idea of what you can expect from the content of other videos. The one thing that this site lacks is regular updates. It is not something that should worry you because of the quality of existing videos, and that quality is superb. The membership is recommended for the connoisseurs of porn and others, ones that aim toward quantity would be disappointed with 30 videos and 30 galleries with photos. The payment is secure and all downloads are reliable and unlimited. It is really great that this site has adapted its content to mobile devices so you can browse optimally on your smartphone or tablet.
Girls & Videos
There are a lot of quality films on CinemaJoy. The most of them are from director Petra Joy and others come from different directors that have intrigued Petra and stirred her fantasies. The newest videos are all of the best cinematographic quality and most of those movies have won awards and are highly appreciated by the critics. The feminine view of erotica and porn is really intriguing and in some movies, female fantasies are explored and in other, there are lesbian and gay couples discovering their pleasures in natural ways without to mush acting and pretending for the camera.
The ones that I really liked the best are made of short movies with various female directors presenting their fantasies on the silver screen. There is, of course, explicit sex scenes and hardcore games in and out of bed, but all in all, these stories are told in a better and more intriguing way than your regular porn movies. There is style, fantastic true lovemaking, some kinky acts and a lot of sex with guys, girls, transgenders, lesbians, black and white people. I believe that all things considered, watching these movies will bring more than passing pleasure and you will be turning to these movies and watch them again and again, grasping for that fleeting and intriguing pleasure that only people with an artistic view can give you.
Conclusion
Spoiler alert! CinemaJoy will be your place to turn to whenever you need more than just simple release. The intrigue, sensuality, and erotica, but also hardcore fucking all in one expect you in one of the better collections of porn movies I have seen in a while.  There are mistresses with whips, gay couples and transgenders, lesbians and straight couples playing their fantasies on the silver screen. The awards given to these movies are justified, you can find out why when you join this fantastic site.
Contents
| | |
| --- | --- |
| Videos | More than 30 Videos |
| Pics | More than 30 Picture Sets |
| Download | Available |
| Categories | hardcore, blowjobs, lesbian, erotic |