CumLouder Review
CumLouder Review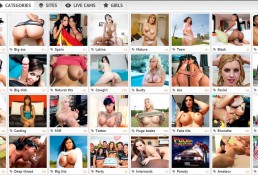 Price: $1.00 1 day
CumLouder, unlike many other porn sites, gives you free access to almost all of its content and charges only for bonus features. And when that content is entirely videos of every kind of hardcore porn you could possibly want that's a damn good deal! Especially as there's well over 10,000 videos, ranging from 1 minute to over 1 hour long and many of them in HD quality, featuring some of the sexiest Spanish and Easter European porn stars.
00000
CumLouder is something of a haven among porn sites these days. There is a massive quantity of incredible movies here, and more than 300 porn stars for you to enjoy, and it differs from the crowd by offering practically its entire library of hardcore porn clips and videos for free. You don't need to pay a single penny to get access to a lifetime's worth of amazing XXX action. And if you do want to unlock free roam of the website it's pretty cheap – and membership gives access to 17 original HD series' of movies, as well as the ability to use CumLouder from any mobile device you wish to.
What to expect from CumLouder
This is a true video site: whatever kind of porn you want to watch, CumLouder has it. Everything from sucking, fucking and masturbating to public blowjobs, squirting, interracial action, spanking, big asses, big dicks, group sex and a hundred other categories I don't have the space to list. This truly is jack of all trades porn site – but it is master of some!
While pretty much all of the one minute clips – in every category – are in HD quality, the longer vids, ranging from three minutes to over an hour, aren't HD quality. It's not bad though and hey, it was free, so you can't really complain! Most of the longer films are pretty standard porn flicks – and standard for a reason, because they're very hot! And there are literally hundreds of stunning girls to choose from, a lot of them Spanish (as the site is a Spanish production, although it features plenty of models from the rest of Europe and further afield) and very good in front of the camera!
Spice of life
They say variety is the spice of life, and that's definitely true here! With thousands of videos to choose from, for free, there's probably a lifetime's worth of porn to enjoy on CumLouder. Sure, you won't want to watch it all – a lot of it is intentionally comical, in the vein of classic porn parody 'Edward Penis-hands' and not to be genuinely hot. Categories including 'Parody' (vids include Game of Thrones XXX and Fucked to the Future), 'Comedy' (with gems like Sperm Art and VatMan Vs SuperWhore) and 'Superhero' (exactly what it sounds like…).
It might not be for you (or anyone) but it's funny in the way porn from the 70s is – maybe not the horniest porn you've ever seen, but good for a laugh. Fortunately, though, there is a mountain of very horny content to enjoy, so you can pretty much ignore the quirky stuff if you prefer and just stick to the classic hardcore porn you're used to!
Everything else
It's a really simple site to navigate, there really isn't much to it. Either choose to browse by category or by model, and scroll through large thumbnails of hundreds of videos. Couldn't be easier, and it's a really user-friendly model some sites should take notice of. There are also a number of language options, including both English and Spanish.
But enough about how it works, I know that's not why you're here! While the majority of content on CumLouder is free to access, you can still pay for a couple of bonus features. Subscribing will get you access to 17 additional HD video sets, as well as the ability to view CumLouder on any mobile device you own. It's not a huge amount of extras, and the low price reflects that.
There's also the ability to pay extra to be able to view private webcam chats with live girls.
Conclusion
There's no reason not to check this out. It might not be the best quality of hardcore porn you've ever seen, but there's enough to keep you busy for a very long time, and it's free to access. If you love filthy, hardcore fucking then be sure to take a look at CumLouder – you'll thank me!
Subscription deals
$1.00/1 day
$19.95/30 days
$49.95/90 days
$89.50/365 days