DarkThrills Review
DarkThrills Review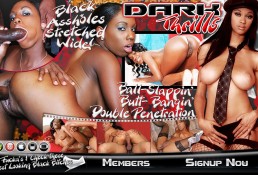 Price: $1.03 3 days
DarkThrills is a wonderful source for hot pictures and also porn videos of sexy black women having sex. The entire DarkThrills website contains nothing except pornography that features black models. If you like your women dark then check out DarkThrills and get a membership today. With your membership you can view everything at DarkThrills and a selection of bonus websites.
00000
DarkThrills hardcore porn site
The entire website revolves around beautiful black women. If you are a fan of ebony women then get ready for the excitement at DarkThrills. The premier hardcore porn site for viewing hot black models having sex, this site is above average and stands out for providing a smooth user interface and high quality videos and photo sets. When you are ready to take a look at a great porn site, take a moment to read this review of DarkThrills.
Hot black women in steamy pornography
These models are confident and in control of the situation. Watch them expertly handle every sex scene with confidence. Featuring a wonderful assortment of gorgeous black models, DarkThrills includes a large stable of attractive models. From full-figured models to skinny women, these models vary so that everyone can find something to turn them on. Engaging in all types of sexual acts, DarkThrills has hardcore pornography with some of the more attractive models that are online.
Variety of pornography with membership
Like many other porn sites, DarkThrills is part of a network that includes a select amount of other porn sites. With your paid membership to the DarkThrills site you will get granted access to a group of other porn websites with various content. They each have different styles than DarkThrills so that you will have more variety with your membership. All together there are 10 other porn website that you can visit and enjoy unlimited access to. These sites include HentaiFlash, ImpossibleCocks, SlovakTeensClub, and PantyHoseMovieClub. From animated pornography to other niche markets, these bonus websites cover a large section of the adult entertainment industry. DarkThrills itself has thousands of picture sets, with over 63,000 photos on this website only. When you combine the pictures and videos on these 10 porn websites the total number of pictures increases to over 28 million and a video count of over 167,000. That is a lot of pornography for such a low price.
High-resolution pictures and high-definition videos
No longer do you need to worry about finding grainy pornography. The picture sets and videos at DarkThrills are all high-resolution. View pictures at 1600 by 1200 pixels and videos at 1920 by 1080 pixels, both are high-definition. While you can view these online you can also download them without DRM restrictions. When a website does not have a lot of pictures or videos you can tire of the site quickly. Luckily, DarkThrills has hundreds of videos and thousands of picture sets. A large porn website with a niche focus, DarkThrills has a lot to give to its members. All these videos and picture sets are professionally filmed and photographed. Thanks to the high-resolution of the photos you can make out every detail in each scene and photo. This is high quality pornography at its best.
Discreet and secure sign up
If you get worried about the amount of porn that you get to view with a membership to DarkThrills then know that this site is part of one of the larger porn networks. With a large amount of pornography featuring hot models, DarkThrills is a high quality adult entertainment website. When you are ready to get your membership to DarkThrills you can select from several subscription lengths. The most affordable is the 3-day trial; though, the best value for members comes from the 90-day plan for $59.95. No matter which option you decide is best, the transactions are secure and discreet. Nothing will get written to your credit card statement that mentions adult entertainment or pornography. Choose to cancel your membership to DarkThrills at any time.
$1.03 / 3 day trial
$34.95 / 1 month (30 days)
$59.95 / 3 months (90 days)
Warning: the website is not active anymore, but you can find a very close one here