DogfartNetwork Review
DogfartNetwork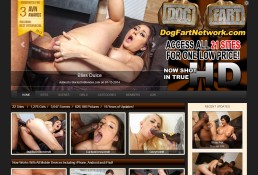 Price: $1.99 1 day
DogfartNetwork is the home to a massive pornography network containing various types of porn. Interracial pornography is the main focus at the Dogfart Network. Once you get a membership to this network, there are 22 websites to enjoy. Each site on this network is high quality with HD images and videos that can get played on any mobile device or browser.
00000
DogfartNetwork review
DogfartNetwork is making every effort to become the best website for interracial pornography. Here you get to see interracial pornography combined with various porn niches, including porn involving feet, glory holes, cougars, and more. There are a total of 22 porn websites available to view. Hot models and entertainingly seductive scenes are ready at DogfartNetwork. Every scene is shot in high-definition and each site on the network has a similar layout. This makes it simple to browse the DogfartNetwork porn. Before you get a membership to DogfartNetwork, read this review to find out more about the types of content and features.
DogfartNetwork combines 22 porn websites
When you get a membership to DogfartNetwork, you are actually getting a membership to 22 distinct porn websites. Even though the websites on the DogfartNetwork all contain interracial sex, each website has their own theme. With a membership, quickly go from one website to the next or browse content directly on DogfartNetwork. The websites on the DogfartNetwork include CuckoldSessions, BlacksOnBlondes, WatchingMyDaughterGoBlack, and BlacksOnCougars. Those websites are a small example of what you will get with a subscription to DogfartNetwork. This site is a respected source for some of the industries very best pornography starring interracial sexual partners. Strikingly hot models get featured in every scene.
DogfartNetwork has a simple structure
After visiting some of the websites on this network it is obvious that each site follows a similar approach in design and structure. The interface is basically the same from site to site and you may even see models appear on multiple websites. The setup of DogfartNetwork allows users to browse quickly through content. Along the main menu you can view the categories page or browse video scenes and models. Across the 22 websites, 1,276 models get featured and star in a total of 3,653 scenes shot in HD. There are also 626,322 images hosted on the network. Whichever website you visit, quickly get a hold of the finest interracial pornography available on the internet.
View award-winning interracial high-definition pornography
The days of poorly filmed pornography with grainy shots are over. At DogfartNetwork, and each of the sites that are part of this network, the videos get shot in stunning high-definition. If you prefer images, there are also plenty of pictures available for viewing. Instantly stream these videos. The videos are all HD and you get to stream them online on any browser or even your mobile device, whether you have an Apple or Android phone or tablet. Thousands of videos are ready for viewing, once you get a membership.
Overview of DogfartNetwork
As mentioned, DogfartNetwork includes 22 first class porn websites. Interracial pornography is found through each website; though, you get to expect a variety of content. Watch white women having sex with black guys in many different settings. The websites follow a basic theme and they are expertly created to give users a better pornography experience. DogfartNetwork has been in the pornography business for 18 years and has amassed a large collection of pornography. Overall, DogfartNetwork is a professional porn website with a wonderful collection of pornography.
Learn how to get a membership to DogfartNetwork
Memberships to DogfartNetwork are easy to get. They have four subscriptions to look over, from the single day trial to a full year subscription. The longer period you get, the more savings you will get. All transactions are of course discreet, without listing DogfartNetwork on your credit card statements. You also get to pay with a credit card, checking account, EU debit SEPA, or direct pay EU. Cancel your membership when you want. Get instant access to this pornography collection that is 18 years in the making. Sign up and get your membership to DogfartNetwork today.
$1.99 / 1-day trial
$29.99 / 1-month PayPal ACCEPTED
$19.99 / per month (3-month subscription)
$9.99 / per month (12-month subscription)