DollsPorn Review
DollsPorn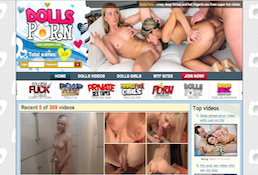 Price: $1.00 1 day
DollsPorn provides tons of high quality amateur porn scenes covering many different porn niches.
00000
DollsPorn Review
Site Overview
DollsPorn is an amateur porn site which offers videos of hot Russian girls being railed by one or two guys. Each video shows these girls seducing the men in the video, just as they would in real life. The videos are in HD, but the filming style is much like a home video which adds to the amateur feel. There are no advertisements and the videos allow you to watch a long trailer to get a taste of what you're in for. By joining you gain access to all 11 of WTF sites.
The site is mobile friendly, downloads fast, and is in high definition. They offer regular updates and a zip file of high resolution photographs for nearly every video. In addition to having zipped photos they also have a large photo gallery for you to browse though. DollsPorn is not use Digital Rights Management (DRM), so you can use the downloadable material for whatever you want. They offer over three hundred scenes of amateur girls being fucked hard, deep anal sex, intense blowjobs, cream pies, and even the occasional double penetration. In addition to the wonderful site, DollsPorn offers constant online support and a 100% money back guarantee if you decide it's not your cup of tea.
Design & Features
DollsPorn color scheme is bright and cheerful decorated with colored hearts and the WTF's logo; a cracked egg. The entire site is in bright blue, pink, white, and grey, giving you a feeling of these girls being pure, but once you click on these harmless seeming women you'll soon discover how rough these girls can get. The navigation bar offers links to the site's videos, the site's girls, and access to other WTF network sites. Beneath that there are two things you will find: a strip of DollsPorn's top ten girls and a collection of thumbnails for various videos offering a short description of what you'll find. With almost every video you click on there are zipped photos of the scenes you just watched. The photo gallery is filled with high quality photos of the girls and the actions they perform. The site is mobile friendly and loads quick, even on your mobile device. All of the videos are amateur and a lot of them are girlfriends seducing their boyfriends on film. There are many videos featuring girls in either stockings, heels, or both.
Girls & Videos
All of the girls on this website are amateurs. Each video shows a homemade video of a Russian girl seducing and teasing her boyfriend or lover. Even though these girls look delicate they prove to be naughty girls. A lot of the videos feature rough anal, blowjobs, and cream pies. There are a few videos where you can find double penetration, but for the most part there is only one guy and one girl. One of the attractions of this websites is the seduction, you get to see the girls in action, you get to see the sensual movements and teasing that usually only occurs in real life. There is no prompting after the camera man picks the girl up initially. The sex happens naturally. Some of the girls may truly surprise you with what they're into and enjoy doing. Some of them keep it vanilla, others like it rough, and a lot love sucking cock and having their asses stuffed.
In "Sexy Evening with a Horny Sex Doll" a blonde with large tits is picked up off the street under the pretenses of watching a movie. Within moments of entering the home of the guy filming, she hops in the shower, playing with herself a bit before settling herself nude on the couch. As soon as he sits down she wraps her mouth around his cock and sucks him off. He returns the favor by having her hold the camera while he eats her out. The hot, blonde, Russian then climbs onto his dick and begins to ride it hard. The camera angles are fantastic, but done with a simple hand held camera, which makes the experience wonderful. "Steamy Amateur Porn with a Real Bombshell" begins with a slender brunette strutting in front of the camera man. She peels her top off and poses to tease the camera man, who then begins to finger her under her jeans. She unbuckles the front of his pants and sucks his cock. After trying to fit all of his cock into her mouth, she removes the rest of her clothing. The rest of the video is of her being fucked in different positions: doggy style, cow girl, and missionary to name a few. "Super Arousing Amateur Porn Tape" begins with a couple flipping through a copy of the Karma Sutra. The blonde and her lover start to make out until her lover lifts her white tank and plays with her tits. They continue to make out and tease until she starts giving him head, moaning as she sucks his rock hard cock. Everything is sensual until they begin to fuck and then the rest of the video is of her screaming while his cock is being rammed into her pussy at top notch speed.
Conclusion
The videos on the DollsPorn site are not just filmed in HD, but are edited to perfection. Unlike most amateur videos, these are not drawn out with long conversations or cut scenes of talking and walking. There may be a little in the beginning, but it's just enough to see the initial interaction of the girl being picked up and her seducing the male camera man. After they begin there is little to no talking; only fucking, sucking, and licking. In addition to the high quality of filming they offer a lot with a membership. By joining you gain access to 11 websites ran by the WTF Network, no DRM, regular updates, an extensive photo gallery, and over 3.000 scenes. There is 24/7 support available and the WTF network is so confident of their quality that they offer a 100% money back guarantee. Like all of the best websites, the content is available on your mobile devices, which makes access easy, private and fun. No more hauling your lap top into the bathroom!
Contents
| | |
| --- | --- |
| Videos | More than 3.000 Videos |
| Pics | More than 1.000 Pictures |
| Download | Available |
| Categories | hardcore, amateur, anal, threesome, creampie |
… or read more on DollsPorn from other review sites!