ExtremeHentaiTube Review
ExtremeHentaiTube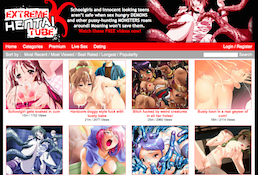 ExtremeHentaiTube is where you will get to see one of the biggets collection of hentai videos.
00000
ExtremeHentaiTube Review
Site Overview
If you ever wondered how the perfect woman looks like, you should search no further than the real Hentai. The most vibrating bodies you'll ever see getting ravished by well hung humans or monsters are waiting at ExtremeHentaiTube.
Design & Features
No one wants to spend too much time browsing, especially when they know what they want. This is why having the option of sorting by rating, date, popularity, length and upload date is a time saver. You will see all those tabs on the main page and that should get you started fast. The extensive use of color in anime drawings catches the attention immediately and captures the essence of the site quite well.
All the videos per category are shown in explicit thumbnail captures and are accompanied by short and accurate descriptions of the scene, as well as a duration and number of views. Navigating through category pages is smooth and can be done by using the arrows buttons at the bottom of the screen. All you have to do is choose a thumbnail you like and then just click it to reach the download page. Regardless of which device you are using, the site provides formats compatible with both Windows and Mac as well as mobile platforms, and because videos are short you will rarely have to download anything over 30Mb.
Girls & Videos
Hentai aims to present perfection when it comes to the woman form. It is the endless variations that draw most of the fans to this type of sexual fantasies. The girls will always be drawn with the perfect breasts and the most appealing ass you can imagine. The vibrant hair colors you don't normally see on the streets, are some of the trademarks in Hentai and make for some of the most arousing elements. This is not like regular old-fashioned porn. You don't have performers being filmed for a movie so the skill level is hard to judge. By my best judgment, what you see can be as novice like or as professional as you may desire. It all comes down to the artists and maybe the voice acting.
The videos are only available in high quality. It should not be hard to see why, considering they don't rely on cameras and putting people through hours of makeup. Everything is done digitally and you can't go wrong with that. The short runtime of most videos, on average 15 to 20 minutes, means you only get the good parts and they download very fast. With over 40,000 videos it has to be one of the largest collections I've ever come across for sure. It's hard to think someone won't find whatever it is they are looking for, on this site. Of course not everyone has time to watch scenes, but that's ok.
They also have over 100,000 pictures in excellent quality, categorized carefully and ready to view or download by any member. Unlike most sites, registering takes less time because there aren't many options to choose from. There's just a onetime subscription that comes with a lifetime membership. From there, the access to all the dirty hardcore monster fantasies is granted with some additional perks as well. In case someone wants to venture back to reality for a moment, the site also offers its members the option of dating and live sex. Those two can also be found on the main page, above the category search section. For those interested in some chatting or just a simple break from toons, the option exists for any member.
Conclusion
ExtremeHentaiTube wraps up massive amounts of Hentai, adds in a little taste of reality and offers a nice package deal to its members; with multi-platform download options, all of this in a user friendly interface, of course.
Contents
| | |
| --- | --- |
| Videos | More than 40.000 Videos |
| Pics | More than 100.000 Pictures |
| Download | Available |
| Categories | hentai, monster |
Warning: the website is not active anymore, but you can find a very close one here