Freak Bukkake Review
FreakBukkake Review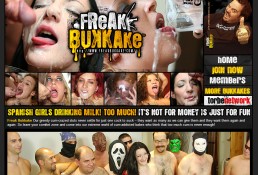 Price: $29.99 30 days
Freak Bukkake is possibly the best porn website for bukkake pornography. Bukkake porn is adult material featuring women guzzling large amounts of cum. Watch as groups of men spray a happy woman full of their ejaculate. This is a niche porn category. View hundreds of hardcore bukkake scenes. Additionally, gain access to 34 bonus websites that are part of the Torbe Network.
00000
Freak Bukkake features hardcore Spanish Bukkake
Freak Bukkake is your home for hot bukkake action. Bukkake is niche porn market that has gained popularity. If you enjoy watching women get covered in cum from groups of men, then Freak Bukkake is for you. A part of the Torbe Network, Freak Bukkake is known for its hardcore action. The women in these videos do not shy away from cock. Every video shows at least one woman get covered in cum by a large group of men. The women usually kneel in the center while the men gather around and ejaculate on their face. There is some blow job action; though, the focus is really on watching these women get plastered in ejaculate. There are hundreds of scenes to watch and hundreds of models to choose from. When signing up for access to Freak Bukkake, you will also gain access to 34 websites that are part of the Torbe Network. If you have interest in viewing hundreds of high-definition videos featuring hot women surrounded by men, then keep reading to learn more about Freak Bukkake.
High-resolution bukkake scenes
All the videos at Freak Bukkake are high-resolution, so you can see all the cum as it gets drizzled over the faces of these women. Each video is 1280 x 720 pixels in resolution. All together, there are over 600 quality bukkake scenes featuring over 300 different models. This gives you over 18,000 minutes of hardcore bukkake action. In addition to high-definition videos, there are also picture galleries taken out of these scenes. All these videos and images are available for viewing directly on the Freak Bukkake website or select to download to your computer. When downloading videos, select the video format that you prefer. The available formats include WMV, Quick Time, FLV, and even PSP for viewing on the Playstation Portable.
Hot models ready for cum
As mentioned, there are over 300 models featured on Freak Bukkake. These models vary in appearance, providing something for everyone. One thing that these models have in common is their love for cum. Every model looks like they genuinely enjoy having their faces covered in cum. Watch as they guzzle bowls full of cum. These women are hot and ready for action. They are not amateurs and they know what they are doing. It really is amazing that Freak Bukkake has gathered such a large amount of women on one website dedicated to bukkake pornography.
Easy navigation and website layout
The website is well laid out, so that you can quickly find what you want. Scroll through the home page and see the featured models or click on the navigation links to start browsing models. Before you watch entire scene, check out the trailer or view the thumbnail images. When you have finished browsing Freak Bukkake, easily navigate over to the bonus websites that are part of the Torbe Network. If you think you are ready for some awesome hardcore bukkake action, then select a membership option.
Choose a membership plan and access bonus sites
Before you access all the hardcore action at Freak Bukkake, you need to choose a membership option. There are three different plans and each comes with unlimited access to the Torbe Network of websites. This includes 34 hardcore websites, such as Street Bribes, Only Euro Porn, Torbe High Class, and Torbe in Russia. All these sites feature incredible hardcore action. Torbe is popular in Europe and is now gaining fame in the rest of the world. To access the Torbe Network and the Freak Bukkake website, choose one of these membership plans and then pay with either credit card, check, or PayPal:
$29.99 / 30 days
$69.99 / 90 days
$7.99 / per month (one year)
Visit FreakBukkake>>