FreeGirlfriendsPassport Review
FreeGirlfriendsPassport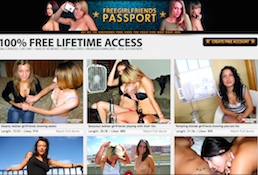 On FreeGirlfriendsPassport you can enjoy fine reality-porn, with some real amateur content mixed into it.
00000
FreeGirlfriendsPassport Review
Site Overview
The FreeGirlFriendsPassport is an interesting site. It claims to offer you a highly varied compilation of genuine amateur porn, featuring hot amateur girlfriends, who seem to go through some very fine drilling. These are quite bold claims, just as the promises of daily updates, extra content – and some bonus features are also mentioned. As always, our team of experts are going to dig deep, and see if these claims are met, or there are some that aren't exactly true. When we started reviewing the site, we tried to dig out its launch date which wasn't easy. The only date we could see on the site is located at the bottom, and it claims that this site is 20 years old. Now, this is what we couldn't believe, because with 20 years of daily updates, there should be more than 7300 scenes on the site. So, we believe that the site launched only a few years ago.
In the members' area, we found circa 3,800 scenes, which is quite a good number. So, let's say that the claims of a big collection are met, though it's not at the size we expected. Now, these videos are certainly not amateur porn scenes. The girls are looking way too good, they fuck just too hard, and the video quality is also better than expected. In fact, the site offers the viewers real hardcore reality-porn, with great sex and gorgeous girls. We are not sure that they are exclusive, but it seems that some content comes from third party providers – though a few genuine scenes are surely available.
Now, the bonuses are the most important elements which make the site interesting. First and foremost we have to tell you that this site is a Sextronix website, which is a program that has a few weird tactics. The membership you get is not free, only the trial is, and then it becomes a regular monthly one, so keep this in mind when you add your credit card details. So the best feature the site offers is the great network access to almost all big-shot Sextronics sites. There are one and half a dozen different porn site for you, and some of them actually has exclusive content, and they seem to update too. When you become a member of the FreeGirlFriendsPassport you gain access to those other sites, offering a humble 222,000+ scenes, from different niches. If that's not enough, the large DVD library the network has will certainly keep you interested in being a part of this bunch. We usually look on Sextronix sites carefully, but the FreeGirlFriendsPassport is one that you will certainly like. The sites in the membership also claim to be free, but they work the same way as this one.
Design & Features
This site has a simple teaser tour page. There are big thumbnail listed throughout, with some gifs placed among them, featuring hot moments of different videos. The text under the pictures is not really in harmony with the actual thing on the photos e.g. there is text talking about lesbians, while the picture shows a hot chick getting banged hard by a guy. But, you are not here for the tour, so let's go for the members' area. You can find a muted trailer on the signup page, that's the only working video for visitors. For some reason the Sextronix doesn't seem to try to get a better engine for its sites at all – or at least try to enhance or customize it. Okay, it's not bad, and it has a lot of features, only it's not the most modern one. There are different menus located on the page, you can also find a search field on the top, and different arrangement options on the left, under your account menu. You can also add scenes to your favorites' list, and the extra content is quite easy to access.
The site also has a mobile version. The videos here are streamed and downloadable, it's up to you which one you prefer. We suggest that you should go for the download option, because that's the way you can get the best quality – there are 720p and 1080p flicks too. Most MP4 files are offered to save. The stream uses a Flash-player. There are pictures sets added with the scenes – these usually offer the viewers a few different angles of the action.
Girls & Videos
We are quite certain that these girls are not amateurs, but we also believe that you will love them. These are hot chicks, mostly in their twenties, usually coming from the United States. They are doing a fine job on these videos, and with their naturally gorgeous body, they can twist any man's head. Among the models, you can find a bunch of cuties, who seem to be genuine amateurs, but the majority of the chicks here are semi-pros at least. There are Latinas and Caucasians mostly, but on the network sites, you might get some more. The videos of the FreeGirlfriendsPassport are looking good, and though they are not amateur videos at all, they grant you some very fine sex. There are no watermarks on the scenes, so we can't say for sure, but part of the content is surely not exclusive. Nonetheless, this is a huge collection of hardcore sex, and when you explore its content, you will see that all kind of things happen, ranging from solo sex to hard interracial banging and anal penetration.
Conclusion
The FreeGirlfriendsPassport is a great site to try, though not all of its claims are met. However, if you are looking for a huge site, with more bonuses than you could handle, then the FreeGirlfriendsPassport is the best way to start. The photos are looking good too, and when you are browsing through the site, you will find it huge. We urge you to join up, if for nothing else, then go for a month, and see what you can find inside. This site is pretty awesome, and the bonuses are making it even better.
Contents
| | |
| --- | --- |
| Videos | More than 200 Videos |
| Pics | More than 200 Pictures Sets |
| Download | Available |
| Categories | hardcore, GFs |