FuckingMachines Review
FuckingMachines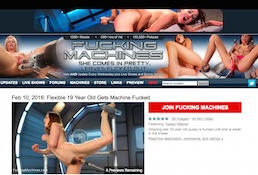 FuckingMachines let your fetishes go crazy here, anything you can desire you'll find on this site, it's the ultimate site for the ultimate pleasure.
00000
FuckingMachines Review
Site Overview
Are you looking for more than just any old porn site? Do you want something that will really blow you away and take you by surprise? If you tire of getting the same thing from every porn site out there then you need to take a seat and looking into becoming a member at FuckingMachine. Why you ask, well because they are unlike any porn site you will ever find out there. They have no tours that promise you things they simply let their samples speak for their website. Let me tell you, those sample videos will have you joining quicker than your hands can type. If you're wondering what makes them so different, well FuckingMachine isn't just a title of a website, it's quite literal.
With over 35 different fucking machines that fuck hot chicks until they cum how can you resist? Stop and view them all, pick a favorite machine and see your favorite model getting blown away until she cums. Sex machines and hot women, what more could you ask for? Even if you aren't asking FuckingMachine has more to offer you, with a store available to shop and buy your favorite sex toys. There is so much more just waiting for you, keep reading to find out what all this site has to offer.
Design & Features
When you first look at the site you are instantly intrigued, the design is simple yet kept to be very professional when it comes to looks. There is a bar across the top with different tabs to navigate through each of the individual pages. If you scroll down you will see the site is updated regularly and is only growing in size by the days. Along with a neat blue design, it has plenty of features to offer you as well.
One of the many features to start out with is the monthly live shows, yes, they have once a month two girl live show. You will be able to chat with the models and director and enjoy the site of girls getting fucked in real time by the amazing machines. The chat feature can be used to suggest what machines should be used. You will also be able to go behind the scenes and see what kind of work goes in the Fucking Machines. The live shows are completely free to members. Another neat feature is the Kink.com store, there you can buy a number of sex toys and products as well as the fuck machines themselves. Yes, the machines aren't only exclusive to the models on this site. You can also join the forum to talk about all sorts of topics with other members. You are also able to search for videos specific to each machine.
Girls & Videos
The girls here are amateur models but they know how to moan and keep it going to the very end. They are hot and cum into submission by the machines and the guy or girl who controls them. They scream for more, and so will you after you get a little taste. One of the girls here is Luna Star a stunning girl who is put through all sorts of kinky and exotic sex positions with both men and machine. Another girl you can find on the site and is actually in one of the featured women on the site right now, her name is Valentina Nappi. This woman has an incredible ass and can be seen with all different types of fucking machines, in her portfolio you can see what she's been in and some personal information about herself such as cup size, sexual role, measurements, body type, and more. All the girls aren't your usual bombshell blonde pornstar that you are used to seeing all across porn sites.
The pornstars here are diverse in every way, from race, hair color, age, body type, tit size, etc. If you can think of that perfect girl you want to see get sexed up by a machine chances are here you will be able to find her. This website is built to please every kind of fetish you have, from the ones you like more props and intense conditions to just simple masturbation. There is a guarantee that you will find what you want while browsing this site. The girls on this site are surely some of the most stunning chicks in the porn industry and you'll love their sex skills. Not only are you able to watch live shows of girls getting plowed by machines but everything on the site is in high definition. But videos aren't the only thing you will have access to when becoming a member, you will also be able to view pictures of the models. Here there are over a thousand shots and over a hundred thousand pictures. That is over five hundred hours of content all for you to enjoy. But don't soon forget that this site is updated regularly so the numbers will change constantly only growing by the day. Check in every Wednesday and Friday for the new content that will be available to you.
Conclusion
To wrap this up this site is unlike anything you'll find out there, no other site has personal sex machines to fuck the living daylights out of their models. And not only do they have fucking machines but they make them available for purchase by you, so you can use one of your own at home. Browse the store for sex toys to spice up your sex life, and when the sex life is a little dull you can come here and enjoy a good video or live show. There is no reason not to join today, get a taste of what FuckingMachine has to offer and it will only leave you coming back for more every time.
Contents
| | |
| --- | --- |
| Videos | More than 500 Videos |
| Pics | More than 1.000 Pictures |
| Download | Available |
| Categories | hardcore, machine, sex toys |