GayAsianNetwork Review
GayAsianNetwork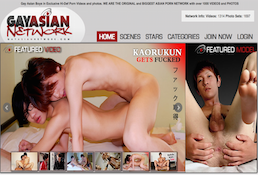 GayAsianNetwork has a huge collection of gay porn. On this site you can enjoy tons of videos and pictures with many exciting guys.
00000
GayAsianNetwork Review
Site Overview
Gay Asian Network truly lives up to its name because it really is a great network of sites. It is the original and biggest Asian porn network and offers over 1,300 videos and over 1,600 photo sets that will make you and your cock very happy if you are as into Asian guys as I am. Sometimes, some web sites offer great quantities of videos but don't deliver on quality. This is not the case here. The exclusive content on Gay Asian Network is in high definition and will not disappoint. Quality and sensuality are the first words that come to mind when thinking about Gay Asian Network. I was very impressed with the grand variety offered on this site and was happy to see that they make a point of helping you find things easily, which is always a plus.
Design & Features
The design of this website, and of all its connecting, niche sites (Asian Boys, Gay Asian Amateurs, Asian Boy Feet and Boy Kakke), is really straight-forward and easily accessible. I love the fact that most of the videos on the site offer previews so you can check out part of the scene or movie to get you in the mood for more. Of course, you probably are already in the mood before you start watching the preview, but it does give you an idea of the guys in the scene and you will no doubt generally want to see more of each and every scene or movie you preview. Another one of the great feature for me is the well-written summaries that accompany each video.
Often, on many sites, these are non-existent or really botched, so it is nice to see that even on that level, Gay Asian Network devotes great time and energy to offering to quality stuff. I am also a big fan of Gay Asian Network because of its Categories feature. Besides the actual Categories feature in the navigation bar at the top of the site page (which offers up the videos divided into 8 different categories: 3-way, anal, facial, fetish, foot fetish, masturbation, muscles and pissing), you can even go deeper (mmmm….) into categories with the amazing list in the left-hand side bar. There, you will find great key words like Ass play, Chubby, Daddies, Group sex and about twenty more.
I particularly like the Themed Sex section, because I love when there is some sort of story to the scene or movie. In this great category, you will find scenes that are set in computer rooms, in offices, in locker rooms, in doctors' exam rooms, you'll find soldiers, outdoors sex, soccer players, police officers, karate guys, and so many more. And since the site is so easy to navigate and gives you direct access to content from its niche sites at the same time, you will quickly find what you want so you can get down to the business at hand: filling your eyes and mind with great fantasy material so you can fill your hands with hard cock and hot cum.
Guys & Videos
After perusing this amazing network of Asian porn sites, I can honestly say that I am thrilled with its beautiful variety of hot guys and its exciting, cock-teasing and ball-tingling videos and photos. If you are into Interracial sex (here, of course, we are talking about Asian guys getting it on with Caucasians – namely hot Australians, Latinos or Middle Eastern guys), you will love checking out Korean twink J. Park getting into a hot threesome with Latino stud Nathaniel and a hot sexy white guy. If you like hard, muscle type Asians with protruding nipples, you will want to get an eyeful of Ko when he gets into a great threesome with gorgeous, horny twinks Makoto and Kiba. If you are also into Latin guys – either when they are getting it on with Asian boys or amongst themselves (because yeah, Gay Asian Network also offers some other varieties of hot studs, tops and bottoms) –, you will get your fill with Javier and Franko who will totally blow your mind and make you blow a load.
Are you into theme sex like I am? How about an amazing scene between Asian Ewin and Middle Easterner Farid washing a car (and each other!), buffing each others' cocks and hot bodies? Wow! That really did it for me and it should get you to shoot a hot load, too. If you are into Panda Bears (that's how we call fresh Asian bears, right?), you will also get plenty of those… some solos, some getting it on with hot twinks, others with Daddy Bears, and others in amazing group scenes. Whether you are into muscle Asians like Masato Ko, Dai and Fundoshi, huge Asian dicks (they do exist!) like Kenny Yama's, Yusuke's and Dark's or Yai's, hot chubby Asians like Myashi, Oto-San and Oyagi (who could also be found in the "older man" category but are really amazingly hard and willing and sexy!), you will find all you need in this great bouquet of Asian sites. Although there are mostly Japanese guys on the network, you will also find plenty of Malaysians, Filipinos, Vietnamese, Cambodians, Thais, Koreans and Chinese, as well as aboriginal guys. Truly a great variety of videos and guys that are really into it and will make you cum over and over again.
Conclusion
If you are really into Asian guys of all body types and all nationalities, but are not exclusively into Asian guys, Gay Asian Network could be exactly what you are looking for to satisfy all your hot XXX porno needs. You'll find a lot of amazing, sizzling almond-eyed hotties having sex with other gorgeous, sexy, sweet olive-skinned guys but you will also find them playing with vibrating toys, dildos, butt plugs… and other incredibly hot guys from all around the world. You'll even find some of those Westerners getting it on with other Westerners. So you'll get the best of the East and of the West…Wouldn't you like to be in between?
Contents
| | |
| --- | --- |
|  Videos |  More than 1300 Videos |
|  Pics |  More than 1600 Pictures Galleries |
|  Download | Available |
|  Categories | gay, group sex |