GayHotMovies Review
GayHotMovies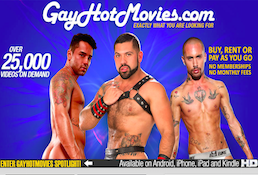 GayHotMovies provides the biggest collection of gay porn movies. More than 25.000 movies are at your disposal.
00000
GayHotMovies Review
Site Overview
Many gay porn fans claim that there are not just enough porn sites dedicated for them to go around, and we certainly believe that it is a fact. The reason is because the main target market of these porn sites is straight men, not women, and certainly not for those who belong to the LGBT or lesbian, gay, bisexual, and transsexual community. Some people would still argue to this claiming that there are a lot of lesbian porn sites around – but sit down and watch a couple of the videos coming from these so-called lesbian sites. They offer girl-on-girl action for sure, but not for lesbian's eyes. These girls perform these scenes for men's eyes because first, men wrote and planned them, and finally, men produced them. Most of these videos did not take the participation of a single lesbian during the creation process so how are they possibly sure that their scene is exactly what lesbians want? The answer is they don't, and they also don't care. This is the reason why we really enjoy creating reviews for porn sites that cater to other people's needs, for people other than men themselves. In this light, the porn site that we are going to feature today is a porn site made for our gay brothers – GayHotMovies.
We had found that GayHotMovies is a revolutionary porn site because of the way that it works. It is not a membership site like what we are used to. Instead, it is like an online video rental shop (yeah, remember those?), where you can either buy or rent a movie. So here is how it works. You buy credits, and these credits may be used to "rent" a certain movie, which means that you will be able to stream them unlimitedly for a certain time or duration, or you can buy the movie, making it available or you to download into your computer and watch unlimitedly. Having said this, if you are already interested in being part of their site right now, then you absolutely can! Signing up is definitely free and you can already browse their movies. They have twenty-five thousand movies available at the tip of your fingertips. More so, they even have a special promo right now, where you can get thirteen minutes for free, just so you can try out what their movies are like. However, let us remind you that we are not connected with GayHotMovies in any way. This is the reason why they will never notify us for how long this promo will last. We only know that it is still available at the time of writing this.
Design & Features
What we have noticed about the website design of GayHotMovies is that it is very systematic. By simply landing on the homepage, you are already going to see or access what you need, in just a single page. The first thing on that page is the navigation bar and immediately beneath that is the free thirteen minutes trial invitation. The navigation bar is pretty helpful and contains a lot of information and pages so we definitely suggest for you to go through all of them. Scrolling down, you will already get to see what the entire site is all about. They have a scrolling banner, containing all of their latest movies and site updates. You should notice the right column of the site as well, as it contains the list and links of their recently added movies. Below the banner are the featured categories. These are very thorough anyone who loves gay porn would certainly enjoy these categories. Some of them are All Muscle, Classics, and Bear just to name a few. Under that are their new releases, their featured porn stars, and their featured movies. Again, on the right panel are the list and links to their most popular movies, editor picks, and the new studios that have recently worked with them. Finally, they have links to their latest blog posts and announcements, and of course, a list of their most in-demand studios.
Guys & Videos
This is a genuine gay porn site so there are no girls allowed here, and you won't find any. Let us take this part of the review though to feature the male porn stars within their site. Since they work with different studios, it is no wonder how much famous porn stars they have here. They also don't feature any type of guy or nationality, so you will absolutely find any type of guy that you are seeking for here.
There is a nice selection of famous black porn models here. In fact, they even have their own category: Black Guys. As for other types like Asian and European, they have those too. And, of course, if you are unsure what you feel like watching and can't decide, then you can opt to watch interracial porn instead. As for the videos, they work with a lot of different studios, so the video collection and variety is massive. We can't even put our heads around it. We are all straight guys here so we had no idea that the categories of gay porn could be so many! One of our favorite videos though is the series where a big bear-ish guy humps off a fresh looking guy from behind. Priceless.
Conclusion
We believe that we truly found a one-of-a-kind site right here and that every gay guy would definitely enjoy watching their porn videos – especially when the site does not even require any type of commitment by membership. You can just purchase credits, grab and go. If you don't use up all of your credits, then don't worry because you can always use them some other time. There is definitely no pressure there. Finally, we also appreciate their blog posts and other articles, especially the ones where they interview porn stars. It gives us more insight behind the videos and movies that they make. And it makes us appreciate their work a little bit more.
Contents
| | |
| --- | --- |
| Videos | More than 25.000 Videos |
| Pics | No Pictures |
| Download | Available |
| Categories | hardcore, gay |