GrowlBoys Review
GrowlBoys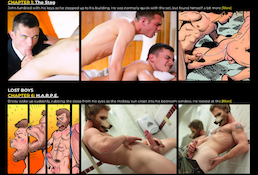 GrowlBoys provides a new and unique gay porn material featuring handsome models and sensational stories.
00000
GrowlBoys Review
Site Overview
Great gay porn site, GrowlBoys introduces an all-new type of gay porn by putting up a unique and exciting surprise. Their collection of gay models would definitely blow you away. These gays perform furry action that includes sexy erotic sex scenes. Watch them with horns and other animal parts while they fuck with their massive cocks. They used Computer-Generated Imagery to make these models look like they have their own horns and other animal body parts. You'll get a chance to watch these videos in high-definition. Plus, you'll receive updates every two weeks, so you won't have to settle for just watching the same video every time. Enjoy all of these here at GrowlBoys!
Design & Features
GrowlBoys boasts a unique type of porn content that makes them really enjoyable to visit. Anyone would be able to say that this porn site is different from others. Once you go to the About Page, you'll see that the site is themed as ancient Roman writing. This writing is called the "The Book of Changes," which depicts the GrowlBoys fictional character. Its style of displaying porn content is truly explicit, and they combined it together with realistic makeup applied on its models. It creates a completely different porn content that anyone has never seen before.
This porn site offers constant updates for its horny gay members. They would provide a whole new story for you to watch or give you the next episode of what you're already watching. If you click the Library tab on the upper left part of the site, it will direct you to a collection of stories that this porn site offers. It has 3 tabs, "The Stories," "Prometheans," and "Thebans." The Stories tab compiled its juicy and exciting stories. They are worth the read and can surely give you an orgasm.
The design of this porn site is truly outstanding. You can never visit a porn site cooler than this. It picked the color black as its background design to make it appealing and pleasing to visit.
Guys & Videos
The models of GrowlBoys are mostly fresh guys and have firm bodies. Most of them are clean-shaven and have nice dicks. Their physiques are mostly slim, and some are muscular. Since the stories are about guys transforming into some kind of animals, these models would have dog ears or horns. Some models would get their face fully covered in makeups to resemble a dog or sometimes an animal with a horn. The special part is they get to retain their original bodies. Basically, they would have the face of a dog but have a hunk body while showing their dicks. Their creations are truly finessing and exciting to watch. Every scene in this porn site is fascinating to watch and would definitely make your dick hard as fuck.
Conclusion
A porn site that you wouldn't imagine to exist, GrowlBoys is astonishing to visit. Its handsome and hot models, overall contents to offer, and the stories behind every video are truly a thing you must expect. You'll get to enjoy all of this porn site's offers in high-definition. Even their collection of pictures is in clear quality for a complete porn-watching experience. You won't definitely regret your stay at this porn site and surely spend more time browsing all of its parts.
Contents
| | |
| --- | --- |
| Videos | More than 100 Videos |
| Pics | More than 100 Pictures Sets |
| Download | Available |
| Categories | Gay |