HentaiXxx Review
HentaiXxx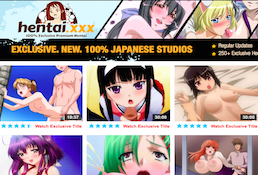 Price: $1.00 1 day
HentaiXxx has one of the biggest and exclusive collection of Japanese hentai porn videos.
00000
HentaiXxx Review
Site Overview
Let us admit. Humans can't do everything. All our fantasies, our fetishes, and horniest dreams – all these cannot be accomplished by mere mortals alone. So what do we do when our fetish goes beyond the physically possible and natural? We turn to art. What can't be made by real life ladies, those hotties on hentai surely can! If you are already a fan of hentai, though, then you might have discovered already that there is not enough of new stuff to go around on free porn sites. The segmented videos that you might have seen already in one porn site, is more or less the same hentai selection that you're going to see on another site, which makes you think, are these really the only hentai movies around? Well, allow us to answer your question. They are not. There are actually a lot of new hentai movies being produced each month – enough to give us something different to watch every day. These are all exclusive, though, so you need to search and pay for them.
Fortunately, we have found a good porn site that provides the best hentai videos produced by different studios, all in one place. In this way, you don't need to search for them anymore. All of your most sought after hentai videos are compiled on just one site. What's better is that you don't need to pay for each of the studios as well. In this way, all you need to do is to pay for premium membership in this single site and you will already get to enjoy videos coming from different studios straight from Japan. This is Hentai XXX. This porn site features high definition hentai videos coming from famous studios like Milky, Sakura Films, Bootleg Label, and more. The porn site also makes sure that all of the videos that they feature in the site are new and just freshly released in Japan. Finally, this porn site has even taken some more steps to further enhance our hentai viewing pleasure.
All of their videos have already been dubbed in English, so you can say goodbye to reading. We don't know about you guys, but reading sometimes tears us away from focusing on the action. But with Hentai XXX, you won't need to read anymore. You can watch it like watching a regular porn video. If you are ready to sign up for membership already, then allow us to provide you the available options. There are actually three, but the first option, which only lasts for a day, is like a trial option only. The other two membership options though are good for a month, and the other, for three months. According to the site, the most popular choice among their members is the three-month option as it provides the best value for your money, but whatever option you select will entirely be up to you.
Design & Features
The website design of this porn site is very simple and straightforward. It has a more discreet welcome banner compared to others, and you will only see the perks and an invitation for membership there. The background is only in a plain white, and you will already see the big thumbnails of their latest videos. Each of the thumbnails only shows the title, the length of the video, and finally, the five-star rating of the video. You will be pleasantly surprised to find that most of the videos are more or less thirty minutes long, so most of them contain a full hentai movie unless the movie's divided into series. And these thumbnails are the only stuff that you are going to see on the homepage.
Characters & Videos
One of the things that we like about the girls on hentai is the fact that they can go as hardcore as we want to. Their boobs can be bigger than the biggest boobs you've seen in real life porn, and they would still look natural and appealing. Another thing is the fact that no matter how hardcore things can get, they would still look great. Not to mention the fact that you are a hundred percent sure that nobody really got hurt while creating the scene. Finally, there is also no limit to the variety of girls that you are going to enjoy here. Some sites would just feature blondes and brunettes – and that's it. But with hentai, girls can have a variety of hair colors – pink, blue, purple, even green! And the girls here can come from anywhere – a man's dreams, they can be androids, and they can even come from outer space. The creators' imaginations are truly the only limits to this perfect world called hentai.
Moving on to the videos, we are really impressed with the different movies and scenarios that you can enjoy here. One of our favorites is the video where there was an android girl, and her real power was awakened by an alien with massive arms. She was flying in the scene, trying to kill the monster, when suddenly one of her legs got caught by one of its long arms. The next thing that we know is that the girl is already undressed and being fucked in all of her holes. The alien was pounding her ass and her pussy. There were arms fondling her nipples and breasts. There were arms holding her still while some are entering her mouth. It was truly out of this world.
Conclusion
Overall, if you really enjoy hentai, then we definitely recommend this site to you. If you haven't had the opportunity of watching one yet, then we totally feel that you're missing half of your life by not experiencing the awesomeness of this type of porn. If you really want your first hentai experience to be memorable, here is what we suggest for you to do. First, think about the most insane thing that you can think of – something that is impossible to happen in real life, but you think would really turn you on. Once you already have a specific theme in mind, search for that video and watch it. After that movie, we are a hundred percent sure that you will be hooked for life.
Contents
| | |
| --- | --- |
| Videos | More than 250 Videos |
| Pics | No Pictures |
| Download | Available |
| Categories | hardcore, hentai |