HotLegsAndFeet Review
HotLegsAndFeet Review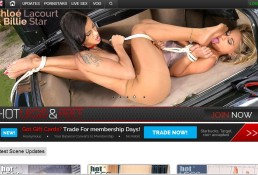 Price: FREE (2 days)
HotLegsAndFeet is the correct place if you love feet and nylon legs.
00000
What would you give to have 1,000 gorgeous ladies bare their curvaceous legs and beautiful petite feet for your pleasure? If you have a passion for foot worship or you're a lover of ladies' legs, then I imagine you would be in ecstasy. Well, that's precisely what you'll find at HotLegsAndFeet – and then some!
In fact, you will see almost 1,200 gorgeous international porn stars flaunting their greatest assets (to the fetishist, at least) and quite literally sharing their soles with you – and their toes and legs too! This is quite simply an astounding collection of fetish porn that will blow any foot or leg lover's mind. Everything from solo girls showing you what they've got and pleasuring themselves to two beautiful models baring all and working a stiff cock with their tongues, mouths and feet, it's all here.
What to expect from HotLegsAndFeet
The focus is without doubt on the beauty of a woman below the waist – but that doesn't mean this isn't a hardcore porn site. Of course, it caters primarily to the horny foot fetishist looking for the highest-quality HD videos to slake his lust. But considering the vast size of the HotLegsAndFeet archive it's not surprising there's a great variety in the content you'll find here.
All of the standard aspects of leg and foot worship are represented, of course: kissing, licking and sucking the legs and feet of beautiful women, as well as foot jobs, stocking, lingerie and other leg and footwear. Besides that, though, this is a hardcore porn site, with gorgeous porn stars sucking cocks, being fucked in the pussy and ass, squirting, cumshots, lesbian action and everything in between. In short, expect to find absolutely anything – but with a definite emphasis on those particular body parts that make you horniest!
In total, you'll find 2,300+ movie scenes – enough to last you a lifetime! On top of that, there are also more than 215,000 hi-res photos, allowing you to get up close to the action and enjoy every second of the hardcore sex on display. What's more, subscribers have unlimited downloads of all of the content, so you'll be sure to improve your own collection of foot fetish porn!
Why choose HotLegsAndFeet?
Also, new content is added three times a week, so there's no chance of it getting stale any time soon. In short, if you love to see drop-dead gorgeous porn stars stripping to their panties and beyond, showing off their beautiful legs and gripping a thick hard cock with their sexy soles until it spurts cum all over her feet, the decision should be a pretty simple one.
If you're not really into the whole foot fetish thing (or any of the other related fetishes you'll find here in abundance) it might not be for you, but I would still recommend at least checking it out – this is a genuinely impressive, professional premium porn site, and it's not often you can say that.
Everything else
All of the content here is fully downloadable, and the site is mobile enabled too, which is a bonus if you like to access your porn when away from your computer (or if you prefer to browse on an iPad etc). If you're not quite sure if it's for you then take advantage of the free two day trial; get a true taste of what's on offer here, and chances are you'll want more. After all, two days isn't enough time to sample even one percent of the mountains of content here!
Conclusion
With more content than you can enjoy in a lifetime, regular updates and an incredibly vast array of stunning porn stars living your wildest fantasies of hardcore leg and foot fetish oriented porn, this is a truly incredible porn site and absolutely recommended to any foot fetishist looking for top-quality porn.
Subscription deals
$19.99/30 days
$54.99/90 days
$94.99/365 days