ILikeFetish Review
ILikeFetish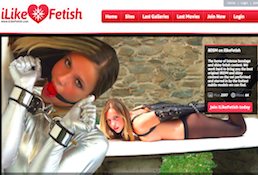 ILikeFetish will be your ultimate destination to enjoy all the best fetish porn stuff.
00000
ILikeFetish Review
Site Overview
A sexual fetish is the need of an object or a body part to get aroused and all of us have a specific fetish, some of it may not be as popular as the others but it gives us a tingly sensation. When it comes to looking for videos that feature our personal fetish to give us the arousal that we need, it takes multiple adult websites and thousands of videos to be able to watch the right one.
ILikeFetish is a site that features multiple sexual fetishes that porn watchers have, it serves as a one-stop shop because then you can watch other videos that you may not know that you like. This website will make you explore and discover a different side of adult entertainment.
Design & Features
The website shows a slideshow of the different fetishes that they feature on the site; they have smoking fetish, BDSM, street candid fetish, nudism, party candid fetish and many others. ILikeFetish serves as an instant pass to 9 different sites such as JuicyNudists, SmokeCity, CandidCrush, ShinyKitty, BoundMyBitch, MyBitchKate, MyBitchAlisa, LynnHD and KellyinSpandex.
The network has about 734 high definition videos and 2,509 high resolution pictures which are updated daily and they can be downloaded and transferred to your device since the site offers unlimited downloads for its members. The site is user-friendly as it is easy to navigate and it has a site map link at the bottom part of the screen to help you go through and explore the site, it also has a customer support hotline that is available 24/7 to help you with your questions and inquiries regarding the website or your subscription.
Girls & Videos
This site has 9 hardcore subsites that you can access once you sign up as a member; one of them is JuicyNudist that has niches of nudism, outdoor and naturism. JuicyNudist shows women who have it all out while they are at the beach enjoying the sun, the sand and the sex. In one of their videos it shows a short haired woman running along the shoreline fully naked. She put on a show and started touching herself in front of the camera, she played in the sand covering her fully naked body with it, she then dipped in and washed it off seductively as she scrubbed every part of her body including her clean and well-shaved pussy.
Another site that is featured on ILikeFetish is SmokeCity. The niches here are smoking and ex-girlfriend, it shows women who strip as they puff a cigarette, giving a twirl for the audience to see their gorgeous bodies. A video on this site showed a woman wearing a red dress. She was holding a cigarette and took a few puffs while she seductively stared at the camera. She sexily grinded her body and moved her hips from side to side as she slowly took the top off revealing perfect, huge breasts, she then pulled her dress all the way down as she continued to smoke the cigarette that she was holding. When she was fully naked and she finished the stick, she started touching herself, squeezing her breasts and rubbing her pussy.
Another featured site is KellyInSpandex, it shows a woman named Kelly revealing her fit and bright spandex as she posed in front of the camera and showed the outline of her pussy and her erect nipples. She sat on a couch and she spread her legs while giving the camera a sexy smirk, she lifted her legs up to show her covered pussy and ass, she then picked up an inflated balloon and started stretching and biting it. Since she was wearing a very fit spandex that wraps itself around her body, she used a stretched deflated balloon and lined it with her pussy opening, she started rubbing it up and down and she made it fit like a thong string. She blew into the balloon and rubbed it between her breasts; she played with it like it was a large, throbbing cock. She placed the balloon between her legs and she rubbed her pussy on it, she began squeezing it and she began pulling the tip of the balloon with just the right pull and pressure. She straddled the balloon and slowly sat on it, she then bounced on it thinking it was a hard dick that was inside her, and as she went faster and faster her grip on the couch became stronger like she was being pounded with a massive man meat. She picked the balloon up and squeezed it, she then sucked on the tip of the balloon from time to time, she ran her tongue around the tip and sucked it until it stretched, giving off a loud plop when she released it. She took her spandex off and showed black, silky pants and her bra, then she went around the room doing all the provocative poses in front of the camera.
Conclusion
The 9 sites that are featured on ILikeFetish have niches that are not commonly found in other adult entertainment sites, they have smoking, candid, spandex, balloons, catsuits, boydsuits, beach nudity and many others. That is actually what makes this portal unique; it feeds the fetishes of the audience and delivers the best quality pictures and high definition videos.
With just one payment you can enjoy thousands of their videos and pictures and you are entitled to unlimited download. We are talking about a subscription that is worth it. All of their models have exceptional performances that, even though you do not have a fetish on a specific niche, they will still make you feel all hot and bothered, they sure know how to make your imagination run wild.
The site is easy to use and navigate and they also have a user friendly mobile version of it, their customer service is one of the best as they immediately respond to any of your questions and inquiries. They also offer a newsletter subscription to make sure that you will be notified of their daily updates through your email.
Contents
| | |
| --- | --- |
| Videos | More than 700 Videos |
| Pics | More than 2.500 Pictures |
| Download | Available |
| Categories | fetish, candid, spandex, balloons, catsuits, nudism |