JpMilfs Review
JpMilfs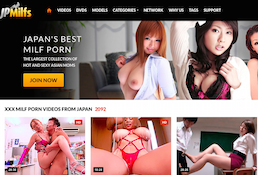 JpMilfs has some of the naughtiest MILFs that you have ever seen. Have fun with horny and experienced women.
00000
JpMilfs Review
Site Overview
Are you a fan of watching porn? Then what are the types of porn that you usually watch? We are not going to be so surprised if you are going to tell us that you like fresh chicks that are really hot and sexy. We like those too. In fact, to be more specific, we are digging Asian chicks right now, especially Japanese beauties. However, do you know what we like better than the average chicks that we see on porn? We like MILFs. Yes, there are a lot of people who might not be too fond of MILFs, but here in our office, the only type of chick that's probably better than a MILF is a Japanese MILF. Allow us to explain why we love MILFs so much. First, their bodies have fully grown and developed. They have already reached the peak of their beauty, and they are already, as some say, more than ripe for the picking. The second reason, and the more important reason why we love MILFs is the fact that they are already experienced. They already know what they are doing. They have already spent some years of getting to learn what they like, and how men are, and so they already know what to do to make one feel turned on and to reach orgasm without any hesitations and doubt. However, let us now move on to the review. The porn site that we are going to feature now perfectly combines our love of Japanese women and MILF porn. The porn site's name is JP MILFs.
This porn site is part of the same Japanese porn network that famous porn site, All Japanese Pass, belongs to. There are twenty five different porn sites within this network in all and they include the sites POV JP (perfect for those who enjoy point of view or POV type of porn), Japanese Cosplay (for people who like watching the hottest chicks in costumes doing dirty stuff), and Weird Japan (the perfect answer to those who have really weird and unique fetishes like time stop and invisibility), just to name a few. Let us now move on to the numbers of the site. JP MILFs alone has more than two thousand different scenes and almost eight thousand DVDs released. The entire porn network on the other hand has almost thirty four thousand movies starring more than three thousand of the most famous porn stars in Japan.
Another site feature that is worth mentioning is the fact that after you have signed up for membership, you will already be able to gain access to all these videos, and not just that, you will be enjoying unlimited streaming and downloading rights to them as well. You can even choose how you are going to download the video for your convenience because they actually have different download options for you to choose from. If you are already thinking of signing up for the site, then here are the information you need for that. There are three membership plans: one-month, three-month, and one-year. Once you have decided on the option that you want then you can just fill up the sign-up form on the site itself, select the membership plan that you want and that's it!
Design & Features
Honestly, we really like how the site looks. It's simple, classy, and appealing to the eyes. Everything that you will ever need to know is already on one page. All you need to do is to click on the options that you want to do. Upon landing on the homepage, you will be welcomed by a simple banner with three of the porn site's hottest moms, along with an invitation for you to join. Under that, you will be able to see the thumbnails of their video selections already. You may choose how you want to see a video, either by rating, file size, or the number of views. These thumbnails contain a lot of useful information about the videos as well like the title, the length, and the name of the pornstars in the video. Upon hovering on the thumbnail, you will be able to see an option to play the video or add it to your favorites list instead. Another scroll down will then show you a new batch of thumbnails, only this time, they are for the DVDs that the porn site has. The thumbnails this time shows the cover of the DVD, the length of the video, and of course the title and the length of the whole DVD.
Girls & Videos
The girls in this site are really naughty if you ask us. And maybe the reason is because they are already mature enough to decide and do things on their own accord. Some of us might think that their time has already passed, but we don't believe that. Everyone's dirty side will never go away. We also like the fact that the videos have really maximized the genre of MILFs. We see a lot of the classic fucking in the kitchen scenes, or getting fucked by cleaning up the house and doing the chores, but we also see other unique videos like getting fucked while buying groceries inside a convenience store, or a working mom getting fucked in her office. The videos here are indeed really cool and fun to watch.
Conclusion
Overall, we really enjoyed signing up for the JP MILFs site, and we totally recommended it for anyone who's into MILF porn and Japanese ladies. We also appreciate the fact that they value their members a lot by providing a great member support service. Having problems trying to download a video? Your downloaded videos can't seem to play on your desktop? Then don't worry because JP MILFs have people who are waiting to assist you anytime. Finally, we also like that the porn site is constantly updated. In fact, they have new videos every single day, which means that there is no need for us to wait for an entire week anymore just to watch something new.
Contents
| | |
| --- | --- |
| Videos | More than 2.000 Videos |
| Pics | No Pictures |
| Download | Available |
| Categories | hardcore, anal, MILFs. Japanese |