LatinWildParties Review
LatinWildParties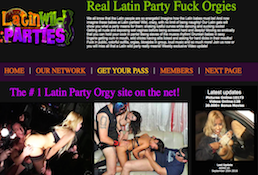 LatinWildParties has an impressive collection of party porn videos that will surely turn you on.
00000
LatinWildParties Review
Site Overview
We all know how hot those Latina girls can be. Some of the sexiest girls in the whole wide world are Latinas. However, do we really know how these Latinas perform when they're already on the bed or anywhere else when they're already getting fucked? If you don't, then you'll get the answer on LatinWildParties!
Yes! These Latinas are actually so fucking hot not only by their looks, but by how they ride, or just enjoy riding these big dicks! They enjoy sex so much, they actually have these big sex parties just out anywhere they want, and they thoroughly enjoy it. LatinWildParties also share this kind of enjoyment with us! They have the girls, they have the sex, they have the club, they have everything. LatinWildParties show us just how much fun and satisfaction can be found in these wild sex orgies!
Design & Features
LatinWildParties really show in the site that they're all about the sex and party life done by these Latinas. With a unique color-theme of green, orange and purple in black background to really show off a party-themed site, LatinWildParties show off the orgies done by them. There are tabs, though they're more of site access tools than navigation tools. The home page shows a really massive amount of sex movies, not only scenes, but whole movies of these wild sex parties. These guys, they show you how real fun is done. Even the site itself is fun.
There's also a network section, where the site introduces the network that governs the site, which is ExtremeMoviePass. This site is part of ExtremeMoviePass, which is a pay site that gives out many other bonus sites in addition to LatinWildParties, such as PornOnStage (a site that shows us porn that is done on stage, being watched by many fans), CrazyMonsterCock (a site that shows us some of the hottest banging with the biggest cocks out there), and DirtyClinic (a site that shows off the hottest nurses or just some nurse cosplay and them getting banged in a clinic), among other great sites. In fact, you're gonna get access to 85, count it, 85 other sites! I bet that's the most amount of pornsites there is in just one network! And all of them not less as good as these other sites.
With this amount of porn with just one pass, you'd think you'd pay it for a fortune. That's where you're wrong. You're gonna pay up the same as the other networks out there. Talk about a deal! You get 85 full content websites, crazy niche ideas, all fully exclusive videos that you won't see elsewhere, up to 32,000 videos, sites that are updated daily to keep the content fresh and the site active, and you even get to have live cam chats with people out there who would like some of those activity. There's even a page that's dedicated only for the members of the network. If you'd like to get some special treatment, you just have to become a member and you get all of those sites, plus access to the members' page. The real deal is still in LatinaWildParties though, as the amount of content about those really hot Latina girls is just absurd. No porn is wilder than LatinaWildParties.
Girls & Videos
The name says it all. The girls that are featured in the site are some of the hottest, wildest, most party-going Latina girls out there. They just go to some club or not even a club, as long as it's a wild orgy. As long as they're getting fucked by a long, hard cock, and them taking it deep inside them with all the others around them doing the same thing, they're primed and ready to take all the load to themselves or to get cummed on everywhere. They got it all: they got the girls, they got the moves, they got the place. The loud, party music, everything. You're gonna get turned on and get wild as well due to what they're doing. It's going to drive your lust. It's insane.
The good part about all of the videos is that everything is downloadable, with the site even having no download limit. There are 8 channels that are available, and one cool thing about it is that you can pause as well as resume the downloading process of the videos. That means that you can enhance the download speed temporarily of some items if you need to. Pretty slick huh? All of the videos that are in LatinWildParties are around 100 MB in size, which is actually pretty light compared to most of the videos that are around nowadays in the net. Low size but amazing content, that's awesome. All of these exclusive, hardcore videos are just the bomb and they're on your personal computer now, that's awesome too.
Conclusion
The scenes of LatinWildParties are simply a joy to watch. They make you want to join in these kinds of parties, those kinds of fun. The videos are not always the group sex type of sex, however most of them are those kind of sex. Not only are you going to find some of those hardcore male to female orgies, you're also going to see some girl to girl action, and they're doing it in the club too. You're also going to find some public sex, and some of those are even public orgies, spreading public fun everywhere. There's a whole lot of orgies down here, so you're gonna enjoy it.
The site has promised to show us their Latina girls as well as a great party, by that they meant that those Latina girls are going to shake their booties and shake their boobies, bobbing, swaying and dancing, while they are sucking cocks or getting cocks sucked into their pussies! The site really stuck to the premise they gave out in the beginning and they have shown to everyone what fun really is about. All of these and 85 other great sites from ExtremeMoviePass for the normal porn site price, now that's a good deal, heck, even if you don't include those and just stick with LatinWildParties, it's all gonna be worth it.
Contents
| | |
| --- | --- |
| Videos | More than 300 Videos |
| Pics | More than 300 Picture Sets |
| Download | Available |
| Categories | hardcore, orgies, party, lesbian, public |