LucasEntertainment Review
LucasEntertainment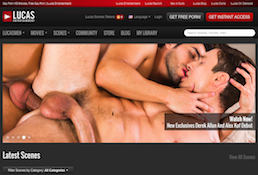 Price: $9.95 3 days
LucasEntertainment provides stunning hardcore gay content and amazing hot models.
00000
LucasEntertainment Review
Site Overview
The LucasEntertainment is the main, central site of a network of three sites. This network is warmly recommended to you if you are gay, or in case you enjoy watching guys drilling guys. Since it's a US-based network, you will find in there only gay pornstars of the States, but there is a nice ethnic variety in there. This site launched 2004 (the company has been around since 1998), so it has been online for quite a long time. Usually it's a big feat to stay online for more than a few years, and if you consider the kinky porn you can find here, this feat is even bigger. The professional videos of the studio behind the network seem to keep the members interested and busy, so you can expect here some good porn. Another important aspect that makes the site worthwhile is the frequent update schedule: they add two videos every week.
During the twelve years of operation, the LucasEntertainment accumulated nearly 1,000 porn videos featuring more than 700 different handsome lads. This great variety makes the site interesting and it should to keep you entertained too. When you enter the site, you can get your hands on the hot porn videos of the studio, and since they are all exclusive, you really should try this site. In the members' zone, you can get access to every video of the network, so you get three sites' content for one's price. The total exclusivity and the high quality are features that make this site recommendable. However, there is one thing you should know before you go further: almost all videos feature bareback gay porn. So, in case you area against unprotected gay sex, or you feel offended by it, you shouldn't go further… though you miss out on a lot.
Design & Features
A nice, modern-looking homepage welcomes you when you open the LucasEntertainment in your browser. The top features the network menu, where you can see the accessible sites (if you are logged in), and there are also links to the blog, the cams and the video on demand service. In tour mode you can view some trailers. The main menu has several options, and it can get you where you need to go. As a visitor and as a member you can view the models' list, the scenes – sorted into various categories – and you can use forums and other community-features. Every member can build his own favorites library. There is a simple search option, which can scan through scene-titles, movies and the models. If you join the site, you can start watching the videos in your browser. For this the site provides a Flash-stream in 480p resolution. The playback is smooth and enjoyable. In case you want to watch the videos in the best quality, you can save them in 720p or even in 1080p, so some really sharp scenes can be yours. The site offers you modeling photos, BTS shoots and video captions if you are interested in pictures.
Guys & Videos
Girls are not happening on the LucasEntertainment, because it's a gay-porn site, so the only kind of people you can find here are these well-hung lads. Gay porn a bit tricky, and nowadays it's not too common, so in case you are in this kind of action, you will certainly find most of these guys quite familiar. They are all professionals, so they know what's what and where to put it, and it seems that they like it pretty rough. As you browse through the models' list of the LucasEntertainment, you will notice that there aren't any bears here. In case you are looking of big hairy guys, because that's your thing, you might feel a bit disappointed. But, only a bit. The guys here are looking great, and if body-hair is what turns you on, then some of them will surely fit your taste. The guys here are the wild-gay types: they are all worked-out, their muscles are visible and their whole body is chiseled. You will notice that most of them has larger than average cocks, and when they get on with the sex, they don't really care about the other – they stick deep up those nice asses.
As far as variety is concerned, there are ethnic guys, and as you will see some of them are bearded men, while others have nicely shaved faces. So most types of popular man-types are featured here. In the porn industry, there is a debate about condom use, especially when it comes to gay porn. Since the porn is very adaptive, they created a standalone niche for unprotected gay sex, which goes by the name of bareback porn. Now, the LucasEntertainment seems to have lots of bareback videos, so you can consider the site's videos heavy hardcore. These scenes are all professionally made, and not just the guys, but the background work is also quite good.
Most videos are shot in high-quality, and they are rather long. Concerning the niches covered by these nasty scenes, let's say that they are pretty hard ones. Naturally, you can enjoy here some neat one on one sex with two horny and handsome lads, but to make the content heavier there are several threesomes – including bareback swinging videos. Since not all guys are Caucasians, you can watch some hot interracial fun… and those who prefer uncut cocks may find here some guys equipped with that. The staged videos of the LucasEntertainment are quite arousing, and in case you like gay porn, you will surely enjoy browsing through this growing heavy hardcore porn.
Conclusion
The LucasEntertainment is a site, where you can find one of the greatest collection of US-based bareback gay porn. With the two videos they add every week, the compilation grows steadily, and the high video quality makes these scenes not just hot, but good for your eyes. With the growing number of HD flicks and the over 700 different guys, this network provides you with something you shouldn't miss. In case you are gay, or you are interested in things like this, you should give it a try.
Contents
| | |
| --- | --- |
| Videos | More than 1.000 Videos |
| Pics | More than 1.000 Pictures |
| Download | Available |
| Categories | hardcore, gay, bareback |