MyGFLikesItBig Review
MyGFLikesItBig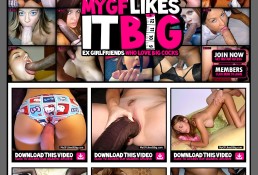 Price: $1.00 1 day
MyGFLikesItBig has sexy videos and images of women that enjoy big cocks. These women get stuffed with the largest cocks on the internet. View hundreds of original videos and images of women having sex with guys with large cocks. This site has anal sex, blow jobs, group sex, public sex, and more.
00000
MyGFLikesItBig review
MyGFLikesItBig has hardcore amateur porn at its best. Watch hot women having sex with guys with large penises. As the name of the website implies, MyGFLikesItBig has focused completely on hardcore content starring women that like big cocks. An amateur content site, MyGFLikesItBig falls into the ex-girlfriend section of porn where users upload porn content of their ex-girlfriends to adult websites. In general, most of the hardcore scenes at MyGFLikesItBig get presented in high-definition thanks to modern HD cameras being more accessible and often available on smart phones. MyGFLikesItBig has original content that most porn users will enjoy. Read more about MyGFLikesItBig and the benefits of getting a membership to this site.
MyGFLikesItBig makes it easy to find content
One of the main benefits of a site like MyGFLikesItBig is its simple structure and the ability to browse and search content. Even though there are only around 200 videos and about the same amount of picture sets, having search options does make it easier to browse the amateur content at MyGFLikesItBig. You will also get the option to browse for content directly from the main site for the GF network. From this site, you get to browse all the content across the entire network. All the videos that you see at MyGFLikesItBig and the GF network can get streamed instantly or downloaded to your computer for later viewing. New content is often placed first and users may leave comments on any of the videos or images that get viewed. As mentioned, most of the videos are HD, but they are some times poorly filmed – with the video camera placed in a weird angle or a spot that makes it difficult to view all the action; though, this will vary from video to video.
MyGFLikesItBig includes bonus sites
MyGFLikesItBig includes full access to a group of porn sites on the GF Network. These adult sites include IndianGFVideos, GirlfriendOrgasms, MyGFLovesAnal, and GirlfriendOrgasms, and more than a dozen other adult sites. From looking at the titles it is obvious that these other adult sites are in the same porn niche as MyGFLikesItBig – focusing on ex-girlfriend content. As of the time of this writing, there are around 20 sites that get included with your pass to MyGFLikesItBig. Once you pay for your subscription you will get to go from one website to another with a single username and password. Unlimited access will be available for all the sites on the GF network.
MyGFLikesItBig overall thoughts
MyGFLikesItBig has a mixture of high-quality HD amateur content and lower-quality content that is poorly filmed. Luckily, there is plenty of content to keep you busy. If you do not like a particular video then you may simply move on to another one. New content gets uploaded daily and there are over 20 sites to browse through. Whether you want a membership to MyGFLikesItBig will probably come down to whether you enjoy watching amateur hardcore videos. It is refreshing to watch sex scenes starring real people instead of watching slickly produced content on major porn networks. Spend some time looking through the sample images before making a final decision about whether you want a subscription to MyGFLikesItBig.
Memberships to MyGFLikesItBig
MyGFLikesItBig offers porn users a valuable deal when you include the 20 sites on the GF network. There is lots of content and regular updates to keep users visiting the sites regularly. When you want a membership to MyGFLikesItBig you need to decide which plan you want. There is a 1-day trial that allows you to check out the sites, but this does not include full access to the videos. The best deal is the $59.97 plan for 90 days. Here are your choices:
$1.00 – 1-day trial membership
$27.95 – for 30 days
$59.97 – for 90 days
Warning: the website is not active anymore, but you can find a very close one here