MyNaughtyLatinMaid Review
MyNaughtyLatinMaid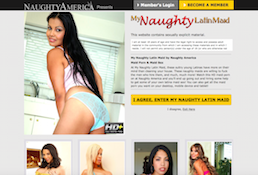 Price: $1.95 3 days
MyNaughtyLatinMaid is the perfect choice to enjoy amazing Latinas girls. Have fun with hot and horny chicks.
00000
MyNaughtyLatinMaid Review
Site Overview
The Latinas are very popular in the porn industry, and though this site is a very stereotypic one, you will probably enjoy the hardcore sex in these videos. It's quite certain that you have been fantasizing about banging the hot Latina maid… or just banging a Latin chick, and if you do, then you will probably find your fantasies covered by these videos. So, the MyNaughtyLatinMaid is an older series of the NaughtyAmerica network, and it's a really hot collection to browse. There are about 50+ hardcore videos to watch, all offering the viewer more than 30 minutes of exciting sex.
Probably the best thing that the site offers you is the network access. Yes, you can start working your hand, because you will gain full access the NaughtyAmerica's main network. This is a big thing, because this studio is one of the biggest ones online, and in case you enjoy hardcore sex, and you have some fantasies you would like to see happen, then you might have just found the best place to start your search at. These videos are all exclusive, and apart from the main members' zone, you can't find them anywhere else. Those who enjoy watching hardcore sex and care about quality will be fully satisfied with what the NaughtyAmerica has to offer: there are not just any old HD flicks around, but you can enjoy Full-HD, and a disturbingly increasing number of 4K HD porn videos. As technology advances, the NaughtyAmerica keeps up, that's why there are so many extra features inside: you get access to live cams, but you might enjoy Virtual Reality porn too. In case you like to watch porn on your television, and you have a Roku-box, you can enjoy the benefits of the membership too, provided by the Roku channel of the NaughtyAmerica.
Design & Features
There isn't much to tell about the layout of the site, because as you can see yourself, there isn't exactly a site called MyNaughtyLatinMaid, the videos of this series are listed embedded into the main site of the NaughtyAmerica. This isn't a bad thing however, because as you might notice too, you get to browse the full network, without opening any of the other sites. One trailer, and the videos' pages are the only previews you can enjoy here. In case you are convinced yourself to join, you will get to the members' zone of the NaughtyAmerica. You can perform site-wide and network-wide actions with ease, so you might just find browsing to be quite a joy.
The content is tagged carefully, and with the Porn Finder tool, you can easily perform a punctual search. Every option of the members' zone is available on smart phones and tablets, thanks to the nice user-interface provided by the company. As a member of the MyNaughtyLatinMaid you get unlimited and unrestricted access to the collection. You have the option to save the videos in various formats (depending on its age), but since they are not HD videos, you can play them quite easily in the browser too.
Girls & Videos
As the site's title tells right away, the models here are all Latinas. There aren't too much sites focusing on these spectacular ethnic girls, however they are gorgeous, and with their great mettle comes great booty almost all the time. Fortunately, large porn providers such as the NaughtyAmerica know what we need, and so the folks at the studio created a series. It's a bit stereotypic – in fact a Latin maid is the archetype of stereotypes – but it's also a popular fantasy, especially for the US guys, who might just happen to have a busty Latin maid.
These chicks in the videos of the site are all gorgeous professionals. They are busty, mostly natural cunts, who just can't wait to serve every need of their employer. And as you will see in the videos, they serve him right. Anyone who have a thing for Latinas might enjoy the mischievous things these girls perform. Though most girls are naturals, you can still find here some really amazing big fake breasts, but that's not too common. Since the girls are professionals, you will see that they have perfect body, and a pussy that you would like pound like crazy. Another important factor: the models are not all the same, the shades of their skin, their sizes and their facial features are all different, so you will the models' database quite varied.
Now, let's take a look at these movies. They are usually quite long, and since they all represent a fantasy, every one of them is scripted. Most of the scenes start the same: the girls are going to the guy's house (or he opens in) and they do some cleaning – at least they pretend, because these apartments are really clean. For one reason or another, before you knew it, the girls are sucking the guys cock hard. Every video has some talking in it, and there is no way to avoid those awkward dialogues… but you can always jump forward. The sex on its own is quite arousing in these videos: they do it in all popular positions, and though it's mainstream porn, there is some scenes with anal penetration. In the collection, as you go backwards to the oldest vids, you will find some hot threesomes and lesbian scenes too, so it's a really varied compilation. Most videos end with a facial or body-cumshot, there are no creampies; they don't seem to dare to go that far.
Conclusion
Now, you wish to read a conclusion on the MyNaughtyLatinMaid. If you recall what you gathered so far, you will have a mixed picture, where gorgeous Latina models are doing hardcore porn in exclusive, but hardly updated SD videos. In case you have a thing for Latinas the site is recommended to join. However, the MyNaughtyLatinMaid might not really interest you, but the full network access it grants you makes this site to be a priority recommendation. The NaughtyAmerica's porn videos are things that everyone should see once in a while.
Contents
| | |
| --- | --- |
| Videos | More than 50 Videos |
| Pics | More than 200 Pictures |
| Download | Available |
| Categories | hardcore, Latinas, threesome, lesbian |