NaughtyAmericans Review
NaughtyAmericans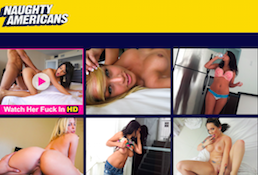 Great high quality amateur content are at your disposal at NaughtyAmericans.
00000
NaughtyAmericans Review
Site Overview
The NaughtyAmericans is a site which has videos that look like they were taken from a much sexier version of Cops: they are usually shot with hand-cameras or head-cams and they all feature misbehaving Americans. But in these scenes the guys are playing the roles of the cops, the judge and the jury… and also they are the executioners – the sentence is always a hard fuck, and there is no appeal, so the girls have to go through what they get. It seems that the site isn't an old one: as far as we could detect it, its launch was back in 2012. It seems that the site has weekly updates, however the number of scenes doesn't really supports this claim.
During the time of our review, the site offered 64 videos. In the beginning they were adding a new flick every week, but it stopped at one point, and nowadays it's really random when they add a scene. However, these videos are quite exciting. The fact that this site is one of the NaughtyAmerica's is a strong supporting statement, which makes these videos desirable and well worth watching. Though new content is hardly arriving, it's quite important to highlight, that the videos this site provide are all professionally made, and some of the girls in them can't be seen in any other porn vide. The quality the site offers is really worth it, and these videos are satisfying. Every scene of the NaughtyAmericans is unique, and you can't find them on any other sites, not even on the studio's main sites.
Design & Features
The home page of the NaughtyAmericans is filled with medium thumbnails, showing the beauty of the girls you can see in the videos inside. This front page is only a teaser and there are no preview trailers offered, so you have to rely on those pictures and on this review. At first glance the site doesn't look too promising, so much is true, but the fact that it's a NaughtyAmerica site just makes a man horny and want to get inside. Yellow isn't a color that's commonly used in the porn industry, but it seems that whoever designed the site wanted to go against the main stream of porn sites. Even in the members' area this eye-melting yellow is present, but it's a good guerilla-tactic to make the members watch the videos rather than just browsing around.
Fortunately, the navigation is quite easy, so you can get to the content you might enjoy really fast. There are keyword tags, and the main menu features an option called Sections, which has a different sorting method. Also the girls' list is something you may use to browse through the content. The videos of the NaughtyAmericans are streaming-only, so you don't have options to save them. You don't need to make compromise however, because if a scene was shot in 1080p, then you can enjoy it in its full glory in your browser. There are galleries of video captions for each video, so you can preview their content without actually playing the scene.
Girls & Videos
The NaughtyAmericans is a site of the great studio, the NaughtyAmerica. At first glance the site looks quite simple, but you have to believe that it's a professional portal with real hardcore content. Though the site claims that it's a source for leaked videos, as soon as you take a look at even the thumbnails, you will see that they are just too good to be home-made. One thing is quite certain though: these girls are amazingly cute, and they are certainly not amateurs. They might be first-timers, and it's possible that many of them only shot a few porn scenes, but they are really cute and they have a lot of potential. There is a really surprising thing that you might notice about these models: they are usually naturals, and hardly any chick have here enhancements on her body. Round, natural breasts and firm ass is what describes these girls' body. As far as we could depict, mostly Caucasian models are appearing in these videos, but there are lots of Latinas too. It seems that Asians and Ebony cuties are not really making an appearance, but nonetheless the variety is quite satisfying. Since everyone likes hot, fresh girls, the site focuses on mostly models who are still walking the road of the 20-something years olds. These tight-bodied chicks are fresh, and they smile a lot, which makes them really cute.
The majority of the collection features PoV capturing style, so you can see everything from the guys' point of view. This is one of those factors which make it evident that this is not amateur porn: the guy has very good equipment, and he doesn't capturing the videos with a normal hand-camera or a smartphone/tablet. Also, as soon as the camera starts rolling, you can notice that the whole thing is staged. No ordinary girl says yes to a stranger who wants to fuck with them So, these videos are reality-porn scenes, and they are really long and erotic, it's not just plain pounding. The lad (or lads) who shoots these movies is well-hung, and his cock is a real pleasure rod: sometimes the girls can hardly stuff it in, but when they do, it's a really exciting experience. The sex that happens is quite hard, but the girls are not overplaying so it feels real. The chicks usually give a blowjob, then they spread their legs, and get fucked hard. It's mainstream porn, so nothing heavy is featured, not even a bit of anal.
Conclusion
The NaughtyAmericans is a neat porn site, with some issues which they should correct. A weekly update schedule would keep the members interested continuously, but the current state of the site might not be enough. On the good side however, these videos are fully exclusive, they are shot in high quality, and the girls in them are damned gorgeous, so they well-worth watching. Some bonuses, like live cams shows are granted, but the site's own collection is the main attracting power.
Contents
| | |
| --- | --- |
| Videos | More than 60 Videos |
| Pics | More than 100 Pictures Galleries |
| Download | Not Available |
| Categories | hardcore, amateur |