NextDoorWorld Review
NextDoorWorld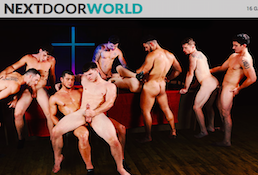 NextDoorWorld is an amazing porn network offering some of the best gay porn content available nowadays.
00000
NextDoorWorld Review
Site Overview
The NextDoorWorld is a highly appraised porn network, which offers access to 16 sites with different gay content, covering several hard and heavy porn niches. In the collection of the NextDoorWorld, you can find everything you could've ever dreamt of: gay couples fucking, group sex and even solo sex… one site even features straight guys. There are videos with twinks too, and interracial sex isn't a taboo here. This mega-network launched in 2011, and since then the 16 sites were updating regularly. Some sites (probably their hotness is connected with the number of views) get new content more frequently, while others are less busy, but they still get fresh porn added now and then. On average, the network's collection grows with 3-4 videos every week.
By the time you read this, the NextDoorWorld is very close to hit the 3,400 videos mark, so you should start considering how much time you've got to watch porn. There are tons of scenes here, and with the steady pace it's growing in, you may feel a bit overwhelmed. Since the NextDoorWorld itself is the hub of the network, it's natural that it grants you credentials which you can use to enter the included sites. However, you can easily reach their content from the main members' area. The network sites cover many niches, and it's not just mainstream porn, there are some kinky things too, like interracial sex and bareback fucking. Some of the included sites feature one star, who does all the nasty things he can think of: he sucks, he gets sucked and depending on his preferences he either pounds a firm man-ass, or he gets a boner in his ass. What you can find at this network is exclusive, and most of the scenes are not available on DVDs, so they are really unique. In case you want more content, you can order DVDs from the store, or use the video-on-demand service of the network.
Design & Features
The home page of the site looks just as you would expect from a professional site to look like. There are large pictures, and the free tour features some really hot previews, granting a good insight into the actual action too. You can browse the videos list, the sites and the guys' list too, so if you take your time, you can gather enough info to help to decide. When you enter the members' zone, you will see that there are hardly any changes, so using the site will prove to be quite easy. Navigation is somewhat basic, but there are enough tools to help you find videos you fancy really quickly. If you find something you would like to watch, you can get to its page by clicking on its thumbnail. Each video has a page, where you can find the player window, the settings (for the stream, and for saving), and some extra info on the scene, like the plot, the actors and the categories tags. The scenes are available for in-browser viewing, and there are 6-8 different settings to choose from if you decide to download a video. All flicks have picture sets with them.
Guys & Videos
Since the NextDoorWorld offers you access to 16 gay porn sites' content, you can only expect to find here an astonishing variety of models… and the things they do is really hot. When you start exploring this network, you might come to the conclusion, that it's the most epic, hottest gay network you've ever visited. These guys are all professionals, but there are always new, fresh faces appearing. New guys with pretty body, a bit of shyness are always a refreshing change, and when they appear, you will surely feel the tensions rising. However, these newbies are all experienced in sex, so they won't act like they don't know what they are doing. As far as we could detect, the guys are mostly contractors, so many of them appear in other studios' videos. Fortunately, there is a nice ethnic variety too, since the major number among the models is of the Caucasians, but you can also find here Blacks, Latinas and Asians too. The ruling body-type here is the nicely worked-out, quite muscular one, and almost all guys have this type of body: nicely chiseled stomach and definite muscles are all over their body. There are lads among the models who look like twinks; at least they have cute body, and fresh faces, though they are also muscular. As you will see there are lots of guys who are uncut, so if you like to see that kind of cock, you can rest your eyes on some big specimens.
Every video on the sites of the NextDoorWorld is studio-made. You won't find here any amateurish content, however some lads are newcomers, they all act under the director's guidance. The videos usually have an intro, which features the studio's name, so you can know which studio you should pay attention to if you like the video. When you open the site, you will see that there are solo sites too, which feature a main star who fucks all over the place. Some of these lads a versatile, but some of them have a preference, and they usually do their things according to that. It seems that the collection here is mixed: you can find here reality-porn videos, just as nasty fantasy-driven scenes. Some scenes feature group sex, and the solo-fans can find their favorite niches covered too. In case you get turned on by watching mixed couples, you might enjoy the videos which feature interracial sex.
Conclusion
When it comes to gay porn, the NextDoorWorld is certainly one of the top networks that comes to light during a search. If you care to look around the web, you will see that this network is highly appraised, and it has good ratings. This is mostly due to the high quality and the frequent updates, but the overall appearance of the sites and the juicy kinkiness of the video are major elements of attraction, which make the site worthwhile.
Contents
| | |
| --- | --- |
| Videos | More than 3.400 Videos |
| Pics | More than 1.000 Pictures |
| Download | Available |
| Categories | hardcore, gay, group sex, solo, interracial |