OfficeSexJp Review
OfficeSexJp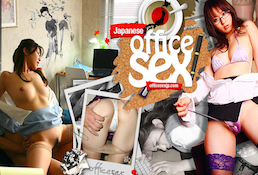 If you want to see Japanese hardcore actions, then you can't go wrong with OfficeSexJp.
00000
OfficeSexJp Review
Site Overview
To all office workers, aside from the projects, opportunities and the compensation you received bimonthly or weekly, what keeps you being motivated at your workplace are the hot officemates. You are hoping that someday or somehow, they are going to taste your meaty cock. Regardless if those girls are your superiors or subordinates, you cannot deny the fact that there are times that your wild imaginations run to the back of your head. It's natural though but, keep in mind that you should not cross the line. For boredom to bedrooms, the Officesexjp Japanese porn site will make those office fantasies of yours to reality.
Design & Features
Personally, I love Asian beauties particularly the Japanese. With their slender bodies, height, their innocent looking faces and their culture, what a perv guy could ask for? As I soon check out the site, I am so overwhelmed about the Japanese ladies showing their Asian boobs, bushes, kinky asses, and their smooth legs. My dick is totally erected at this moment seeing a girl doing the reversed cowgirl position to a dude. It stimulates my libido further seeing a girl that looks like Erika Toda wearing an eyeglass half naked. The site boasts large numbers of MILFs and fresh chicks all under in one roof. As the name it sounds, lots of the scenes occurred in the office.
See these Japanese bitches banged by their bosses, (old dudes). Enjoy watching these japs hotties being fucked at the office table, at the corporate table, at the office's locker room, bathroom, and water station and at the parking lot. There are also bed scenes that you are going to relish. The site promises that they are going to provide the horniest secretaries, office staffs, and business processors all from Japan. These girls are horny enough to make your day right during office hours. In fact, they can't wait to grab that dick of yours during the office break, so, some of them uses steno pencil as their dildos for pleasure sake. The site proves that every good guy even the bad ones deserves a break by having a good sex with their officemates. Feel free to invite the boss and join the action. If this business firm really exists, count me in!
There are 789 videos and counting. By the time this article is up, I guess that the figure is no longer accurate since the site is serious about updates and producing more fuck office videos. I am happy to announce that each video has 40 minutes duration. It's like you are watching your favorite Japanese primetime series. There are storylines, plots, and of course the climax (fuck scenes). The videos are available for streaming or download using various video formats. You can use Mp4 for high definition quality downloads or flash for fast streaming. The photos are included at the bottom of the screen. These photos are footages taken from the action. The quality, however, will vary depending on the angles and lightings but all in all, the videos are in good conditions. The site makes sure that as a member, you are going to get what you've paid for. In here, you have a complete access to all the network's database. The network has the largest collection of Japanese MILFs which are plenty enough for your earthly lustful pleasure. There will be daily updates with non-stop excitement. If these aren't enough, the site also features live chats with these Japanese girls and live streaming solo actions.
Girls & Videos
There are plenty of things that will make your office hour pleasure satisfied. See a very good looking secretary being fucked from behind by her boss. The boss indeed needs a break after talking to his stakeholders about his reports prior to the performance of his company. He needs a break and call his secretary. Instead of asking for a coffee, he prefers to have a good look at her secretary's ass. He told to bend over and slaps the butt until it becomes rosy. The scene gets hotter and hotter as the boss remove his sleeves and take off his pants. The secretary knows what will happen next so she kneels down and take off the boss's underwear. It's a nice cock sucking Japanese scene until the boss penetrates his dick into the secretaries pussy with full of bushes. The boss will fuck this bitch from behind to his table, office chair until he unloads his jizz.
Kotone Amamiya is a hot office worker in a certain company who is looking for a good sex during her break. But it seems that all the guys are taking their lunch. So, she manages to do it in her own way as she takes off her panties and jerk offs. When her pussy gets wet, here comes a new guy in the office. (That's a fucking lucky on job training). She call this guy and show off her wet pussy. The guy is somehow confused if this is a part of his training. Katone soon instructs the guy to lick her pussy while bending over. The guy could not resist such charm so eventually, he did what Kotone is asking for. The lunch time is almost over, so the guys fuck Kotone's ass over and over again. The fuck scene goes wild as the guy will fuck her up at the office's table. There are blowjobs, hairy pussy liking, and cum in the mouth.
Conclusion
I had a great time and enjoyed most of the content. I'm hoping that someday I can also do the same thing at the office and fuck my boss during a break. I would love to raise hell fucking her off at her own office. Of course, since it is a Japanese porn site, expect that the genitals are censored. But all in all, I can say that this site has the most sensual niche compared with other Japanese porn sites.
Contents
| | |
| --- | --- |
| Videos | More than 780 Videos |
| Pics | No Pictures |
| Download | Available |
| Categories | hardcore, office |