OnlyAllSites Review
OnlyAllSites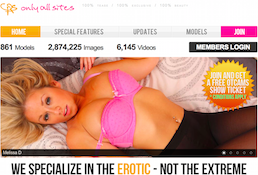 OnlyAllSites gives you access to 6 different sites of sensational softcore porn videos collection.
00000
OnlyAllSites Review
Site Overview
OnlyAllSites presents all the greatest soft-core sites under one pass. A soft-core network you think, that may not be worth your attention, but rarely any other network does its job so properly and with as much professionalism as Only All Sites. A varied content that focuses on teases and hot girls.
Design & Features
A layout-wise, the setup differs from site to site, but here we'll talk about Only All Sites. The layout on this site is somewhat cluttered but you'll see the pictures in plain view as well as the 'View this set' button. Other than that you will be showered with a lot of info in the sidebar about the latest news and events. Visuals are playful and bubbly suited to the tone of the site and the atmosphere in the photo-shoots.
There is also the factor that some parts seem somewhat outdated but that shouldn't bother you too much as it does look good in general. From any page you are on you can easily and quickly access any other website in the network or explore options on this one. They do have a richer header and from it, you can go to the forum, coming soon, friends as well as the usual stuff like models, videos, pictures. Categories are present and will take you to related sets. There is a mobile version of this site present, so you can enjoy its content from smartphones and tablets.
Girls & Videos
This is a soft-core network and as such, it takes good care of their girls and you can see even the shyer among them manage rather well and begin to show off. Models look like quality material and won't leave you disappointed. The action is at the same time pretty light and playful and it includes a lot of teases directed towards the viewer. A nice combination of pretty girls and light action. Amateurs predominate the scene here but they seem to fit the role of those nice innocent girls that are often portrayed.
Video scenes are not overly long and they last up to 10 minutes, just enough to show you the goods and then make you beg for more. By the quality of the sets, you can set apart this network from most of the trash that lies out there. They seem to invest a fair amount in quality and they try to make the sets have a lot of appeals. All shot professionally and in an environment that will ease the girl and make her act as natural as possible.
The format that you can dabble here with is MP4 and it goes from 480p to 720p and up to Full HD a fact that not every site can boast about. All in total on the whole network, you can find around 6,000 videos of beauty and teases. Galleries are the main thing here and the number they go up to is actually pretty impressive, around 15.000 galleries. They have built this amount of galleries not over night but over the course of many years so it is only natural to see quality also correspond to that fact, but you can be assured that the new galleries look tip-top. As for the number of pictures per gallery, that number also impresses and it is 150 pics per gallery. So content is not a problem for this network.
There are two offers being made for your subscription and that is up to you and your wallet, one month and two months subscriptions, that recur. Six sites in total, Only Tease, Only Opaques, Only Secretaries, Only Silk and Satin, Only Carla and Only Melanie. These are all quality checked sites and you won't get material that is downright bad. Sites name tell it all, there are two solo sites that feature two models, Carla and Melanie. Only Opaques focuses on stockings.
Conclusion
This is a checked network that deserves a lot of your attention, go check it out, find out more about it and you should definitely subscribe to. Updates are regular and get better over time so with your support the site should grow and become one of the best networks out there.
Contents
| | |
| --- | --- |
| Videos | More than 6.000 Videos |
| Pics | More than 15.000 Picture Sets |
| Download | Available |
| Categories | softocore, solo |