OutdoorJp Review
OutdoorJp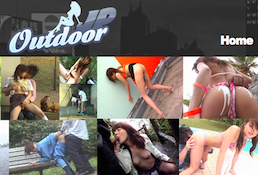 Price: $1.00 1 day
OutDoorJp will fill your outdoor urge to fuck showcasing Japan's finest ladies with a great sexual appetite.
00000
OutdoorJp Review
Site Overview
Love going outdoors? Where you can see clear skies, lush greens, and nice and friendly people. But sometimes, fate has its own way to let us enjoy outdoors more. Like ladies who are wild and adventurous enough to do some banging action outside the comforts of a room. Sex indoor is getting a bit of a cliche now so why not take it outside right? Once a member, you'll be getting a generous amount of videos featuring ladies longing to be fucked outside. Also, you get to have access to their bonus sites for you guys who have multiple fetishes if outdoor sex is not enough for you. Let's get on with eh?
Design & Features
Members get a rich content of outdoor action. There's plenty of images of videos of these Japanese flashers. I noticed many of the videos are done on the beach where some hid behind huge rocks. Some are situated on hot springs and the girls are seen skinny dipping in a crystal clear pond. Menus can be easily seen at the top of the member's page so navigation and usability are a breeze. Layout and design are simple and OK to the eyes. A touch of grayish black as their color scheme adds a bit of sophistication and sexiness on the site. As of writing, they now have at least 850 videos with a run time of about 25 minutes each and all are of non-exclusive content. No biggie if you're satisfied watching these ladies flaunt it out, never giving a damn with whoever is watching.
Downloading is very much possible, but for this porn site, you'll have to download the whole movie, which will be convenient, for many users, unlike other porn sites that you have to download multiple snippets of a specific film. It's solely available in an MP4 format with impressive video quality. You can also stream your selected video in an embedded video player on the site. Buffering and lags are minimal so you need to worry less about that. As for images, just like any other Japanese porn sites that I've reviewed they can be downloaded as ZIP files. Updates are also frequent, so expecting fresh videos from time to time.
Girls & Videos
Checking some videos on this porn site and since it's from Japan, expect genitals that are pixelated as a 16-bit videogame character. Now moving on, saw this 5-minute clip of a couple sitting on a bench already doing some sexy time with each other.
The girl has been on her uniform with a fair complexion with panties already down, she's being fingered by the guy and you can see from her face that she's having a good time and totally aroused. The dude suddenly stood up and he was helped by the girl in pulling down his pants. The guy sat down again and pulled out one hard boner. He let the girl made a few strokes of his dick before she finally swallowed the whole length of it. A very talented lady in doing deep throat that it went on for a few more minutes. She was then pulled up by the guy, made her turn around and did a doggy pose, took aim and went inside her wet pussy with ease. The guy must have been sex deprived for quite some time as he was banging the girl real hard that her body was shaking real good with every ramming she receives. The bench, even tilts for a bit with every thrust. Right before the guy reached climax, the thrusts were even faster and harder and you can hear the girl's soft moans became screams not minding if someone might hear or see them. The dude released all his cum inside her filled reddish twat and kissed some more afterwards. Now here's one of the weirdest that I've watched so far. At first, the girl was wearing a shirt and a blue skirt. They were talking Japanese and a few moments later, the girls were somewhat told to get the pair of scissors inside her bag which she did and handed it over to the guy she's been talking to. Surprisingly, in the middle of a busy sidewalk, the guy cuts a big hole at the back of the girl's skirt exposing her round ass. She was made to walk in that manner and they stopped in front of an establishment. There, the guy puts another hole this time in front of the girl's skirt which made her muffed pussy is completely seen by many. The guys on the video made her walk again that made people get their attention. They ended up on a footbridge and from there, they stripped off all her clothes making her completely naked and one of the guys unzipped his pants, took out his hard member and began shoving it inside the girl's pussy. They're doing it in a standing doggy style position and while they're at it, many people are passing by and amazingly, these two fucking exhibitionists doesn't give a damn at all. It continued for several minutes and onlookers are already building up and some of them are already taking pictures and some even recording the action as it happens. Banging went fast and hard right before the guy reached climax and squirted out his gooey cum on the girl's face. I was left with a dropped jaw after watching this.
Conclusion
After watching a couple of videos from this bad ass, I could say it's one of the kinkiest and one of the most adventurous themed porn sites I've reviewed so far. There are lots and lots of videos to choose from, all done outdoors with ladies who are innocent at first glance, but have a huge appetite for fucking and cock sucking. This porn site is definitely worth it!
Contents
| | |
| --- | --- |
| Videos | More than 850 Videos |
| Pics | More than 2.000 Pictures |
| Download | Available |
| Categories | hardcore, outdoor |