Pornication Review
Pornication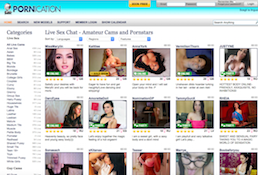 Pornication offers an incredible number of live cam shows and hot models. Choose from more than 51 categories and have fun.
00000
Pornication Review
Site Overview
The Pornication is a webcam site, where you can enjoy the live performance of varied gorgeous cuties. This type of porn – the live cam shows – are one of the hottest things you can find online. Given the fact that practically you direct the girls' show, you can set up and enjoy your own porn video, which was made only for you. The Pornication is a good place to start, because it offers a large number of models, but not so large that you couldn't handle it. At this time, about 5,000 hosts are registered, and usually 50-75 are online, depending on the time and date. It's a standalone website, and the Pornication is not part of any larger network.
Concerning the exclusivity, let's just say that there is some exclusive stuff on the site. Naturally, the live shows you can enjoy are all exclusive, because they are happening right in front of you at the time you are there. The pictures are the only that we are not sure that they are exclusive. Of course many of them are, but we all know that the girls are usually available on other sites and shooting a sexy portfolio isn't cheap. Nevertheless if you plan to use this site, you can feel the content exclusive.
Design & Features
The home page of the Pornication is easy to use. The design and layout it uses is an older type, but since it's not a flashy page, it loads up really quickly. Though many sites are using Flash or HTML5, the Pornication is a bit of a retro site, but nevertheless it works perfectly. You can take a tour on the site if you want, this way you can get used to the layout and the features. If you are not a member, you can join a limited free chat with the girls. It's limited only because you can't resize the player window, but otherwise you can chat a lot. As a member, you get an additional type of chat: private – this isn't the show yet, but you can use this option to discuss the details of the performance you are looking for; there won't be any guesses to see your messages.
The site offers various selection tools to make it easier to find a girl who features the things in her show which you are looking for. In fact, you can practically build up the host you seek, there are so many options. Just to mention a few: ethnic, age, show features (niches), pussy type, breasts size, and a lot more to choose from. There are usually two types of shows: the private show is the main feature – that's only for you. However, many models doe some flashing in exchange for gold (a currency of the site): if the milestone she set up is reached, she shows something nice. Now, it's quite important to know how the shows exactly look like, and by that we mean the quality of the videos, which pretty cool. After you register and validate your account for free, you can enjoy some nice HD or nearly-HD streams coming from the girls' bedroom. Lag hardly occurs, and the picture looks good on full-screen too.
Girls & Videos
Since the Pornication is a live cam show site, it provides you with greater variety than any other porn sites. The girls come from all around the world, and they represent the different people of the Earth really well. Nothing shows this better than the dozens of filters and categories you can choose from, when you start exploring the database of the models. One of the best features of sites like this is that there are always newcomers. Every live cam site has its own hard core, with the 'ancient' members who are strict, professional performers, who always do excellent shows. However, the fresh girls can be astounding too. Some of these girls come from other sites, some are totally fresh. It's really not easy to describe the models, because there are all kinds of people in there. For example, if you are looking for an ethnic girl to do a show for you, you can choose from all ethnicities; not just the popular pornographic ones (Asian, Black, Latina) but also Arabic, Indian cuties appear as well.
As far as the models' age is concerned, it's also a source for high variety: there are barely adult, and purely mature women too. For example: if you are into older women, you can pick the 51+ category on the search page, and you will get 6 pages of results, with 50 pieces on each page. There are hundreds of male performers too, and they are also varied: straight and gay guys are also available, from the skinny cute ones to the big bears. There are average-looking blokes who seemingly just fooling around on the site, making some money, while the majority take it seriously, and have a body of an athlete. Several pages of transgender performers are also available, so in case you enjoy watching hardcore and kinky sex, done by girls with cocks, you can do so. Also, there are lots of couples, which means that you can make your own porn movie on the site. Videos are not available on the site, so we can only describe the shows. You can consider these shows as porn videos, which you direct. In most cases they are solo scenes, where the model fucks herself for only your entertainment. On the Pornication most of the heavy and kinky elements are available, so apart from regular stuff, you can enjoy here anal insertions, leather and BDSM too.
Conclusion
The site may not be a huge one, but the girls and their shows are well worth to check, because there are some really unique chicks here: one of them has bigger tits than a head. Since the competition is hard in this sector, every site that want to stay online need to show something else than the others, and it seems that the main strength of the Pornication is that apart from the mainstream chicks, hundreds of kinky and fetishist girls are featured.
Contents
| | |
| --- | --- |
| Cams | More than 1.000 Videos |
| Pics | No Pictures |
| Download | Not Available |
| Categories | More than 51 categories |