POVAngels Review
POVAngels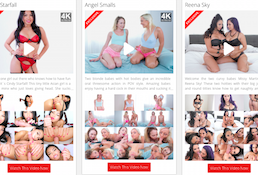 POVAngels is one of the best sites where you can enjoy amazing POV porn scenes in high definition.
00000
POVAngels Review
Site Overview
One of the newest POV porn site, POV Angels has a lot of busty porn actresses with the cutest faces in the internet. Most of the videos are in 4k, which gives us a taste of sexy POV porn. Among other POV porn sites, POV Angels will surely become a crowd's favorite, simply because of the high quality contents and the great selection of models that they have.
Design & Features
POV Angels looks very professional. The site has a sleek layout that makes it very attractive. My first impression of the site is that it doesn't look like a porn site at all. In fact, if we take out the nude pictures, it would almost look like a website intended for professional services– something that's really far from the erotic atmosphere of the porn industry. I think it is because it looks very clean, thanks to the white background. The choice of font is also very important which helped creating a nice impression to the overall look of the site.
On the homepage, there is also a large slideshow of different clips showing how these amateur girls suck and ride cocks. These clips are already in POV style which is a great way to welcome new members. You will also see the top-rated videos in the homepage. It includes a medium sized thumbnail and a short description to introduce the video. Most of the introductions talk about the girls in the scene and how they were known in the porn industry.
There is also the latest videos section. In this section, the amount of videos are more than the top rated videos located above it. The top-rated videos are only limited to two videos that will be displayed in a certain span of time. On the other hand, the latest videos section has nine videos in every page. To navigate, there is pagination at the bottom of the page which anyone can use conveniently. You will also see the model's name in every video and the date it was uploaded.
One thing that I like about the site's layout is that the photos and videos are separated. So, in one page, you'll only see a list of photo sets and on the other page there are the thumbnails of these videos. This way, the site looks more organized and appealing. There are already 25 videos and 20 photo galleries in the site's collection. Expect this number to grow in a few more days because the site claims to upload new photos and videos twice a week.
The site allows downloading and viewing the contents online. For the videos, these 25 minute scenes, are usually downloaded in MP4 format. The video resolution could go as high as 1920×1080 which is already a really great resolution compared to other videos that we can see in some porn sites. The photo galleries contain 290 pictures each. You will surely enjoy every set because it is in high-resolution too. With a dimension of 3000×2000, these pictures can be downloaded in bulk as zip sets. The pictures are taken by professionals with good lighting, an impressive setup and excellent editing.
Girls & Videos
When you hear the names Nina North, Sydney Cole and Lucie Kline, does it ring a bell? Well, if you've been hanging around the porn industry for quite some time now, maybe you've already seen some videos of these girls elsewhere. Here in POV Angels, you will not only get these three hot sluts in the contents but also a couple of other sizzling hot girls too. These lustful girls are all professional porn stars as you can see from the way they perform every sex scenes. You will definitely feel like you hit the jackpot with these girls.
The videos are shot in POV style which makes your imaginations run even wilder. These girls are surely better when watching them up close and in front of you. You can see those large breasts jiggle as they ride cocks. You can also see those watery eyes as these girls take in a large cock in their throats. Regardless if it's an oral sex scene or a hardcore fuck session, you will surely enjoy watching these videos. The sex is very passionate, with a touch of naughty and wild vibes into it.
The girls also take time to look at the camera before they suck the throbbing dick for pleasure. Although POV Angel's trademark are the POV-style videos, there are also a few minutes in the videos where the scene is not in POV style. In these scenes, the girls play with themselves. Then the scene shifts to another perspective and you'll see the girls walk their way towards you, as if you were actually in front of them. There is a smooth transition of the scenes and the climax will surely make you cum together with our actors and actresses in the videos.
Conclusion
POV Angels is a great site filled with lots of exciting stuff. The website itself is a great representation of the site's reputation in the porn industry. You will clearly notice the professionalism in all its work. The site runs smoothly and quickly. I had no problems with the navigation. The photos and videos are also one of the things you should look out for. These POV style shots are so fine that you surely won't be able to stop yourself from watching these girls from behind or up close from the front.
Aside from the storyline in every scene, you will also be amazed by how these contents were taken. I have no words for the high resolution photos and videos. It is crisp and sharp and the quality is very distinct from other porn sites. The models are all professional and very pleasing to watch. For just a cheap membership price, you will already have all of these great finds that are difficult to get in a single porn site. I will surely recommend this site to all those who are looking for hardcore and high quality porn videos.
Contents
| | |
| --- | --- |
| Videos | More than 25 Videos |
| Pics | More than 20 Picture Sets |
| Download | Available |
| Categories | hardcore, POV |
… or read more on POVAngels from other review sites!