RealityLovers Review
RealityLovers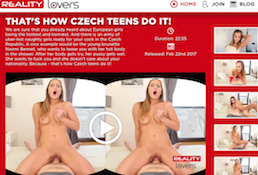 RealityLovers provides amazing VR porn videos at the highest quality and with the hottest pornstars.
00000
RealityLovers Review
Site Overview
We all love porn because it innovates, and this has been a reason for its success despite numerous problems that plague the world's economy. You see, porn industry has never seen a recession and it probably never will, because every time someone thinks porn is losing its relevance, it bounces back with a big bang. Till the live cam shows became the darling of porn sites, porn was limited to a few videos and photographs, but this changed the way people enjoyed porn.
It has been a long time since this industry saw any innovation, and since 2016, VR technology has blown the winds of change back to this industry, and for its betterment. When VR technology was introduced in games, the porn industry understood that it would have been a game changer and could have attracted more viewers. The only shortfall was the lack of VR based porn sites. But thanks to sites like RealityLovers, VR porn will not die a natural death, but instead, will compel other porn companies to offer at least one VR based porn site.
So, what is RealityLovers? This is a VR based porn site that you can enjoy with your VR gear such as Oculus Rift, Google Cardboard, Samsung VR gear or even your smartphone. The site provides you with 3D porn, allowing you to view 180o of the room you are in, and watch every nook and corner thanks to the revolutionary head tracking technology. You cannot miss out on any minute detail and can experience porn as if it is occurring right in front of you. Read this review to understand more about RealityLovers.
Design & Features
We loved the way RealityLovers had designed its site. The site is trendy, cool and in tune with today's styles. A simple home page, with the logo on the left and important links such as Home, Join, Login, Help and Blog on the right. On scrolling down, you will find over a dozen pages of videos and their thumbnails. The videos are very beautifully loaded on a player, and thumbnails of the screenshots to the right.
There are 10 such thumbnails. Clicking the thumbnails will open a pop up screen to show them in an enlarged format. Above the video player, you will find the title of the video and a brief description of the same. Below the player, you can find two buttons, More and Download. More takes you to the dedicated video page. The videos are shot in 3D, with 180o view range, binaural sound and head tracking technology. You will also find the date of release and the duration of the video beside the description.
All videos are in HD quality with 1080 pixels. True HD quality, you see. The videos are loaded against alternating black and red / maroon backgrounds, making them stand out exceptionally well. Above the video list, you will also find the next videos that would be released soon on the site, as well as the release dates. At the time of writing this review, the next two videos to be released are She is Lunalicious and That's How CzechTeens do it, on 17th and 22nd Feb, 2017 respectively.
You can watch a trailer of each video on the video player in your browser. The default view is a double image. There is a reason why you see this. This is the 2D view of the images, as seen with your left and right eyes respectively. When they merge, you get the 3D effect, allowing you to perceive depth, height and width.
The blog is a unique feature of this site, and you will enjoy reading what is available. From news clippings to articles about the latest the site offers, you will find links to all the sluts featured in this site. Obviously, the site cannot make it with mediocre stuff, and they have roped in the most amazing porn stars you can find. We will name some of these stars in the next section on Girls and Videos.
Before concluding this section, I would like to briefly highlight the affordability. Trust me, this is among the most affordable sites on the internet today. You can opt for a recurring package for a month, for a quarter or for a whole year, or a prepaid package for one, three or five videos. Access will give you two weekly updates and a host of other benefits. The site is also nominated for the AVN 2017 Awards at Las Vegas, and there are many others vying for contention. Let us hope that the best site wins the award.
Girls & Videos
Let us now look at the most eagerly awaited part of the review: the girls. Aida Sweet, Kristy Black, Vicky Love, Anna Rose, Nicole Vice, Nikky Dream, Isabella Lui, Holly, Noemilk and Lexi Dona are some of the famous porn stars that the site features. Yes, you will find only porn stars who will give you an experience of a lifetime.
One great thing about this site was the diversity of sluts it featured. There is a healthy mix of various ethnicities and you will find Americans, Europeans, Ebonies, Latinas and others. All sluts have amazing bodies. All pussies were either neatly trimmed or clean-shaven. Their skin was flawless, and on 3D, the flawlessness stood out prominently. Asses were perfect for spanking and being a soft cushion while you fucked her in doggy style or her asshole. All sluts had the perfect hour-glass figure. And boobs were very attractive. If only they had milk, you would have sucked it throughout the night, till her milk jugs stopped producing milk.
The videos are also very diverse, and you will find solo performances, lesbian shows, threesomes, Female POV, traditional POV, and even maledom and femdom. Such diversity in a relatively new porn site is a stupendous effort. You should subscribe and watch them in your VR gear to truly understand the greatness of this site. Let me take some time off and describe the site's first video.
Aida Sweet is a very horny bitch who loves to suck a cock very passionately. If you had her next to you, you would not need any TV for she can keep you entertained for the next 25 minutes with her sexy moves. Undressing, she teases you and sucks your dick so passionately that you cannot control your urge to cum into her mouth. But things get heated up when she sits on you; and you start fucking her! The fucking takes you to insane heights, and your moment of joy comes when you empty your warm jizz and cum on her shapely tits. Watch her collect the cum in her hands and lick it. You would not have asked for more!
Conclusion
For a new VR based porn site, there is enough in store at RealityLovers. It is affordable, has got a beeline of the best porn stars, videos are diverse, and technology has been very intelligently used to give you a great porn experience. You will surely love the Blog section where you get all the latest updates from the world of RealityLovers.
You can also sign up for regular updates, in addition to following this site on Facebook, Twitter, YouTube, Tinder, and other social networking sites. We are amazed and expect you to experience the same emotions. So, what are you going to do now? Join Now for the most surreal porn experience? Yes, then go, do it right Now.
Contents
| | |
| --- | --- |
| Videos | More than 50 Videos |
| Pics | More than 50 Picture Sets |
| Download | Available |
| Categories | hardcore, threesome, lesbian, blowjob, anal, VR |