RodneyMoore Review
RodneyMoore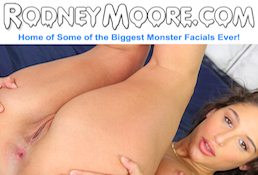 On RodneyMoore website you can enjoy some of the most sensational cum shot and facial videos ever made.
00000
RodneyMoore Review
Site Overview
Rodney Moore is a porn director, actor, producer and the portal you are going to read about is his official page. Here you can find most of his work, including the ones he produced or directed, along with those he appears in. Mr. Moore is famous for his cum-blasting shots, and for example on this site you can find the scenes from the series of 'I survived a Rodney Blast'. This is an old portal. And by old, we mean that it has been online for nearly 20 years. According to our research, the site isn't just claiming to be old, but the domain itself was registered in 1996, however, the first flicks – at least the content dates show that – were added in 2003. A few years doesn't matter, especially when it comes to a viral site like this one.
They add content almost every day, but at least 3-4 times a week, so there is always newer and hotter stuff to browse. In case you like to watch hardcore sex, and you prefer your porn served in high quality, the membership here will satisfy you. At this time, there are nearly 2000 scenes for you to enjoy. Considering that these are the products of one studio, the number seems really great. Just think about it: other networks of dozens of sites offer less scenes than this one mega-site. Now, the series you can access here are really exciting, and the content of the site is exclusive in the aspect of online publishing. Most of the videos however are available on DVDs, which you may even buy from the store of the site. There is no need to ask for bonuses when you get over 2,000 videos to enjoy, but the folks behind the site thought of those who always want more: there are bonus videos and pictures which feature productions others than Rodney.
Design & Features
The RodneyMoore looks really promising, though the simplicity of the page is interesting and as you will see, the inner sections also follow the trends the tour page set up. On the home page, you can see a list of videos, models and some buttons which hints towards some good things on the inside. There is a menu on the top where you can find an option called 'Site Tour'. Make sure to take it, because you can have a better look on the girls, the videos you can expect. If you get into the members' area, you will see that simplicity is an issue here: when you enter, the mega-site's menu welcomes you. From there you can reach the different series, the store, the newest scenes and few more options are listed also. After you choose one, the layout changes a bit: on the top you can see the menu. There are no sorting or filtering options. Two ways are walkable if you want to access the content: you can save the videos in their original format, or you can enjoy them streamed in the browser window. There is a Flash stream for the latest, and several different formats and quality settings to choose when you download.
Girls & Videos
The main star of the RodneyMoore – hold on to your seat – is a guy called Rodney Moore. He is a well-hung man, who always loads off big-ass amounts of cum on his partners' face. The videos here all feature hardcore sex, and when the girls are getting fucked, the scenarios all end with a big load sprayed on to their faces. The models at the RodneyMoore are certainly hot, and they really seem to enjoy what they have to do. Every girl at the RodneyMoore is a semi-professional at least, and when they are getting fucked, they act as you expect from them. These videos feature all kinds of girls: you can enjoy here watching fresh, cute cunts fucking around, but there are some BBW-type pieces too. These girls are really gorgeous, and in case you are looking for hard sex, you can certainly find it here. There are mostly average to amazing girls here, and you will see that most of them are natural beauties. In case you like to watch Latina and Ebony booty shaken during a hard intercourse, then you can certainly get it here.
When you enter the website, you are going to get some really hot girls on screen, and it's quite sure you will love what you see. These videos are not home-made. They are all captured and performed by professionals, and if you like to watch hardcore porn, you should really give these scenes a try. Rodney isn't only making girls sucking, but he also gets his loaded gun deep into their fine wet pussy. In order to satisfy everyone's need, Rodney usually has a lot of different models to fuck, and when he does it, it's always quite satisfying. This isn't really a mainstream website, so it's quite certain you've never heard of these girls. It's not a problem, because it guarantees that you won't get bored ever. The scenes are not exactly studio-made, but they have that professional feeling about them, while they remain juicy and quite hard. Rodney Moore isn't picky, and with so many variations of girls this collection is going to be really hot. There is usually vanilla hardcore action, but as you might see, the majority of the girls are really kinky, and the fact that there are ethnic hotties, BBWs, and every video ends with a huge facial gives the portal a neat, cutting edge of being a fetishist site.
Conclusion
The RodneyMoore is one of the recommended sites, especially if you like varied porn with fetish elements in them. Though the design and the navigation should be better – it's very 90's – the overall satisfaction you may feel here is good. Rodney himself does a great job, his girls are varied, and he seems to enjoy his fetishes a lot. Fortunately, though Rodney ages, he and his crew are active, so if you join the site, you can expect new videos on a regular base.
Contents
| | |
| --- | --- |
| Videos | Almost 2.000 Videos |
| Pics | More than 1.000 Pictures |
| Download | Available |
| Categories | hardcore, anal, blowjobs. cum shot, facial |