SammyTyler Review
SammyTyler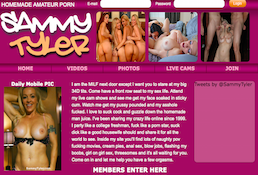 Price: $1.00 2 days
SammyTyler is a great porn site that provides hot and exclusive amateur porn videos covering various niches.
00000
SammyTyler Review
Site Overview
One of the most interesting amateur porn sites with lots of amateur scenes, SammyTyler is the better version of the old site Sammy4u. Still owned by the same amateur porn star, SammyTyler offers better amateur xxx scenes from masturbation scenes to threesome scenes. You will also find a lot of HD amateur porn in the collection like Sammy's crisp and sharp hardcore sex escapades that will give you a different experience.
Design & Features
This site is one hell of a kind. It is improved a lot compared to its old site. SammyTyler has a lot of tools that will make your jaw drop. It also became a user-friendly site. The user interface of the site is very pleasing and I did not encounter any problem while navigating it. I personally like the color scheme of the site. It is very girly and so glamorous. Meanwhile, they kept the layout of the site very organized and neat.
The videos and photos are well-organized. It also comes with a label and a description to give you an idea of what it is all about. The thumbnails speak for themselves already but I guess it is better if there are texts too, right? The site is fast and very responsive too! But overall, I think the site can still be improved like adding download options to the collection. Speaking of which, the site is a stream-only site. It is relying on its flash player for watching the videos. It also has a slideshow tool for those who want to browse through the photo albums on the site. The flash player can load the videos quickly. And for those times that you don't want to wait until the video loads completely, you can also jump ahead of the video. The video player also provides a smooth playback, which is very nice.
Moving on, the photo album contains pictures with a dimension of 800 x 600. You can enjoy amateur to semi-professional pictures hands-free with the slideshow tool of the site. What I like about the photos is that they are not overly done. It makes use of the natural lights so it has the best results and the most natural looking finish. The site is also interactive as it provides rating tools for the members. Members can rate the photos and the videos from zero to five stars where five is the highest. Lastly, there are some advertisements in the member's area but all of these can easily be ignored. So there's definitely nothing to worry here.
Girls & Videos
Sammy Tyler is an amateur blonde porn star, who likes to film herself while she acts kinky and naughty. Sometimes she is accompanied by her friends in her videos but there are also times that she wants to handle her business on her own. Sammy stands tall and proud with her huge breasts. She owns a pair of a 32D cup that gets to be sucked and licked most of the time by her male and female partners. She's also not the skinny type but definitely not the fatty type too. She's fit and average in size.
Sammy is also pretty badass because of her big tattoo on her left arm. This amateur hoe also looks good in different styles of bikini and lingerie and most importantly, even without any clothes on. Sammy's expertise in performing in porn videos is pretty obvious in her collection but who wouldn't develop such confidence and mastery when you've been in the industry for a couple of years now, right?
If you are an avid porn freak, you might find Sammy familiar. Well, that is because she's just the same model from the old site, Sammy4U. Sammy Tyler moved to a new site, which is still a solo site and her own site, but this time, things are offered way better than the old site. With this site, Sammy can connect more to her fans and this is basically one of the reasons why she's earning a lot of followers. This US-based model is so down to earth and very approachable to her fans. She also makes sure that she entertains everyone a lot by filming videos that will appeal to every audience preference.
This brings us to the different categories on the site. By merely browsing on these categories, you will be transported to the world of hardcore porn. You can find videos and photos in the following categories: threesome, all natural, amateur, anal, apron fetish, ass grinding, ass spreading, ass to mouth, ass worship, ball busting, bisexual, big loads, big tits, bikini, blondes, blowjobs, bubbles, bukkake, cam show archives, celebrity xxx, cheerleaders, cock worship, costumes xxx, creampie, cum shots, cum swallow, dancing xxx, dildo, domination, double penetration, drink, erotic nude, close-ups, facials, female wrestling, fetish, finger fetish, finger fucking, fitness xxx, foot fetish, fucking, fucking machines, glamour nude, hair fetish, hand fetish, handjobs, high heels, housewives, humour xxx, interracial, kink, kissing, lactating, lap dance, large nipples, legs, lesbian and so much more categories to look out for. The videos are also tagged so you can easily search these videos aside from the categories. There are a lot of pussy eating, dick sucking and ass grinding scenes so be sure that you are subscribed to this site.
Conclusion
This site is the bomb. With the changes that are added in the overall performance of the site, I will surely recommend this site to my other friends. It will suit the taste of a bigger audience because SammyTyler has prepared a lot of videos from all sorts of porn acts. You will most likely find yourself jerking more than you usually do while watching these videos. If you were an avid fan of Sammy4u before, I don't see any reason why you should skip this new and improved site. The registration remains to be affordable and cheap so you better give it a try before you get left behind.
Contents
| | |
| --- | --- |
| Videos | More than 200 Videos |
| Pics | More than 200 Picture Sets |
| Download | Available |
| Categories | amateur, hardcore |