SheIsNerdy Review
SheIsNerdy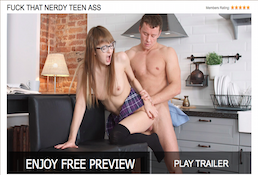 Price: $1.95 1 day
If you have a thing for girls who have glasses, SheIsNerdy is a good place to start your journey.
00000
SheIsNerdy Review
Site Overview
As a DirtyFlix installment, the SheIsNerdy has everything you could hope for when it comes to hardcore sex with gorgeous European girls. This site grants you access to sexy videos featuring some really stunning girls, and if you like what you see, there is even more. This portal is part of a larger network, and since the content is dated, it's quite easy to detect when it started to provide its juicy porn. The first videos were added during the September of 2014, and from that time, there was a new video uploaded every week. When we were visiting the site, it had more than 50 hardcore scenes, so the schedule seems to be kept. These scenes are exclusive, and that's a big bad plus for the site, because there are so many scam sites with deliberately taken and re-uploaded content, that it's a nice refreshment to see honest pages. Also, these are all professionally made, and they are in really good quality – there isn't any scene that doesn't offer at least an HD playback.
The membership grants you some really good bonuses. As a part of the site-family of the DirtyFlix network your account on the ShesNerdy will be global, so you can browse all sites of the network, which means that more hot European porn is yours to watch. These sites cover reality-like porn, however, they feature fantasy elements too. For example, the TrickYourGF and the MakeHimCuckold features almost the same thing, but the first site's videos are about the guys getting their revenge, while the MakeHimCuckold features the girls as they fuck with another guy in front of their boyfriend. There is also a site which features US-based porn too: the PrivateCastingX seems to be the only site which doesn't feature only Czech and Russian girls.
Design & Features
The DirtyFlix seems to be realizing that a good porn page has a good tour, probably that's why the ShesNerdy has a really sexy tour to take. The layout is simple: the videos are listed with large thumbnails, and they link to the previews. Every trailer is made for the video it's attached to, and they feature the whole story from the beginning to the cumshot. In the members' zone, you will find more browsing options. The top of the inner pages feature the statistics of this network, so you can see what you are dealing with. Under this, they placed the browsed site's logo (you can select another network site from a dropdown), and the account menus, where you can reach your favorites. The main menu of the site has dropdowns, and it's easy to use. They tagged the content, so the search engine is useful when you are looking for something or someone. Also if you are at the content's listing page, you can filter the list by selecting categories and tags. The videos are available for in-browser access through a Flash player, which can be set up to play them in 1080p. This quality is also obtainable by saving the flicks.
Girls & Videos
According to the site a girl is nerdy when she wears big glasses and she is looking at a book. She might not reading it, but the glasses makes her look smart and nerdy. Now, the boys in these videos seem to be always lucky when strolling the cities of Russia, because they can always hook up with nerdy chicks, and these girls are always eager to get banged after a few minutes of reading. It's reality porn, and it also covers some of our sexy fantasies about nerdy girls. Being studio-made also determines the level of experience of the models. Most chicks here can be found in the videos of other DirtyFlix sites, and they are mostly semi-professionals, while many among them can be considered a professional. In case you enjoy watching hardcore sex, and you also prefer girls under 25, you will find these girls to be quite satisfying. The fact that these chicks are Europeans, and they are doing reality-like porn also makes it evident that you can expect to see here mostly natural beauties. They are not so bust, but the cute, perky yet round breast are damned sexy, and their body is shaped perfectly. Everything on them is shapely and measured, and when they bend over for some doggy-style fuck, their ass looks so hot that you would spank it as hard as you can.
What happens in the videos is always staged, and there is a script the videos follow. The story is usually the same. There is a damned sexy girls sitting alone, reading while she wears her big nerdy glasses. (This alone is quite fantastic, sexy girls don't sit alone usually, no matter how nerdy they are) There is always a horny guy who walks upon her, and they start talking. After a while, they decide go to her or his place, and continue learning in more comfortable environment. After that they actually do it for a few seconds, but the guys are making the move, and from that point everything gets out of control. The chicks are doing a really good job, and they doesn't only look amazing, but they make so sexy sounds during sex that those alone are enough to make a men horny. These videos sometimes are quite glamorous, and the sex is really passionate, though they also do it really hard when they get the heat of it. It might be European porn, there isn't anal sex in them and the main event is when the guys cover those glasses with their cum.
Conclusion
The ShesNerdy is really cute, and the sex in these videos is really exciting. Apart from the amazing sex and the clear, sharp picture quality the site has a lot in store for you. The network access is really exciting, and the porn on the other sites are just as sexy and dirty as on the ShesNerdy, so it's a good bargain to join.
Contents
| | |
| --- | --- |
| Videos | More than 50 Videos |
| Pics | More than 200 Pictures |
| Download | Not Available |
| Categories | hardcore, sensual |