TACAmateurs Review
TACAmateurs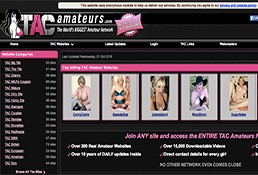 Enjoy tons of girls and tons of videos on this incredible network. Browse through lots of girls and choose the best for you.
00000
TACAmateurs Review
Site Overview
The TACAmateurs is a huge directory website which offers the audience a large selection of porn. As a directory site the TACAmateurs is only the hub and the host provider of many solo sites. Since anyone who wishes to run a porn site, and make a living from it can join this provider, you will meet here with a great variety, not just in the aspect of the models, but of the niches too. The TACAmateurs has been in the business for a long time, and it has been successful in keeping up with the heavy competition of this field. Though some of the sites are frozen, many of them are still going strong, and offer regular updates and increasing quality.
There are always new stars, new home-based amateur studios appearing and providing with new videos and photos, and since the TACAmateurs has strict requirements for those who want to join, you can expect to find here a fixed amount of content for the new sites too. When you land on the TACAmateurs, you can see right away what's hot, because the site lists the so-called top selling websites of the network. Let's take a quick look at those, and you might get the right overview about what this big fuss is about. If you are looking for something unique and kinky, then there is the site of CurvyClaire, who is a big boobed porn star that might also be categorized as a cougar or MILF. This nasty lady, who works in an office, made some very juicy videos, and you can watch her pounded and her large breasts covered with cum.
Another good example about the nature of the sites within is another top selling site, which is dedicated to the self-declared MILF pornstar, Jolene Devil. She is a mother and a wife, who found the best way to 'work from home', and if you were such a hot mom you should do it yourself. Jolene sucks, fucks, and double penetrates herself, she even squirts, and so to cut it short she puts on a great show. These two sites/stars were just an example, there are more than 300 different girls and guys waiting for you to look through among them, and to be honest, it's quite possible that you will find some hot stuff you might like here. If 300+ sites, with a huge amount of porn videos aren't enough for you, you will certainly appreciate the extra content: you gain access to the ChickPassNetwork, which also offers you access to over 100 sites where you can enjoy the misdoings of more than 700 different girls.
Design & Features
It's important to highlight again that the TACAmateurs is a kind of directory sites. This means that the site itself doesn't have videos, it collects, and hosts the sites of other, and here you can only find the links to those sites. If you take your time and look around the site, you will notice that there is indeed great variety here, and even the tour page helps you with your search, it's not just teasing. The menu is under the main heading of the site, and it offers multiple options, like the sites' lists (it's also featured under the menu, in the Website categories column), but you can also access the latest updates, and some other options here.
You can also find a search engine on the home page, but if you have something actual in mind, you can browse the sites by the preset categories, or the use the tag search. These options are available in the members' zone, and though the layout is a bit different, navigating in the inner page won't cause any trouble. The site started to offer streaming videos (earlier it was a download-only site) in Flash format, and since the scenes themselves are not that long, they load pretty fast. If you prefer downloading, you can use that option too. The pictures are also available for in-browser watching and for downloading, so if you looking to build a gallery of hardcore sex photos, you can do. The mobile site of the TACAmateurs isn't just looking good, but it work properly, and the best thing about the TAC sites is that all of them use the same templates, which is also optimized for mobile devices, so you can browse all 300+ sites, including the older ones on your smart phone or tablet.
Girls & Videos
There are times, when the best way to describe the models of a site is to simply say that you can find all kinds of models here. Though the majority is female, there are male pages, so you might possibly find everything you seek among the vast list of models on the site. There are Europeans, Americans and among them you will find fresh, barely adult girls as well as matures and grannies. If you are looking for fetishes, BDSM you will certainly find the videos of the site to be utterly satisfying, and while you are here, you may come by some interracial sex, and there are many BBWs also. The sex that takes place in the movies is varied, and you won't find the same girl doing the same thing twice, they always come up with something new. The quality of the videos increases and you can find here a huge collection of clips and scenes with a usual length of 8-10 minutes.
Conclusion
The way that the TACAmateurs works is the right way that leads to success, and if you read the description, you can see that many of the girls, the sites have personal fan. They also dedicate some of their scenes for the faithful members; and the guys sometimes send gifts to the girls, who are wearing or using them. It's a great compilation of porn, and if you are not a prude person, you should certainly check it, because it's not just amateur, but it's also heavy hardcore amateur porn, which also means that you will find here lots of fetishes and other kinkiness. 300+ sites for the price of one is a fair deal isn't it?
Contents
| | |
| --- | --- |
|  Videos |  More than 10.000 Videos |
|  Pics |  More than 1 million pictures |
|  Download |  Available |
|  Categories | hardcore, anal, solo, lesbian, amateur, MILF, BBW, interracial, BDSM, fetish |
… or read more on TacAmateurs from other review sites!