TeensInTheWoods Review
TeensInTheWoods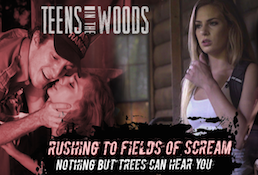 Price: Free 2 days
TeensInTheWoods is a great porn site offering horror movies plus porn fantasies.
00000
TeensInTheWoods Review
Site Overview
When we watch horror movies and see hot and beautiful women getting lost in the woods or getting trapped in a cabin in the middle of nowhere, we sometimes wonder what will happen if the said horror scene would suddenly become a steamy, hardcore sex scene, and we are talking about face fucking, cock sucking and pussy drilling sex in a secluded place, with no one but the beautiful and hot girl and the man behind the dirty plan.
TeensInTheWoods is an adult entertainment site that will make all of your horror movie plus porn fantasy come to life, they have the perfect acting, the perfect plot and the perfect setting, with watching the first few minutes of the video you will feel excitement and lust and the same time.
Design & Features
This site has been uploading thousands of high definition movies and is powered by Fetish Network; all of their videos are of movie quality and can be downloaded and transferred into any device of your choice. Each video has a brief summary to give you an idea about the plot and about the main models in it; they also have high resolution pictures of each videos that they set up as a thumbnail and is included in their gallery.
As a member of the site, aside from being able to watch all of their movies, you can create a custom video as well, you have the option to choose which model you want to use for your video and you can dress them up as you like, position them as you like and so on. You can also access 40 other adult entertainment sites that are under Fetish Network like BrutalPickUps, BrutalCastings, HelplessTeens, SexualDisgrace, StrapOnSquad, FootJobAddicts and many more. They also have a form at the bottom most part of the page that can be filled up by those who wants to be a part of Fetish Network and those who wants to be one of their models, they have a customer service hotline that you can call and they are available 24/7 to help you with any inquiries or questions.
Girls & Videos
This site has one of the most unique and fresh plots in the adult entertainment world, in one video it showed one of the site's models named Michelle Martinez. In the video she was driven to the woods by a friend that wants to know if she's fit and adventurous enough, as they were walking a stranger with a mask on came out of nowhere, it frightened the girls and they ran without looking back and they did not notice that they were separated during their escape, Michelle then saw a cabin and knocked on it to ask for help. She was invited in by the ranger who asked her about what happened while giving her a drink; he then suggested that she should take a shower first since she was all dirty and that they will look for her friend first thing in the morning.
While she was taking a shower it was shown that a hidden camera was installed and the ranger watched her as she played with her pussy and wash it on the wide screen TV. She stepped out of the shower and she was wrapped with a towel when she went back into the living room, she saw the ranger masturbating and when she looked at the TV screen she realized that she was being watched the whole time, she started complaining but the man hushed her up by grabbing her hair and making her kneel in front of him, he then told her that if she won't do what he wants he will kick her out. He commanded her to suck his thick cock and she did, she also sucked his balls as he kept his grip on her hair, he then sat on the couch as he made her ride him, she used the armrest of the couch as she bounced up and down while he slapped her ass, she went deeper and deeper as he pulled her so that she can get his whole dick inside her pussy, he then squeezed her round breasts and licked and sucked her perky nipples. He then pushed her off of him and grabbed her by the hair again as he made her sucked his cock, he pushed her head in making her gag and she deep throated him.
He made her lay on the couch with her ass raised as he fucked her from behind, he used his hand to muffle the noises that she was making while he was fucking her pussy from behind, he then bent over so that he can lick her neck and squeeze her breasts. He made her ride him again and he kept on slapping her ass as she bounced on his cock, but this time she was tied up and gaged, he thrusts his hips as fast and as hard as he can making her moan through the towel that was placed over her mouth. He grabbed her by the hair again and made her kneel in front of him, he kept her hands tied but he took the towel that was on her mouth off and he made her suck him again, from the tip of his cock to the shaft and down to his balls. The video then ended with him cumming all over her face and hair and the camera focused on her tired body and tied hands.
Conclusion
TeensInTheWoods is a unique adult entertainment site that will make all of your horror porn stories come true, it is all hardcore sex in a cabin wherein no one can hear them as the women get their pussies stretched and their face and ass fucked. They have movie like videos that you will surely enjoy watching as the production is of the highest quality, complete with plot and background music, it really does look like it is a beginning of a horror movie.
Contents
| | |
| --- | --- |
| Videos | More than 100 Videos |
| Pics | More than 100 Picture Sets |
| Download | Available |
| Categories | hardcore, blowjob, anal |