TugPass Review
TugPass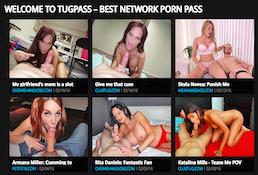 Price: $1.00 2 days
On TugPass you can enjoy a big variety of porn content that will drive you crazy.
00000
TugPass Review
Site Overview
In my time as a writer, I have done a few reviews on porn sites so I do know a thing about what makes up for a good site. So it was no surprised when I was called up by my friend to make a review on the site tugpass. Personally, I have never used the site before but since part of the fallout of doing the review was that I get a membership to the site I was immediately interested. Just so you know; I don't only write reviews for the sake of writing. I do love porn and I have been to a few sites over the years. Therefore, as I set out to go to the tugpass site and appraise the site, I had a couple of things I was hoping to see. I was interested in the content and then the website design. Content may be important for a porn website but if the design is rubbish, you may not be able to convince visitors to stay long enough to check out your great content. Ok, now I had to understand what this site was all about and why I have to join if necessary.
As I found out very early in my fit trip on the site, this was a megapass site that offered its members access to nine sites for the price of one. That was pretty good for starters. I had to check out the said sites. It is not enough to say you are offering me nine sites; I needed to know whether those supposed nine sites were worth my time. I found out that these nine sites were all great with some pretty models and exclusive content. To give you an idea of what to expect if you ever decided to join the site, this is a summary of some of the sites that are on offer. There is the award-winning meanmassage site that features handjobs in the form of constraints, men are lured into accepting a handjob from the ladies only to be left without an orgasm or beaten if they do spit without the approval of the controlling ladies. Another interesting site that caught my attention was seemomsuck. This is a site where you are going to find some of the most cock obsessed families. On this site, mums and their own chicklings get down and dirty with the men. Needless to say that by the time I had done a quick assessment of the different sites, I hurriedly clicked on the sign-up page to claim my free membership before my friend changed their mind.
Design & Features
Porn websites are known for being disorganized as producers rush to present content to their members in a bit to keep them loyal. However, you are not going to find any of this disorganisation on this site. The site unlike some other porn site has content well arranged and grouped into relevant categories and tags. Browsing through the site is very enjoyable as you are able to find exactly what you need without spending too much time looking. For example, if you needed to search for a model like Shelly Burbank, you will click on letter "S" because you know that on this site the models are arranged according to the letters of the alphabet. As you move from one site to another, you will find that they are designed almost the same.
A great add on most sites is the ability to search models by most recent and most popular. To its credit, the site is well optimized to work well on computers and on mobile devices. While there are many pictures on the site, the web pages do not take long to upload. Even when watching videos, the videos upload without any breaks or scratches. If you wanted to download or stream videos, you could do so on whatever device you have; iPhone, android or windows phones.
Girls & Videos
This is one site that you are going to be impressed by the wide diversity of models. There are models of all sizes. You can be sure to find those that are busty is you head to bustydirect. Those that are cute but ready to handle some of the biggest cocks are found in petite18. The mature ones can be found on over40handjob and seemumsuck. One thing you can be sure when it comes to the models is that no matter their age, they are all hot and sexy and they know her to make men cry out with pleasure as they work with their hands on their cocks. Even you who is watching will wish those hands were working their magic on you.
There are over 400 models on the site. Some names you will come across are; Kerry Lynn, Granny Sugar, Malena Morgan and Sara Luvv. You will find these chicks in videos stroking cock, playing with the tip of the cock, scratching the cock slightly and making precum flow freely. They will hold the base of the cock firmly and work the length so well, this cock can't help but spit out white juice in huge quantities. To access the videos, you have to become a member on the site. However, when you do access the videos you only can say wow! Why did it take me so long to get here? You will be presented with over 1200 videos to select from. All of these 1200 videos are available to you for download with no limits. The videos are in mp4 format with some in HD. There are also photo galleries associated with the videos. Each photo gallery has up to 200 high-resolution pictures.
Conclusion
When you have locked your bedroom door and zipped down your trousers to play with your cock as you watch porn videos, the least you can expect is to watch a video that makes you cum hard. If you do decide to use the megapass at tugpass, you will be guaranteed many cup episodes in one night.
Contents
| | |
| --- | --- |
| Videos | More than 1.200 Videos |
| Pics | More than 200.000 Pictures |
| Download | Available |
| Categories | hardcore, blowjobs, MILFs, fresh, anal, threesome |
… or read more on TugPass from other review sites!