3dHentaiAnime Review
3dHentaiAnime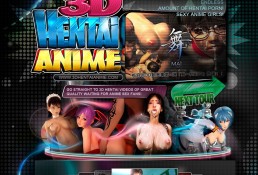 Price: $1.00 1 day
3dHentaiAnime is full of great hentai anime. This original hentai features hardcore sex scenes involving busty anime women. Superbly created, the animation is excellent and compelling. If you enjoy watching animated sex scenes then you will love 3dHentaiAnime. There are no photo sets, but you can download or stream hardcore hentai anime videos at 3dHentaiAnime.
00000
3dHentaiAnime review
3dHentaiAnime is a great source for original hentai anime videos. When you get tired of looking at the same pornography then it could be time to give something new a try. The videos at 3dHentaiAnime are computer generated with a 3D engine to produce high-quality hentai anime scenes. Full of hardcore sex scenes, these videos get straight into the hardcore sex. Learn more about 3dHentaiAnime and the types of hentai videos they host.
3dHentaiAnime features hardcore hentai anime
The first thing that should get mentioned is that the hentai anime videos at 3dHentaiAnime are definitely hardcore. The female anime characters have large breasts and most of the male characters have mammoth penises. Most of the videos do not have a story line. Instead they start having sex quickly and the videos fill up the entire time with sex scenes. You will get to see hardcore hentai anime sex scenes involving anal sex, vaginal intercourse, and blow jobs. Even though these videos get animated using a computer, the anime character's movement is very fluid and realistic. As the female characters bounce up and down on massive penises, their actions seem natural. This helps the videos become more appealing. Also, the sound effects are perfect. The creators of these videos went through the trouble of making sure that the videos get realistic squishy sounds during the anal scenes. While there is not a story line in most videos, each video gets its own setting and set of characters. There are scenes in hospitals, business offices, classrooms, and more.
Downloadable hentai anime videos at 3dHentaiAnime
Not all the videos hosted at 3dHentaiAnime are exclusive to this website; though, unless you watch a lot of hentai anime pornography you probably have not seen each of these hardcore hentai videos. Users have the choice of either streaming the hardcore hentai anime videos in their browser or downloading them on to their computer. The videos get downloaded in AVI format and there are no other options. One aspect of 3dHentaiAnime that is annoying is that there are no picture sets. The only content at 3dHentaiAnime is hardcore hentai anime videos. Also, the videos are not completely high-definition; though, they are high-quality. Everything from the producing of the videos to the finished video is high-quality, but it can look grainy when viewed full-screen. There are several dozen hardcore hentai anime videos at 3dHentaiAnime and it looks like they have not updated their website in a couple of years. Hopefully they will start adding more content soon.
Visit other anime porn sites
While 3dHentaiAnime does not include tons of content, there are several bonus sites that come with the membership. The 5 bonus porn sites also feature hentai anime. There is both hentai anime videos and photos on these other sites and several of the bonus websites contain more content than 3dHentaiAnime. Without these bonus websites it would be difficult to imagine paying the price of membership for 3dHentaiAnime. The bonus websites include 3dHentaiVideo, HentaiVideoWorld, HentaiNiches, and YaoiMovieArchive. Several of the bonus websites have gotten recent updates and have newer content. Additionally, these bonus websites have different options for downloading content and include high-definition hentai videos.
Getting a membership to 3dHentaiAnime
If you want a membership to 3dHentaiAnime and the bonus websites there are 3 options to consider. The 1-day trial is only $1.00, but you need to pay attention as it then switches to recurring every 30 days at $29.95. The other two options give a small discount the membership price. All transactions get handled discreetly and securely and you will not have any issues canceling your membership.
 $1.00 / 1-day trial (then recurring at $29.95 every 30 days)
$19.95 / 30-days
$59.95 / 90-days