AV69 Review
AV69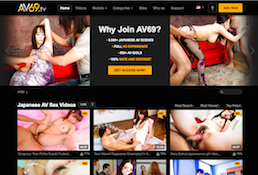 Price: $1.00 3 days
AV69 offers some of the most exciting uncesored Japanese porn videos. Horny chicks are waiting for you.
00000
AV69 Review
Site Overview
The AV69 has a tricky name because it makes many of the visitors believe that there are mostly videos here that feature the ever-famous 69 position. And there are many scenes offering that, but there is always more. The AV69 is a hot Japanese-porn provider, where you can find a huge collection of Oriental adult videos. As an adult entertainment site, the AV69 had to be strong to stay online. It has been around for more than three years now, so we can say that it's stable. There are daily updates here, thus you can enjoy here a constantly growing collection, which actually offers more than 1,200 videos. Since the base compilation is already large, you shouldn't think about joining for too long, because you won't be able to catch up.
The scenes of the AV69 seem to be unique as far as online publishing is concerned. However, you can always get your sticky hands-on original physical copies if you care to order them. The videos originate from Japanese porn DVDs. So, there are three years' worth of daily updates to browse, and one wouldn't wish for more. But, if you are someone with an insatiable lust for porn, you will certainly appreciate the membership. As part of the JAVHD network, the AV69 grants you access to 11 other niche-driven Japanese-only porn sites. There is more porn included in your membership that you could handle, but since it's granted, you can try your luck with them.
Design & Features
The AV69 looks really good, and the sharp, high-quality pictures on the tour page make the site really good to look at. Well, in fact, these pictures provide the only insight into the videos, so you should watch them thoroughly. There are several menus on the top, most of them are working, and providing further insight into the content. When you log in, the site won't change too much, so if you take the tour comprehensively, you will be already familiar with using the functions of the page. The menu is situated at the top of the page. This is the main navigation tool: it has links to the videos, the models, and the site. Also, the search bar is up there, along with a link to the mobile version.
As soon as you log in, you will see the newest video featured in a banner, and below that the site lists the newest scenes. You can sort this listing, to show the top-rated ones first for example. Rating is one of the features you get as a member, along with network access. Since the content is tagged, it's easy to navigate through it. The videos can be played in the browser, by using the Flash-based player the site features. This option is quite hot, the videos look very good. The best quality is available through downloading the flicks; this method grants HD versions too. Every one of the flicks has a set of video captures attached, which you may view in the browser or save in zip format.
Girls & Videos
The cute girls you can see in the videos of the AV69 are all semi-professional and professional AV Idols from Japan. They really seem to know how to make hot porn videos and what ways are there to make the viewers happy. It might look stereotypic, but Japanese girls are usually born with dark hair. However, on the AV69, and in their natural environment, you can find lots of girls and models, who have colored hair. Usually, they have brown and blonde hair, and in fact, they look really hot. Though many men say that Japanese girls have no ass and have no breasts, that's just stupid. It's true that they are not that busty like the Western porn stars, but that simply makes them different.
When you start exploring the site's girls-list, you will probably see some hot, and large-breasted misses, and they are usually from the rare type who had a breast enlargement. Well, the overall appearance of these girls is good. We know that they are not as tall as the Caucasians, but this is also a factor that grants them that mystic shroud we all fall in love with. The majority of the Japanese AV Idols are natural beauties, but without big enhancements, they still look cute and sexy. All of these flicks were made in Japan, and since they probably weren't meant for only inland publishing, they are not censored. (FYI, the Japanese censor their porn, no genitalia is shown in such videos) This is one of the few important factors that can easily convince any porn fan – and especially the Japanese fans – to join because there aren't too many sites that offer uncensored Japanese porn. As their number grows, the quality also increases, and there are lots of HD scenes available now.
These scenes are varied in length, most of them usually run for 15-20 minutes, though some more exhausting videos are also available. The AV69 has no particular niche, so you can access here many of the hottest and most popular porn niches. You can enjoy regular stuff like pussy fucking, blowjobs, and anal sex, but there are dozens of nasty things too. For example, you can enjoy here anal – which is quite common in porn – and the hardest things are usually the creampies, double-penetrations (and double-creampies), or the squirting scenes. It's certain that these videos will be fun to watch, and if you like Japanese girls, you couldn't find better jerking material than these.
Conclusion
Even though there are only Japanese girls on the AV69, you will surely enjoy the videos, since the girls and the sex are greatly varied and they are arousing as hell. In case you have a thing for Japanese, this network is the best place to start with. Those who are into Japanese chicks and like heavy hardcore porn may find the collection of the AV69 utterly satisfying. It's not too common when quality meets quantity, and even the price is good, but here you can see it happen.
Contents
| | |
| --- | --- |
| Videos | More than 1.200 Videos |
| Pics | More than 200 Pictures Sets |
| Download | Available |
| Categories | hardcore, Asian, anal, threesome |