FantasyHD Review
FantasyHD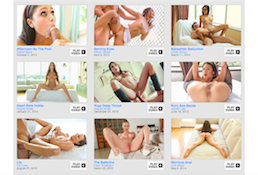 Price: $1.00 1 day
FantasyHD provides porn videos with a super quality featuring exciting hardcore porn scenes.
00000
FantasyHD Review
Site Overview
The FantasyHD is a place where you can find some exciting porn videos. You should get ready for a sour hand and blue balls, because the HD in the name isn't a joke, and when you watch these high-def hardcore videos you can't avoid touching yourself. You will find here glamorous, but nasty girls getting an exciting, though a bit rough pounding. Since the site doesn't offer the visitors SD scenes, it's certainly evident that it hasn't been online for too long. The FantasyHD is about two years old in fact, and since it started from zero, even the earliest videos are in – at least – 720p, so the picture quality is quite a considerable factor. Every porn fan likes when a video is sharp, clean and the whole stage is bright and easy on the eyes. This is exactly what the FantasyHD offers you. The sex might be hard, but it's not shady, so you won't get the creeps because of it.
When you open the site, you will probably notice that there are no bonus sites mentioned. That's because this page is a standalone one, though you can always add sites to the membership (like the PornProsNetwork). Probably you are not really happy about it, but as you will see, these videos worth it. There are weekly updates of Full-HD videos, and you can rest assured that there is no way to watch them anywhere else. The FantasyHD has unique videos, and you won't find them on other sites, certainly not in this awesome quality.
Design & Features
The tour page of the FantasyHD is nicely designed, and it offers a hot, convincing preview. First, you can take a look at the videos' list. If one of them catches your attention, you can watch its trailer – take note however that only five trailers are allowed every day. The models' list also works, so you can browse through that too. In the members' area, you will find the site's menu under the banner. It has the same options as the outer menu, with only three other options: you can find here the link to your favorites' library, you can access the live cams' page from there, and a page is also reachable where the third party deals are available.
Search and filtering options are not implemented, the only way to narrow the list is to browse the models list and get the videos from there. These guys are not fooling around about offering you HD. Even for in-browser viewing they offer a 720p option, so with a good machine and bandwidth you can enjoy a flawless online playback. Saving the videos is also a highly recommended option, because the majority of the videos even have a 1080p version, which you can get only by saving the appropriate video files. When you browse the videos, you can find attached picture sets with them. These are video captions, but given the high quality of the videos, these are also very good to look at. If you like them, you can save in zip.
Girls & Videos
Okay, so these girls are hot, and they certainly fit any of our fantasies quite well. They have tight body, sweet juicy pussy, and a nasty approach for the whole sex-thing. In case you've already opened the site, you might have noticed that the girls are not just hot, but they are all professionals. The site has a hot models' database, and if you take a look at the chicks, you might notice many of them from the large reality-porn sites. The list of girls is highly varied, and when you start browsing through the collection, you can find here Asians and Latinas too, though Ebony hotties don't seem to appear in any of these scenes. Since the girls are all professionals, you can expect here some nice fake breast and lips too, mostly on the MILF-aged girls, but as you might notice, most of these fresher girls are naturals, and they have really good bodies.
Just to mention some examples: you can enjoy here several videos of Capri Anderson, who might become your favorite pretty soon – she is hot, and she seems to like it dirty. Also, the site features some videos of Dillion Harper, who is a popular cunt; her nice face and perfect body turns you, and makes you bad for jerking to her videos. So, the FantasyHD has a growing collection of hardcore HD porn videos. When you start exploring the site you might get the right picture of what you may expect here. These scenes feature heavy sex, and they are all covering a fantasy-like something. The flicks are scripted and they are staged. For example one story starts at the tennis field, and it ends there, though both parties are naked, and the girl gets covered in cum. There aren't much dialogues in these videos, they usually just cover the situation, but everything turns hardcore pretty soon. Naturally, they start it with some blowjobs, however in most cases they do it hard – deepthroats are not uncommon here. The site doesn't offer you extraordinary sex, but it's quite exciting, and good to watch. You will find yourself touching your cock as you browse through the tour page, because the girls are hot, and the moments they put out there are really hot. Naturally, the real thing is in the videos, and believe it, they well worth watch. They are lengthy in nature, and due to the high quality they are astonishing.
Conclusion
When you start browsing this site, you will surely get a feeling, you will feel you pant-snake arising. You might have seen these girls on other sites, but in this great quality they are much more gorgeous, and the sex they do gets better every time. Those who really enjoy watching porn, should also consider the site, and if they like what's in there, it's recommended to take into consideration upgrading to platinum account. That ensure not just more hot HD porn, but even 4K videos become available. Until then, enjoy the weekly added new 1080p flicks.
Contents
| | |
| --- | --- |
| Videos | More than 200 Videos |
| Pics | More than 100 Pictures Sets |
| Download | Available |
| Categories | hardcore, anal |