Candy19 Review
Candy19 Review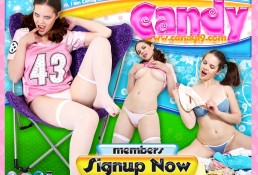 Price: $1.02 3 days
Candy19 is a porn site with great photos and videos of a Midwestern model. If you want to view some quality solo action then check out Candy19. This website only contains sexy photo shoots of this hot Midwestern girl. With amazing curves and a bubbly personality, Candy19 will have no problem providing you with sexy photos that will keep you coming back for more. Sign up to start browsing the photos at Candy19.
00000
Candy19 Review
Candy19 is completely natural, with no plastic surgery. Listed as being 19 years old, this model has an amazing body. Her lusty curves will definitely grab your attention. This is a private site containing videos and photos of this natural model. There are several different membership options and users can receive email notifications when new content gets added. For those interested in Candy19 and want to know if this site might be worth their time, then continue reading this review of Candy19.
An overview of Candy19
A part of the Solo Girls Network, Candy19 is a porn website dedicated to providing photos and videos of a hot Midwestern model. Candy19 is the only model that you will see on this website. This is not a hardcore porn site, as it only has solo photo and video shoots. This should not deter people from wanting to get a membership. Candy19 knows how to pose and is able to show off her body in a wonderful light. There are hundreds of photos and videos to view and the entire layout makes browsing content a breeze. Choose to download the content to your computer. They can then be viewed on a variety of mobile devices or on your computer. Play the videos on your iPhone, iPod, Android device, or any device that can play MP4 video files. For quicker downloads, the photos get compiled into a ZIP file for downloading.
View high-definition videos of Candy19
The photos and videos that you access at Candy19 get filmed in high-def. View videos at full 1080 pixel resolution. The photos get provided at 1600 x 1200 pixels. When you stream videos at Candy19 they get presented in high-definition with a streaming speed that reaches 4.2 Mbit per second, with multiple speeds to choose from. When downloading videos, there are no restrictions with DRM. Save the photos and videos and keep them forever if you prefer. With high-resolution photos you can see every part of this hot model from Nebraska.
Start accessing bonus content
The fun will not stop at Candy19, when you choose a membership. As a part of this subscription you will also have access to a group of sites dedicated to solo models. All the models featured across these sites deserve their own website. There are over two dozen porn sites on the Solo Girls Network. This network includes ChelseaSweet, DaniWild, HaloSweet, and WildAddison, to name a few. Together there are over 28 million photos and around 167,000 videos available as part of the Solo Girls Network.
Give Candy19 a try
In the end, Candy19 is worth the price of admission if you find this model attractive. The nice layout and easy process for downloading or viewing photos and videos make this a wonderful solo porn website. No matter what your budget is, you can give Candy19 a try. There is a three-day trial available for $1.02. This will include the same level of access as the other membership plans. For a longer term subscription, take a look at your available options for getting a membership to Candy19. These subscriptions are discreetly handled through a secure credit card transaction. Stay up to date with the latest content by signing up for the free newsletter. This will let you know when there is new content so that you never miss any of the sexy photos uploaded to Candy19 and the other sites on the network. If at any time you wish to cancel your subscription, you will not have to jump through any hoops. Canceling your membership is as easy as clicking a cancel button.
$1.02 / 3 days
$34.95 / 30 days
$59.95 / 90 days
Warning: the website is not active anymore, but you can find a very close one here