FetishClub Review
FetishClub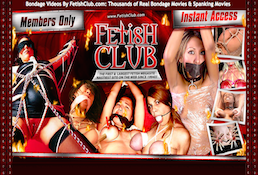 Price: FREE 2 days
FetishClub will be your ultimate destination if you want to enjoy amazing fetish and BDSM porn contents.
00000
FetishClub Review
Site Overview
The FetishClub is a really nasty porn site that has been around for quite some time now. This is a quite shady fetish portal, where you can enjoy watching as women are dominating over men, or as hot girls show off their assets to each other, then do some worshipping. We certainly loved these videos, and we think that you are going to enjoy watching those too.
As a hard porn collection, the FetishClub has been online since the beginning: it launched in the middle 90's, in 1995, when the Internet was still a new and exciting thing, and they didn't pushed porn into your face after every click. It looks like though that the collection of the site has changed a lot, and nowadays you can access mostly the content which was added since 2008. But, it's still more than eight years' worth of updates, and that's something – especially if you take into consideration the kinky niches the site's videos cover.
Currently there are more than 3,500 hardcore videos here, and they come from the different series of the company that runs this website, so you can expect here are a whole lot of juicy niches covered. Apart from the videos, you will also find here a quite large number of pornographic pictures, and as you will see, they are actual photos, not just any old video captions. The site's content seems to be exclusive. At least we can say that it's exclusive to the company, though you might access them on other sites of this enterprise. However, the facts that the FetishClub has a big collection, and it updates multiple times a week, make it into a warmly commendable site.
Design & Features
Naturally, a heavy fetish site has to look dark, and has to give that kinky feeling men seek when they are looking for fetish porn. We are quite certain that you will love the site's collection, and while you are here, you might as well take the tour. This tour actually is just a few pages of bragging and teasing, but you should take a look at it so you can gather some info on what the site offers. When you are done, go for the members' zone, which you will find somewhat simpler than you may expect.
The menu is located on the bottom, and the page where you land after login also has some interesting options. Choose something, and take a look at it. The FetishClub has quite recent porn videos too, so you will find in there some Full-HD MP4 files you could save, and the oldest flicks seem to offer a good SD, coming as a WMV file. Also, there is a Flash-video stream, but it doesn't offer so neat quality – however it's satisfactory to get a quick run, or if one just want to take a look on the video before saving it. You can browse the photo galleries only on the site.
Girls & Videos
On the FetishClub you will see some really interesting girls. Some of them are looking amazing, while others could be considered as not that good-looking. In order to satisfy your and all other hardcore porn fans' needs they are going down really dirty, and they seem to like it all the way. Those who enjoy watching kinky and hard sex, should get ready to be served well, since these videos are coming from the heavier categories, and you can watch some hot cunts in action.
The videos of the FetishClub feature several costumes in use, thus you can't actually expect to find here only naked girls – but if you have a fetish for leather and latex, then you are in for a treat. Those who enjoy watching as cute, and sometimes not that cute girls are making themselves happy by destroying guys' manhood, will certainly like what's going on. As far as the actual appearance of the girls is concerned, we have to say that some of them are not exactly what you expect: they are not bombshells, many of them are rather average-looking, but that's what you get if you are looking for fetish porn. The dark side of the porn industry, isn't too tempting for hotties. But, those who dare to such porn are well-rewarded, and they have their fine – and surprisingly large – fan-base. These hot cunts you can find here are sexy, and bad – also they are varied in appearance, approach, and also in ethnicity.
When you open a video of the FetishClub, you are going to get a large selection of porn to browse, and you have to be ready: there is barely any actual sex in the videos. Since these are all fetishist porn scenes, the girls are not exactly playing the good fuck-doll's role. They penetrate their man's butt, and that dirty slave has to do everything the mistress tells him, and if he doesn't, there is always some retribution coming. We loved the videos, though not all of us are fetishist. Those who, however, found these videos familiar: it's mostly because the site shares content with the FetishNetwork, and everything there is available here too. Nonetheless, the sex is great, when it comes to that, and apart from the regular Master-Slave setup, there are some other scenarios is, such as groups and solo action. You will find here almost all fetishes you could think of, and when you are going through the juicy list, you are going to find what you seek.
Conclusion
Well, though the site doesn't offer only exclusive content and it seems not to feature any original series of its own, the sexually explicit videos and the size of its collection are really making up for it. Enjoy the ride you can take here, and you should consider the best offers the site has, since if you are fetishist, or you just love kinky porn, you are going to stay as a member for the long run. As the site has new videos coming in, it's warmly recommended that you should visit it regularly, and see what happens next in the world the fetish-porn.
Contents
| | |
| --- | --- |
| Videos | More than 3.500 Videos |
| Pics | More than 1.000 Pictures |
| Download | Available |
| Categories | fetish, BDSM |