3dKink Review
3dKink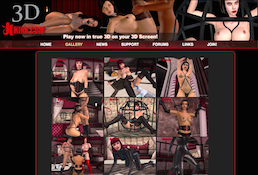 Price: $9.99 3 days
3dKink is one of those site that you should try! Create your own sex slave and let her doing whatever you want.
00000
3dKink Review
Site Overview
I did not expect this site. This just might be the most unique, genuine, one-of-a-kind porn site that I've experienced ever since, and what I've just said, is an understatement. At first I thought this site was joking, I mean, Create your own Porn star? That's just crazy. Too good to be true. But after fiddling around the site's features and stuff, everything about it is legit and true. I'll burst the bubble this early on, if you're still thinking if this site is worth it, I'm telling you, as an avid porn watcher, this site is tremendously worth it.
So basically, this site gives you full control and entertainment on what you want to happen on screen, but of course there are already pre made videos of 3D girls getting fucked or on POV style, but what really made this site interesting is the freedom they give the users on what they want to happen. I know you might be a bit overwhelmed right now but don't fret, I'll be presenting the site comprehensively but also not that long, I'm sure you'll get the hang of it. Oh, I forgot to mention, this site is totally 3D. Awesome right? Talking about taking a step in the fantasy world. This is really a fresh new look for porn lovers like us because it gives us a new perspective in porn and a new sense of thrill and intimacy as well. Seeing these 3D, anime inspired girls are really addictive and stunning. So let's dive right in shall we?
Design & Features
First thing the naked eye would see at the start of the page is this video featuring girls doing all sorts of sexy stuff. And I mean REALLY sexy. 3D girls playing around with dildos, some are tied to a post and blindfolded, some are even having their own BDSM session, but what's interesting are the POV samples as well! You really get to see the girl up close and see the reactions in her face.
Now at this point I guess you might think that you're just an average guy and there's no way you can make stuff like this. That's where you're so wrong my friend. In fact, if you're a gamer like me, you'll find customizations here very easy. And when it comes to the scenes and the actions, there are pre made default actions, and there are some, step by step specific actions as well. If you're a beginner like most of us, you can still enjoy using the default actions. And there are a lot of them! Anyway, if you turn your head towards the customization page, it's like opening up a makeup kit filled with all kinds of colors and stuff.
Now humor me for a second. Picture out a girl in your mind. The most beautiful girl that you would just want to fuck all night long. I know there are dozens of them out there but just pick one. Done? Now imagine her eyes, how her hair flows with the wind, what is the color of her hair? Her eyes? Look at the complexity of her skin, her eyebrows, her lips, look at the shape of her body, her breasts and even the way she moves. Now imagine her clothes, what is she wearing? Is she an anime character? A Hollywood actress? Now open your eyes and take a look at the customization menu. Every detail that you've thought of, are fully accessible without limits. The form head to toe, you can design what she will look like. Now that is what you want. That is what we want! Freedom to make the girl of our dreams! Also, to make it easier for you, it would be better if you had a picture of that girl with you while you're customizing your sex slave.
After you're done with the creations, next thing you need to build is the place to fuck her or whatever you wanna do with her. Of course you'd have lots of ideas in mind, and like me, you'd probably rush on ahead and create your own place. But I would also advice you again to try out the default places first. This site has default places for you to choose from that are really nicely done. I really like the rendering of the environment and I can really see that it's not some sort of lazy work. These are prison rooms, bathrooms that has prison bars, castle rooms, dining halls, anything you could ever imagine. I also like the lighting, pretty dark yet very visible. After you got the place, next up is determining what your sex slaves will do.
There are a huge variety of commands my friend, you'll just be astounded by the diversity of possibilities, and each and every girl you've created will move and act different while obeying your commands. But let's say you've done all the hot stuff and would want to just chill for a while. Well we have here some 3D fetish games if you want. And guess who's the star of the show. You're very own girl! It's a great feature since it helps you grow more attached with your girl seeing how she performs in these games. Really nice. Last but not the least, we have the forums. The community in 3Dkink is very active! They would often share their girls and show how they made it. Some would even hold events for contests! Why don't you try joining it! I bet you've got an amazing girl in mind!
Girls & Videos
What completely seals the lid off this site is the animation quality and voice acting. It is simply the most, awesome performance when it comes to voice acting and graphics quality. This site delivers a lot and keeps every word it promises to its members. The resolutions are handed to you by choice! That's more than one could ever ask for!
Conclusion
Judging by the number of stuff you could do here, and the quality of the content output as well, I'd see this is a done deal right here! I would, no doubt, recommend this to porn viewers who's had enough with repetitive video porns and would want to get their heads in the game as well! A perfect 10 stars from me!
Contents
| | |
| --- | --- |
| Videos | More than 100 Videos |
| Pics | More than 100 Pictures Sets |
| Download | Available |
| Categories | 3D, fetish |