HairyAV Review
HairyAV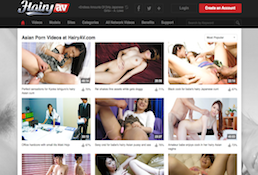 Price: $1.00 3 days
HairyAV provides amazing Japanese girls with unshaved pussy. If you love Asian girls you will appreciate this site.
00000
HairyAV Review
Website Overview
There are many men who think that there is nothing more tempting; there is nothing much cuter than a nicely shaped pussy that's covered with natural fur. These men are always searching for sites that offer this kind of muff, and if you are one of them, you might like the HairyAV very much. And to add some spice to it, the site offers only Japanese girls. As part of the JAVHD network, the HairyAV offers many benefits for you, though the best thing is probably the full network access to the 14 other niche-drive websites.
Design & Features
It seems that JAVHD has a focus on good looks too because the home of HairyAV is a really handsome page. Its modern design looks great. The overall appearance of the site is certainly friendly, and due to this up-to-date built, it offers neat options for navigation through the content. Maybe the only issue with the tour page is that it doesn't feature any previews, however, the menus are functioning properly, so the models database, the categories selection page, and the list of the network-wide updates will provide enough information about what to expect on the inside. Since the members' zone is practically the same page as the tour with only a few differences, let's take a look at the layout of the page. On the top, you will see the main menu, right under the heading. Your account info and the favorites list are located in the upper right corner.
The videos and the models database are available from this menu, but as you log in, you will be welcomed with the list of the latest additions. There are more than 760 scenes on the HairyAV, so it might be a hideous task to browse through them. Fortunately, you have two… no, three navigation options. The most evident is to use the search bar: it's based on keywords and offers a basic scanning option. You may also browse the models' list, and if you find someone that catches your eyes you can list all her videos on her profile page. You can find a menu option, called Categories in the main menu, and it can help you to list videos that cover the most popular niches.
So, if you find something you would like to watch, you have two options: enjoy the scenes in your browser, or download them to your hard drive. There is no better option because both methods offer you HD playback where it is available (the oldest scenes may have lower details). The embedded player works fine, and the streaming speed is fast; you will have your video buffered up in no time. In case you want to download a scene, you have only one file format (MP4), but there are multiple quality choices: HD (mostly Full-HD), SD (DVD quality) Low, and iPhone version. You can see the file sizes in the download menu. High-quality pictures are also granted with each movie. You can view them in your browser. The members of the HairyAV also gain access to the mobile version of the site, thus they can access their favorite furry pussies anywhere.
Girls & Videos
Every girl on the HairyAV is a Japanese adult video Idol (that's what they call their pornstars). These girls are mostly professionals, though you might always find chicks who are new to the porn business. In case you don't really know what the big deal about Japanese girls is, you could either leave or give them a try because it's possible that you just didn't have the chance to realize: you have a crush for almond-shaped eyes and tight bodies. The videos here are selected, and they all cover a fetish. As you know there are all kinds of fetishes, but on this site, the main fetish it follows is the fur. Now don't get the wrong picture, the girls are not going to get fucked while they wear furs, they have their fine fur down there… that's right, down There. With today's twisted women ideals, many men are longing for videos that feature girls with bushy pussy.
Now, with this being said, the HairyAV hits two at once: it satisfies those who are looking for Japanese girls and those who are looking for Japanese cuties with bushy pussy. One would think that the furry pussies look all the same… that one is wrong. As you will see, these models are not just gorgeous, but their pussy-fur is also very different. Some have actual bushes between their legs, while others made them to look posh. There are also girls with only a bit of fur. All movies here feature girls with furry and fuzzy pussy. That's one thing that they have in common.
Another important benefactor is the fact that these videos are really nasty hardcore porn scenes. They are professionally captured, and both the setup of the stage and the sex in them shout of full-scale enthusiasm. The girls are showing their nice bodies for you in solo masturbation scenes, and while they are at it, you get a close look at those nice bushy things down there. If your fantasies feature straight sex between a man and a girl, you will certainly appreciate the videos which feature hot couples from Japan. What would a Japanese porn site be if it wouldn't feature gangbanging? Not much, that's for sure. Luckily, there are some steamy gangbang scenes too, where the girls get all their holes drilled, while the guys worship that furry cunt of them.
Conclusion
So, you've made it this far. This means that you are interested in the HairyAV, and you don't have to feel bad about it, because the girls are pretty, and a bushy pussy (also the love for furry cunts) is a natural feeling that you should embrace. The gorgeous Japanese models of the HairyAV will surely grant you much fun, and with the frequent updates, you can always expect more. And though the site's collection is pretty large, always keep in mind that there are 14 other websites in your membership that offer more videos to enjoy.
Contents
| | |
| --- | --- |
|  Videos |  More than 760 Videos |
|  Pics |  One picture set per video |
|  Download |  Available |
|  Categories |  hardcore, fetish, gangbang |
… or read more on HairyAv from other review sites!