Idols69 Review
Idols69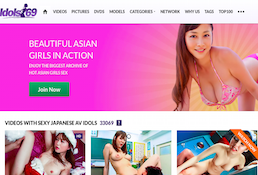 Idols69 it's a highly recommended porn portal for all fans of Japanese girls and hard sex.
00000
Idols69 Review
Site Overview
The Japanese porn makes men of the West curious, it makes us wonder. Fortunately, there are porn sites, which have the answer to all our questions, and their large collections always have something to fulfill our desires. The Idols69 is not different, however its vast compilation will make you believe in the porn-God once again. This site launched in 2008, and it was updated regularly since then. As you will notice, this site is really busy, that's why it receives good scores: it grows with the content of 6-8 DVDs each week. These DVDs are usually really long, they go on for about 100 minutes, and they consists of 3-5 scenes.
By the time of our actual Idols69 review, the site has more than 33,000 scenes listed, and the number constantly grows. Since these videos come from Japanese DVDs, they are not exclusive. However, they are mostly published online on the sites of this network, and this collection is plainly huge. If you find it that this collection isn't enough for your needs, you could take a look at the bonuses. As you would have expected, you don't join only the Idols69 if you became a member of it. You also gain access to the AllJapanesePass. This porn network has more than 20 niche driven porn sites, which grants you all kind of juicy Japanese porn videos, covering your fantasies and favorite niches. The network offers more than 7,000 DVDs content, and apart from that, you can also enjoy live feeds and some discount deals too.
Design & Features
The home page of the Idols69 is really a teasing one. You can see lots of thumbnails listed, but probably the most tempting thing is the large number of the videos you can access. There is a big banner-slideshow, listing the features of the membership, and grants insight about what you might expect from the network. On its own the tour is simple: you can rest your eyes on the thumbnails and look around under the different pages, which you can reach from the menu on the top. If you decide to join, get ready to see a really similar looking members' area once you've logged in. To make it easier to navigate through this vast collection, a search engine is built in, which recognizes model names and keywords.
Also categories tags are listed, so you can use them to narrow the list. From the members' zone, you can easily reach the bonus sites too. It's not a big issue with the older scenes, but the Flash-player offers only standard video quality, which means that you have to save the flicks in order to get some HD or even Full-HD resolutions. It's really much worth it though, since the sex is hard, the girls are cute, so sharp and clear picture can only make the experience better. There are standalone photo sets on the site, which you can save in a compressed folders, and the members of the Idols69 gain access to the mobile interface too.
Girls & Videos
Well, the Idols69 has a huge collection of Japanese porn, featuring the hottest girls in Japan. These scenes are all hot and sexy, and though some of them are censored, you can still enjoy the largest part of the compilation without any censorship, so all parts of the girls' body can be seen. The Japanese AV Idols are quite fantastic, because they can take a lot, and they are mostly natural beauties. Those who think that these kind of models are not that hot are fools, however it's true that not all of them are so busty, but that gives them that Asian magic you seek here. They are all professionals, however you might find here first timers too, just as experienced, so-called mature AV stars (still under 30). The fresh girls usually have long debuting videos, in which they try out everything, and show you their whole body and all of their abilities. After they are done with that, they can shot niche-scenes, featuring whatever they fit to do.
If you are looking for nastier models, the mature Idols are the ones you should seek. These girls are all busty, and they usually have some upgrades on their body, so they look hotter than ever. As a mature Idol, the girls are going for the harder things, like BDSM, fetishes and other kinky stuff. It's not easy to tell anything concrete about the videos, because according to the site's counter, today there are 33,627 scenes for you to enjoy. The overall quality of the videos is good, though the older ones have a bit lower specs, but they are still exciting. This is all studio porn, coming from the workshop of different companies, so the collection highly varied in the matter of style and quality. As we mentioned, some of the videos have an irremovable pixilation on them, covering the genitalia, and you can know this way that those are really original Japanese scenes. It's quite certain that all videos come from Japan, because if you don't speak Japanese, you won't understand a word they say. There are dozens of videos with BDSM elements, fetishes and all kinds of kinky things you could think of.
Conclusion
Fortunately, apart from the fact that the videos are not exclusive, and there are some censored scenes, there isn't anything negative about the Idols69. The busy update schedule guarantees that your hands won't stand still as long as you are in there, and the high quality just amplifies the experience. With the network access you can get some thematic collections to browse, and it's certain that you can find what you are looking for.
Contents
| | |
| --- | --- |
| Videos | More than 33.000 Videos |
| Pics | No Pictures |
| Download | Available |
| Categories | Japanese, hardcore, fetish, anal, BDSM, MILFs |