Insane3D Review
Insane3D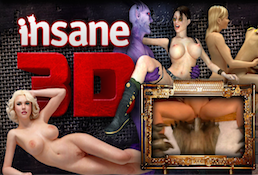 Price: $14.95 (7 day access)
If you are looking for something unique and original have a look to the great collection of videos of Insane3D.
00000
Insane3D Review
Site Overview
Anime porn had been my first taste of pornography ever. That's why writing a porn review for 3D porn just brings me back memories of yesterday and I can't help but feel nostalgic and horny about it. Yes, it's all coming back to me, and just as I thought I have gotten over it. Damn, still sends me hot and quivery sensations down me. If you are like me who's a huge fan of cartoon porn, anime, porn or 3D porn, we are going to agree that this is the best 3D porn site since and I am just too glad to explore the website and write a review about it. Welcome to Insane3D, the home of the finest, craziest, strangest and wildest 3D sex.
Design & Features
The website features are all properly laid down and so maneuvering your way is no sweat in this website. All the features are properly aligned and clicking on the category will automatically lead you to the collection of videos. At the default page you would see window of GIFs of some sex scenes they have. Right below it is a teaser about the website. I have watched and as I expect for 3D, it was really strange and hardcore scenes they have here. There is no limiting to the makers' sexual imagination using these 3D characters and monsters. You can also see the features at the top of the screen in which you could look into the profiles of the girls and the creatures. I clicked the girls' profile and it leads me to their collection of the girl character getting laid by monsters. The girls are just damn hot sexy and slim, though some of them are a bit weird characters like the Snake Thing and Neyter who is obviously an Avatar character. Some character's face is obviously modeled to celebrities like Angelina Jolie and Emma Watson just to name a few. I have always imagined these personalities as porn stars.
Thank you 3Dporn for making our sex fantasies comes true. Moving on, I explored the creatures profile and of course, another set of strange monsters like Mr. Well Thing, The Sentinel, The Predator, and Goblin. I think the only human character was King Arthur. They have pretty decent number of girl and monster characters in their collection and all are in incredibly high quality definition. As written on their front page, you just have to expect the unexpected in every movie. There are 91 videos in the website and it runs up to 10 minutes each. All of the videos are downloadable and can be streamed smoothly so it gets your right into the action. You can download the videos in full version through MP4 and flash player. Expect high definition quality playback in each video. The good thing is their videos are all clear and in full screen. Some other websites have their videos blurred on the sensitive parts missing out all the pleasures.
Aside from the videos, the website has 91 galleries with 22 pictures in each set. To get the best quality pictures, you better download them in zip archives. So far, the website has been making videos and updating the website on a regular basis, so you expect coming in their collection. Another thing is that, once you click on a particular category you want to stream or download, it leads you to all the videos in that category. The movies have stories to tell and they are quite interesting actually. Some post apocalypse and other just plain strange, but you won't get short of the sexual action. I even had fun reading each synopsis of the story before streaming. Though you know we came here for the hardcore sex and not so much of the story, it was all worth reading anyway.
Girls & Videos
The girls are slim and hot, though some of them are non-human. Sometimes I wish they were true and they will all come in to me to get laid. But somehow watching all the hardcore sexual performances are just satisfying. All of the girl characters are simply gorgeous and the artists have done a great job conceptualizing and creating these characters. Some of the characters are original creations though some are modeled from some celebrities. Of course, fantastic as it is, you would enjoy all the hardcore sex in each video and more. Girls are getting gangbanged by huge monsters from the outer galaxy that are going to dominate the earth. But first, they have to dominate the girls. There are creatures penetrating the holes of a big-boobed beauty totally getting drilled deep in her vagina.
They have plenty of categories in the website. I explored fantasy for example, and there are just a lot of nasty stories you can choose from. There was one video of a sex elf from Elvenwood who has to fuck two goblins just to gain her freedom. So the goblins penetrated their big, hard and pointy cock inside her holes until all that she feels was a blissful sensation. The movie Fantasy Fighters gave a whole new meaning to a fight once it's not their swords clashing anymore but their genitals. The giant monster whipped out his huge hard cock and penetrated the helpless princess until the fight turned into sexual pleasure.
Conclusion
The website has a lot a more to offer with their great graphics and compelling stories. But most of all, the artists behind this website surely do know how to create their imaginations into hardcore sexual actions. You would see explicit and obscene sexual fantasies of ogres and goblins chasing and fucking slim and hot elves that are just too willing to stretch their legs and get penetrated in all holes just to skip domination. As a fan of 3D porn, I would highly recommend this site for all of you 3D sex lovers.
Contents
| | |
| --- | --- |
| Videos | More than 90 Videos |
| Pics | More than 90 Picture Galleries |
| Download | Available |
| Categories | hardcore, 3D, fantasy |
… or read more on Insane3D from other review sites!